Jesus Piece : …So Unknown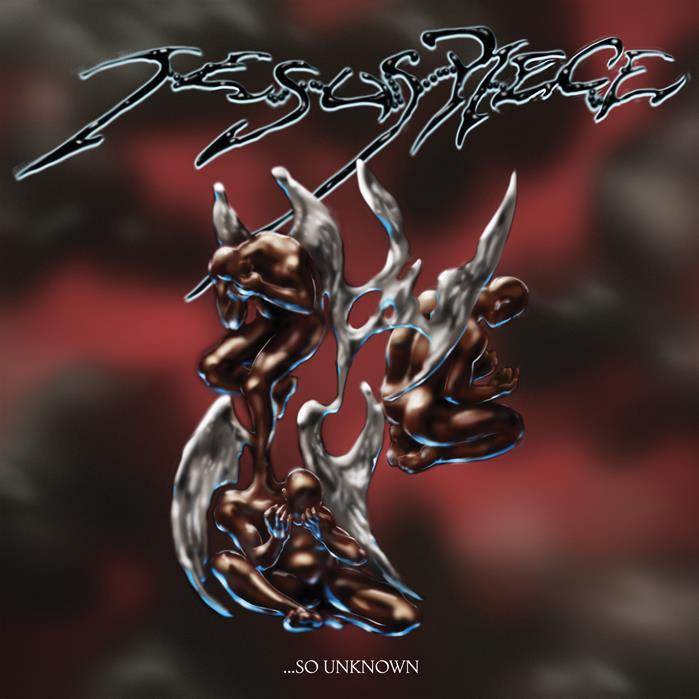 While the brandished fallen, weeping angels on the cover of …So Unknown might tell a contradictory story, Jesus Piece's meteoric ascent has been one free from constraint. The Philadelphia natives document that experience as a kind of "constant metamorphosis" between their inception and this sophomore release, marking a ride that's been equal parts harrowing, downright throttling, and often carrying a deeply physical groove. 
Leaving most of the fun-loving playfulness at the door, the quintet's unique brand of metallic fury stays fresh for both the metalhead horn-raisers and hardcore circle-pit runners. Not content to hinge solely on churning slam sequences or the fast-paced death metal they first loved, Jesus Piece instead rapidly absorbed more far afield outside influences. Haunting blackened leads signal impending doom on early single "Tunnel Vision," and Luis Aponte's boom-clap SNL drum machine appearance with hyperpop ringleader Charli XCX seems to bleed in from a noughties aesthetics point of view.
It seems appropriate, then, that with …So Unknown, their first to be released through heavy metal powerhouse Century Media, the musicians never stay comfortable in one lane for too long. They're locked in, each instrument handcuffed together for whipping tempo changes. "An Offering To the Night" exhibits, if you will, another "constant metamorphosis" of the beatdown as we know it, as a funked up bassline guides their path through several incarnations of chuggery, slowing and speeding as if following traffic signals. There are sheer volumes of noise, claustrophobia, unpredictability and apprehension, although it feels more eager than fearful; it's never long before the band jumpstarts you into another mosh-ready passage. "Profane" immediately sets up metalcore fare, before pulling out the genre tropes from underneath; Aponte takes the midsection for a headfirst drive, and his relentless snare-pounding is a constant source of furious velocity or groove, mood-dependent. To not be delighted by the skittering interlude and tom thumping in "Stolen Life" seems sinful.
With production handled by heavyweight Randy LeBeouf, the beautiful dirt in the cracks is given greater focus, like a refined Jesus Piece live show with all the whiplash of actually being there. "Silver Lining" delivers various brands of aural uppercut while two-step variations on "Gates of Horn" would have you skirting whatever makeshift dance floor is within sight. Even the gang vocals that pop up throughout lend a near-bright foil to the overtly gruff style of Aaron Heard, whose full death metal feature showed up on Sanguisugabogg's "Face Ripped Off" earlier this year, and he delivers an underlying evil herald in the bludgeoning outro of "FTBS" to welcome hardened bruisers to the abyss.
The combination of heaviness and accessibility on …So Unknown would be a tough balancing act for most bands seeking to channel all their fury into a repeatable package. While the sub-half-hour set is packaged with distortion without much respite (the chilling, atmospheric interludes from Only Self aren't quite as stand-alone) Jesus Piece's immediate approach does mark constant catharsis from the heart-in-throat danger that they successfully build, especially if carnage is what you seek.
---
Label: Century Media
Year: 2023
---
Similar Albums: