Live Review: Joanna Newsom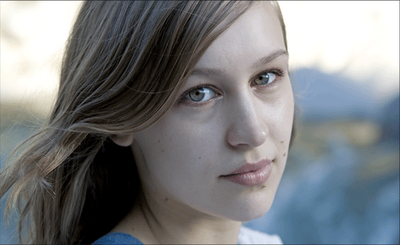 Like it or not, the venue is half the show. At any rate, it's the part that should at least be easily ignored, especially for an artist like Joanna Newsom, who's given to hushed orchestral flourishes and ear-cupping turns of phrase. Count in a sold-out show, a modestly high stage and a sextet of overcrowded musicians all seated at eye-level, and it's pretty apparent that the second-floor, shotgun bar environs of the Mercy Lounge are better spent on bands whose presence thrives on straight-up volume.
To add insult to injury, opener Robin Pecknold, a guaranteed draw in his own right, sans Fleet Foxes or not, wasn't even posted on the bill. So here comes a drooling line of some of Middle Tennessee's most devoted indie hipsters strolling in at 9 p.m., forced to listen to the folky crooner's vocal chords of gold from out on the chilled handicap ramp outside – when he debuted some fresh material, apparently – not so patiently waiting for the sole doorman to sort through hundreds of will call tickets. Ugghhhh ….
All this is to say it takes an artist as purely fucking genius as Joanna Newsom to turn such an ill-fated evening into an amazing one. For all the flak she's taken for her latest mammoth undertaking, Have One on Me – criticism more directed at the demanding track times than its lilting, alluring (ironically self-described "easy") content – it's hard to walk away from an hour-and-a-half Newsom show and say that not only you didn't get your money's worth, but your already high expectations weren't exceeded.
A quick-hit solo of "Jackrabbits," while a concise starter to wet the palate, was mostly lost on the crowd, who but for a handful of early birds packed center stage had little more than a head shot of the person in front of them bobbing along to these harp-athons. By the time "Easy"'s saccharine strings drew to a close, a five-foot gal stuck behind my nodding dome single-handedly talked the entire crowd into sitting down. Most of us were perched on each other's feet for a solid hour after that (I'm pretty sure a guy farted on my leg) and a light cloud of enmity grew between the squatters and standers, but as setlist essentials like "Good Intentions Paving Company," "The Book of Right On" and "Inflammatory Writ" wore on, it proved to be a welcome compromise. For once, we could see the nymphet harpist donned in her latest Hyrule wear, watch her careen her speciously dainty voice around her dense poetry and her fingers "spider dance" across her imposing harp, and even cue up the backing band for a trombone solo or two. Arranger Ryan Francesconi and percussionist Neal Morgan kept step with Newsom's labyrinthine arias, while a trio of backing players (two strings, one brass, all with wonderful names of their own, I'm sure) stayed glued to their music sheets.
In a way, the show itself was an obvious parallel to what it's like delving into a Newsom LP: Your ass might hurt while you attempt to be patient, and others bickering in your ear doesn't help (concertgoers and critics alike). But enjoying it is far easier than you might expect.