Kaidi Tatham : Don't Rush the Process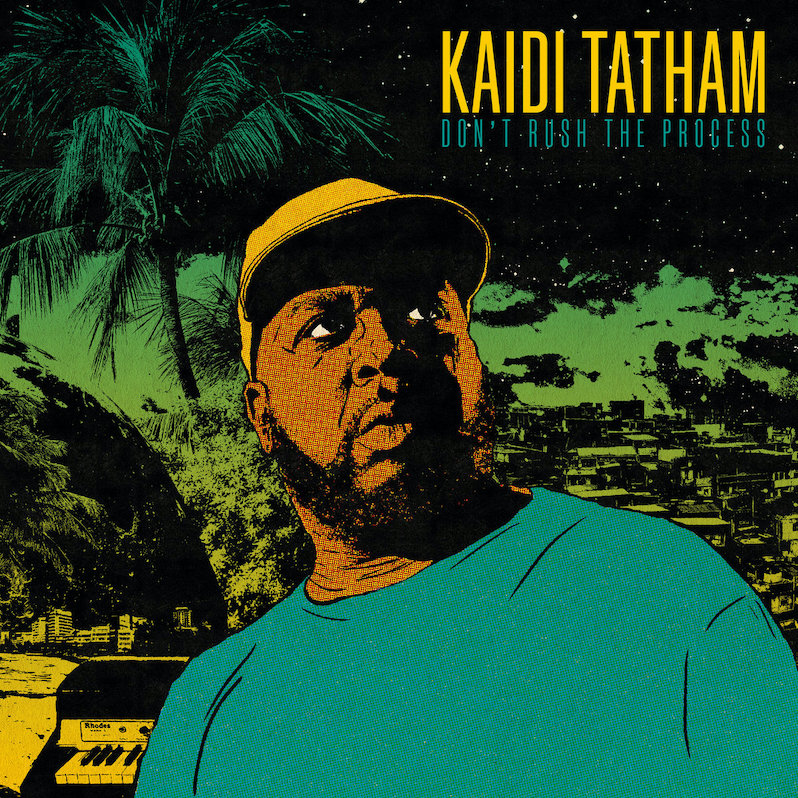 In 2020 British Ghanaian soul artist Andrew Ashong and legendary multi-instrumentalist Kaidi Tatham—born in the Midlands and based in Belfast—had a chance meeting during a DJ set in which Ashong manned the decks and Tatham started jamming along on synths and flute. To be a fly on the wall in that spot. The session turned out to be the catalyst for the duo's collaborative EP Sankofa Season, released in November 2020, an inaugural release for the Belfast-based label Kitto Records, but more importantly, it gave Tatham yet another chamber to operate from—a richer color. Somehow Ashong's vocals unlocked something else, not new, but an alternative gear in the Tatham machinery. This makes sense when you consider the idea of jamming: You only do it if it feels right.
At the time I didn't consider it to show a slither of a new way for the keyboard virtuoso. We're talking a massive career, almost three decades lording over electronic music from the African Diaspora, working alongside people of his own talent: Dego (of course), Mulatu Astatke, Leroy Burgess, DJ Jazzy Jeff…it's a huge list of heavyweights too long to run down here. If you get releases for labels such as Dego's 2000 Black, Alex Nut's Eglo Records, and Theo Parrish's Sound Signature, you are in a rare company of cutting-edge, global soul music presenters. Folks who reference the past and still jettison our way into the impending forthcoming.
The whole Twitterverse recently lost its marbles over a certain globally famous icon's recent choice to revisit '90s house on their newest release, a strategy pondered and calculated during the lockdown. While that's a great get for somebody's hive, give a look to "All I Need" from Tatham's most recent album Don't Rush The Process. It's a choir, in full spiritual regalia, most definitely chopped up and repurposed over a charmingly haunted kick drum soul-type expanse. Brimming with simplicity—directness goes hard in the paint—this expression of love, Black spirituality and the presence of a higher power is that two-minute communique to whoever needs to hear, "We gon' make it, just hold tight."
That's the feeling here on Tatham's fourth solo album under his own name, he's still twisting up the stop-start pattern flow tempo, but he's allowing more ideas in, making a place for those who may not be familiar, but need the love too. The opening string-laden inception of "Mystery Solved" feels like an introduction to a classic Spike Lee film, with Ernest Dickerson holding down the cinematography duties, catching autumn leaves on the ground, showing how dazzling and bountiful a world lives in the many hues of black and brown—a macrocosm that scarcely gets caught on film. Tatham is creating ambiance and belonging: Home. Then strap into the rocket, we are dealt mid-tempo funk-laden instrumentals, boogie, in-your-feelings, Patrice Rushen-adjacent post-disco, jazz-funk brilliance, killer Brazillian-style joints, and basically anything else under that syncopated-based umbrella. Tatham implements yet another clinic on the powers of rhythm.
At the outset of "Knocknee Donkey," there's a be-bop funker pattern that embeds voices within the stop-start beat before we reach the spacious groove, Fender Rhodes flourishes, and jazz assault lineage he's known for. "Any Flavour," a Brazilian stutterer beauty of a cut, and "What a Dream" later on, both get peaches-and-cream soft-hued spectacular with their dynamic live percussion and trailing horn lines, giving the impression of warm sand between your toes and a Caipirinha ready for your immediate consumption. Isn't life difficult? Get some refreshment. Fill your cup with that off-time signature. I despise the phrase "banger," but that's exactly what this is. "Runnin "Tru" is that percolated standard you'll find on these kinds of releases. Listen to those drum sounds; that modest pattern contains a decade's worth of bass music.
But let's speak about those in-betweeners, those 90-second instrumentals that feel so Pete Rock-esque, at least to this American, but are improved here with the Rhodes player on the piano bench like the crusty parts of a cooked Mac 'n' Cheese—pieces of soul with a lot of flavor. On the charming "Funky Fool," contemplation of the highest kind flies beneath the mellow, ruminative radar. And the concluding track, a 37-second mega jam "Mind Yourself," with a melodic reminder and sinewy Bruk ferocity, leaves a "till we meet again" feeling on the shutting door. Let's make it soon, Mr. Tatham.
---
Label: First Word
Year: 2022
---
Similar Albums:
John-Paul Shiver
John-Paul Shiver has been contributing to Treble since 2018. His work as an experienced music journalist and pop culture commentator has appeared in The Wire, 48 Hills, Resident Advisor, SF Weekly, Bandcamp Daily, PulpLab, AFROPUNK and Drowned In Sound.