Kaitlyn Aurelia Smith and Emile Mosseri : I Could Be Your Dog (Prequel)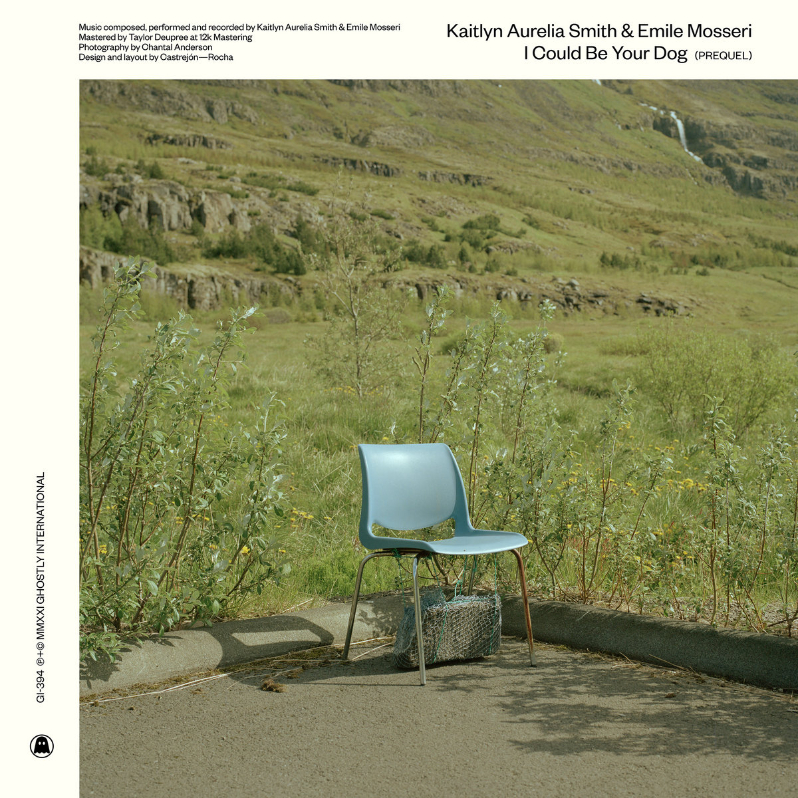 Like many projects devised during our ongoing global pandemic, Kaitlyn Aurelia Smith and Emile Mosseri—two friends and accomplished musicians in their own right—chose to create over long distances as a way to deepen their friendship and explore different nuances in their own art. The resulting I Could Be Your Dog (Prequel) is an ambitious seven-song collection of creeping, lilting ambient music overflowing with ideas.  
Smith and Mosseri combine layers of gurgling synths and angelic vocals to sublime cinematic effect. These carefully crafted tunes evince an orchestral feel that call to mind a heady mix of Jessy Lanza collaborating with past generations of electronic pioneers such as Suzanne Ciani and Wendy Carlos. My senses exult at the airy and delicate soundscapes, but they're also enraptured by the naturalistic sensations introduced by the duo, especially when warbling bird-like sounds enter the mix at various points throughout the album.
It would be reductive to attach adjectives like "dreamy" to these songs; yes, they feature sumptuous synth pads and curious chord progressions to tremendous effect. However, the tunes fully come alive with deeper attention to the precise trills and frills amplify the listening experience. The music possesses these fantastical lyrical qualities, courtesy of how Smith and Mosseri frame their melodic choices.
"Log in Your Fire" provides a resolute thesis statement for the entire album. Not only does it deliver the most direct lyrics and vocalizations, but the loping chord arpeggios engage in a curiously syncopated dance with a wonky set of bass pulses and snare claps. The title track features breathy falsetto from Mosseri singing atop a bed of angelic oohs and ahs from Smith, before long, warm synth notes straight out of TRON drift out into the horizon.
My favorite track on the album, "Glendora" calls to mind an intimate yet warped woodland picnic, the sort you might experience if the soundtrack to Fantasia might have more romantic connotations. "Moonweed" closes the first half of this affair with enigmatic aplomb, courtesy of acoustic piano figures and bubbling background noise. The bass hand glowers with moody rumblings while the melody hand offers up achingly sweet sentiments in the highest of registers. 
A haunting purpose undergirds this entire project, specifically the angst and drama of bashful young lovers caught up in a tenuous romance. However, it doesn't get lost in a nebulous dream, but rather caught up in the fantasy of unrealized expectations. You don't forget yourself in the pain of unfulfilled emotions; you gain a fresh perspective. 
I Could Be Your Dog (Prequel) provides a wealth of highly refined and defined movements, and it's exciting to imagine what Smith and Mosseri deliver with the second part. For all of the floating sensations the album provides upon first listen, giving into the flow of the music offers an opportunity to recognize that these talented creators want to take you somewhere. Ultimately, that is the genius and potential presented by ambient electronic music—the ability to fuse imagination with all manner of sounds to create unforgettable sonic experiences both wide and narrow in scope.
---
Label: Ghostly
Year: 2021
---
Similar Albums: