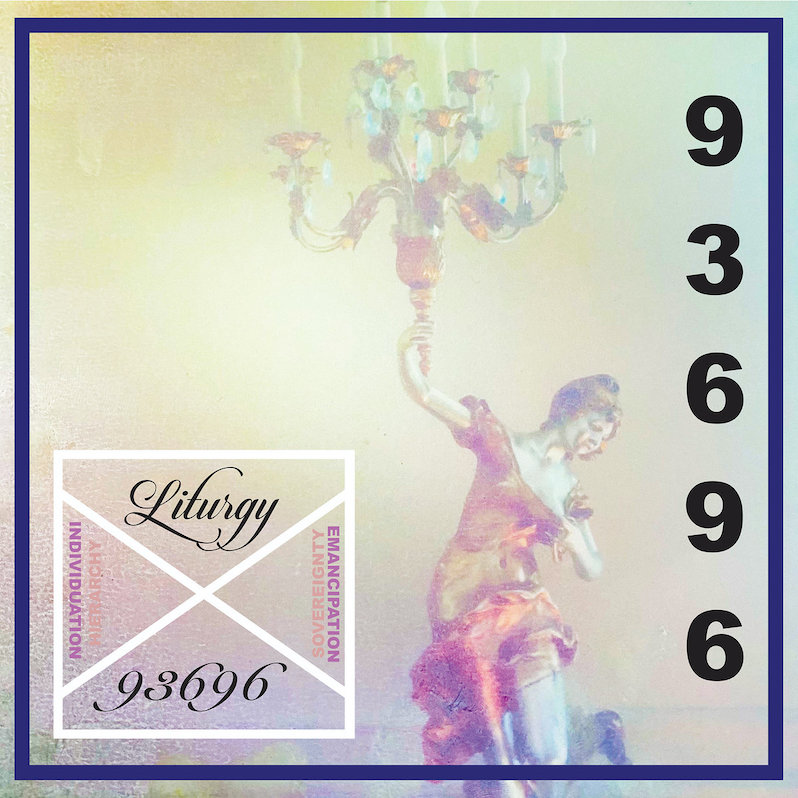 Metal is often criticized for gatekeeping, but it's in the genre's DNA, from its beginnings in the '70s when fans and bands alike championed a "Disco Sucks" slogan. That Us vs. Them mentality found metalheads bonded with a common enemy—the rest of the world. Now decades later, even with countless subgenres of metal flourishing, there is still a resistance to experimentation that veers too far out of the expected boundaries. In some cases this is understandable—if the defining elements are aggression and a darker, ominous feel, it can ultimately lead to stagnation. Black metal is, paradoxically, both more rigid and more experimental. For instance, it's OK to bring in elements of shoegaze or folk as long as it still includes blast beats and anguished vocals. This tendency to expand beyond that framework is what has made Liturgy one of the most divisive bands among fans of black metal. Their latest, 93696, isn't going to be an exception as they are still not playing by metal's rules on this album either. 
Yet the band's bona fides aren't to be dismissed; once you listen past some of the symphonic excesses, you can hear the metallic heartbeat at its center. Yet the project's more conventional metal past is also felt in the present, and for good reason. The groundbreaking Aesthethica should be included on any list of black metal's best albums, and on The Ark Work, the experimentation pushed further from there, ultimately leading to this opus. Their latest is an ambitious undertaking at 15 tracks, and some of these songs are over 14 minutes long. Wedged within lies more metallic ear lashing than you might expect. Glorious chaos is still celebrated as the song "Djennaration" unfolds to summarize in its eight and a half minutes who this band is, sonically speaking. There is a feral intensity that makes up for the absence of atmospheric darkness throughout the album, though that's never been this band's thing. Liturgy are more about the gnostic shimmer.
"Caela" takes the catharsis of the previous song and focuses its attack. Beyond its ambient choral works, "Haelegen" emerges with a more ominous undertone, aside from an atmosphere that feels like they are colliding with Sigur Rós. The scathing howls are more dominant, and though there are some sing-song vocal chants, none of the winks to Bone Thugs N Harmony from previous albums are to be found here. "Before I knew the Truth" thrashes around with the expected, glitched-out angular riffing. The further you delve into the album, the more real estate the ambient passages begin to take up.
"Ananon" is the next foray into Liturgy's evolving sonic identity, carrying a bright blur of blast beats and jerking guitars. The 14-minute title track kicks off with an aggressive crunch, which is a bit of a surprise. When they give things more of a punch, it carries an even greater power thanks to former Kayo Dot drummer Leo Didkovsky. This allows for the band to make many odd shifts in dynamics, which brings the jammy feel of the song together to form more of a purpose. They return to more orchestral ambiance, until l we get to "Antigone II," as odd time signatures abound in this sprawling 14 minute journey. The acrobatics embarked upon here make me hold to the belief that fans of progressive metal are truly sleeping on Liturgy.
The band's atonal syncopations hit with a heavier intensity, while keeping their trademark sound that chimes more than chugs. The album closes with a piece that sounds like something Danny Elfman might have done for a David Lynch movie. Despite being a little heavy on overly ambitious interludes there lies an impressive progressive black metal album within it all, not their best album but a logical next step in the their continued, fascinating evolution.
---
Label: Thrill Jockey
Year: 2023
---
Similar Albums: