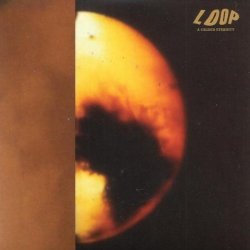 Buy at iTunes | Buy at Insound
Loop's name tells the story of the short-lived UK band's music simply and succinctly. In a manner of speaking, they did what it said on the tin — they looped, or rather, they locked into repetitive grooves, taking their noisy riffs into swirling vortexes that threatened never to close. The trick of it was that they managed to make the idea of endlessly floating, repeating and re-caching sound — as most psychedelic bands are wont to do — highly appealing.
When Loop emerged, however, there was a similar-minded, if not necessarily sonically similar, band whose psychedelic essence had begun to radiate, and some of that fallout ended up in Loop's direction. That band, Spacemen 3, is hard not to mention when discussing Loop, for the two bands' paths crossed frequently, sometimes to the point of rivalry, though the differences are worth noting. Spacemen 3 moved in any number of directions, often in dreamy weightless spaces, while Loop preferred a heavier, noisier thunder in the vein of Hawkwind, MC5, The Stooges, or some kind of Can-Sabbath hybrid.
The unique nature of Loop's tuff gnarl made them a tricky act to classify. Now, they seem to have played a role in a burgeoning neo-psychedelic realm that likewise gave way to the likes of Mercury Rev and the Flaming Lips, though the time in which they released their three albums also coincided with the early days of shoegaze. That's a fair parallel, though there's nothing particularly dreamy or weightless about Loop. For how dense and trippy their songs were, they always had some kind of hard-edged grounding. This is a band, after all, who released a split single with industrial metal legends Godflesh. That burly, muscular approach made them interesting, and likewise pretty rocking, which is a big takeaway from the expanded reissues of the band's records on Reactor, which include the original source material, Peel Sessions, b-sides, outtakes, alternate versions and other ephemera.
Loop's 1987 debut, Heaven's End, is pretty damn strong for a starting point. It's at least 60 percent ear-splitting fuzz, distortion that pierces and prickles and sears. But the remaining percentage, or at least most of it, is all groove. On "Soundhead," the album's leadoff track, the group really cooks, with a rhythmic momentum that saves their repetition from ever growing tedious. The looping that Loop does is a kind of magic, really, in the way it maintains an infectious heaviness on "Straight to Your Heart," an almost Joy Division-like drone dirge on "Forever," or the coincidentally (two year early) titled "Head On," which has a Jesus and Mary Chain strut that's hard not to love.
For how heavy of an album Heaven's End is, however, its successor, Fade Out, allows for a bit more levity, if still essentially offering a variation on a similar theme. In introducing the album, "Black Sun" doesn't quite take off the same way that "Soundhead" does on Heaven's End, rather slowly building from an atmospheric opening, with Hampson's vocals more closely resembling those of Echo and the Bunnymen's Ian McCulloch, into a characteristic psych-rock freakout. "This Is Where You End" is slightly more streamlined and evil, "Fever Knife" druggy and plodding, "Pulse" driving and thunderous, and "A Vision Stain" oddly, funkily jerky, showing off their Can influences more directly than before. If Fade Out is essentially more of the same, and by and large it is, it's still a same that's worth repeating.
With third and final album A Gilded Eternity, however, Loop had refined their sound nearly to the point of perfection. Which isn't to say it's perfect — by design it almost can't be — but it's an immaculate representation of order amid chaos. "Vapour," for one, renews the groove the band does so well, yet the stunning "Afterglow" introduces an urgency that almost didn't exist before. Here, now, was a band that appeared to be interested in tension more than suspension. And with "Be Here Now," Loop also presented themselves as a band who could stretch their acid-fried, droning approach to nine unexpectedly exciting minutes.
In addition to the band's three albums and their bonus material — most of which is interesting if not all totally essential — is the three-disc compilation The World In Your Eyes, which collects the band's singles like the Velvets-gone-shoegaze epic "Burning World" and the pretty and sedate "Brittle Head Girl." But the real fun of this collection is its treasure trove of covers, which not only show off the group's influences fairly explicitly, but fit in perfectly with the group's oeuvre. Their take on The Pop Group's "Thief of Fire" sounds little like that band's dub-influenced chaos and more like a straight psych-rock trip, yet there's a slightly more faithful take on Can's "Mother Sky," whose motoric grooves remain intact, rather than substituted by Loop's own tumble cycle. One of the more curious takes is a fairly straightforward cover of Nick Drake's "Pink Moon," which sounds only a little more stoned, but Neil Young's "Cinnamon Girl" is as sludgy as can be expected.
There's about seven hours of material collected in the three albums and one extra-long compilation that comprise Loop's total catalog, which is maybe not an overwhelming amount of material for one career, but still a lot of music. And given that this all took place in the span of about four years is all the more impressive. But Loop understood fully well what made them special. They knew how to ride the groove, and they did so for a solid half-decade. Even without the aid of experimental chemical enhancement, there are worse ways to spend your time.
Similar Albums:


The Stooges – Fun House


Ride – Nowhere


The Jesus and Mary Chain – Psychocandy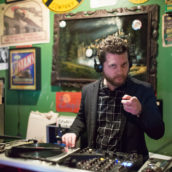 Jeff Terich
Jeff Terich is the founder and editor of Treble. He's been writing about music for 20 years and has been published at American Songwriter, Bandcamp Daily, Reverb, Spin, Stereogum, uDiscoverMusic, VinylMePlease and some others that he's forgetting right now. He's still not tired of it.