M.I.A. is an artist without borders, in practically every sense. Her travel itinerary reads like a Lonely Planet résumé, having written and recorded second album Kala in locations as widespread as India, Trinidad, Baltimore, Australia and Japan. It should come as no surprise then, that such diverse global influences penetrate her work, but that said, she is also an artist who is not bound by genre. She is not content to be merely "pop," "rap," "indie rock" or, worse yet, "world music," and yet she is all these things, a cultural mash-up of dozens of sounds and styles, like criss-crossing frequencies of pirate stations in remote locales. This is radio M.I.A.
M.I.A.'s debut Arular (named for her father) was as bold as opening statements get, balancing heavy political topics with lighthearted humor, heavy grime beats with often minimal production, and influences so diverse, when funneled into a whole sounded almost nothing like the sum of their parts. With Kala (named for her mother), Maya Arulpragasam takes similar ideas and runs with them at breakneck speeds into far off destinations. The album is a balance of extremes, placing an even greater emphasis on Third World politics while dropping a heavy dose of product placement. Even the cover art, depicting the emcee as a Muammar Gaddafi type despotic figure over an old school 8-bit clash of garish colors, should give some indication of the cross-continental beat banging chaos that lies therein.
Long before the album even had a release date, M.I.A. gave listeners a taste with the frantic "Bird Flu," an effects laden polyrhythmic mess of Eastern rhythms and "beats so evil." It was very, very weird, but very, very cool and most certainly unexpected. Likewise, first single "Boyz" arrived a few months later with a soul calypso rhythm and a bigger, catchier bed of layered sounds and hooks. In just two songs, Kala was shaping up to be one of the most unusual pop releases of 2007, not to mention one of the best. Then came the far less abrasive "Jimmy," reworking '80s Bollywood disco theme "Jimmy Jimmy Aaja" into a giddy electro bounce, suggesting that Kala would also be one of the most fun releases of 2007. Yet Maya, ever the subversive one, works in the lines "take me on a genocide tour/ take me on a trip to Darfur," upping the ante on her PLO reference in 2005's "Sunshowers."
There's a strong current of rock references running through Kala, though there's nary a power chord on this joint. Opening track "Bamboo Banger" nods to The Modern Lovers with its introduction of "Roadrunner, roadrunner/ going hundred miles per hour/ with the radio on" before announcing "M.I.A. coming back with power" over minimalist production with beats that, of course, bang. Likewise, "$20" and "Paper Planes," the two best tracks on the album, draw as much from the indie rock canon as they do from socio-political tension. The former borrows the melody from "Blue Monday" for its dirty, jagged synth bassline, and mixes in a vocodered verse from The Pixies' "Where Is My Mind?" while touching upon sociological instability in Africa: "Do you know the cost of AK's in Africa?/ 20 dollars ain't shit to you, but that's how much they are." The latter, which is built upon a sample from The Clash's "Straight to Hell," filters drug trade lyrics and a chorus of gunshots and cash register sound effects into one of the catchiest songs of the year, and an absolute jaw-dropper of a song.
Though M.I.A. doesn't often share the spotlight, her choice of guest vocalists on Kala proves to be both potent and intriguing, at the same time revealing just how vastly the international perspectives on the album run. "Mango Pickle Down River" finds her handing the mic to a group of Aboriginal child rappers, while, on the opposite end of the spectrum, geographically and thematically, Timbaland lends vocals and production to the closing sex romp "Come Around." The best of these guest appearances is that of Afrikan Boy on "Hussel," dropping the reality check breakdown "if you think it's tough now, you should go to Africa" before his declaration of "I'm illegal, don't pay tax tax." On the other side of the mixing board, Blaqstarr creates an alluring, exotic air on the standout, low-key dub of "The Turn."
Only occasionally does Maya Arulpragasam drop a boastful line, such as "I got more records than the KGB" or "I put people on the map that never seen a map," but her almost ridiculously eclectic style and innovative approach on these 12 amazing tracks more than back it up. You heard the lady—M.I.A. is back with power.
Similar Albums:
The Clash – Sandinista
Kanye West – The College Dropout
Bonde Do Role – With Lasers
Video: "Jimmy"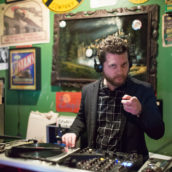 Jeff Terich
Jeff Terich is the founder and editor of Treble. He's been writing about music for 20 years and has been published at American Songwriter, Bandcamp Daily, Reverb, Spin, Stereogum, uDiscoverMusic, VinylMePlease and some others that he's forgetting right now. He's still not tired of it.