Mastodon : Blood Mountain
In 2004, my brother hipped me to a band called Mastodon, and informed me of their awesome, brutal power and how they've set a new standard for metal. Well, maybe those weren't his exact words, but that was the gist. Still, I didn't initially latch on. It's not that I didn't like it, but the problem with helming a site like Treble is that I end up listening to so much music that, inevitably, something will slip through the cracks. But it's also hard to ignore how exciting metal has become of late, thanks to some iconoclastic and interesting records by the likes of Japanese shape-shifters Boris, Justin Broadrick's shoegaze-influenced Jesu, and the always jaw-dropping power of Converge. So maybe, I thought, I was ready to dive in. So sometime last year, I took my brother's advice and gave Leviathan a listen, and surely enough, it kicked my ass in ways I could not have expected. Driven by Bränn Dailor's thunderous drum wallop, Brent Hinds and Bill Kelliher's meaty riffs and Troy Sanders' rumbling lows, Leviathan was the most menacing take on Moby Dick one was likely to hear. Stunned and at a loss for words (and oxygen), I had to hear what was next.
What was next, their major label debut Blood Mountain, as it turns out, was pushed even further to the limits, not necessarily of loud (though it is, very), but rather into more of a prog direction. This is still metal, brutal screams of man's struggle against nature piercing through the most pummeling of melodic backings one could imagine. This is not catchy music, this is not pleasant listening—this is what happens when you unchain the unholy beast within rock 'n' roll and let him tear loose in the neighborhood, snarling and slobbering, taking down anything in its path. And yet, production-wise, there's more of a slickness to it than before, allowing those razor sharp licks the clarity needed to slice through, sonically.
Within this range of loud to louder to hyperfast to insane, there are many variations, from the opening chugs of thrasher "The Wolf is Loose" to the shuffling crunch of "Crystal Skull" to the droning power ballad "Sleeping Giant." Of course, this kind of power ballad isn't the sort of thing you hear on K-Tel compilations; it's far more terrifying. The band pushes further into the prog realm with tracks like "Capillarian Crest" and "Bladecatcher." The former is an impressive and dizzying display of warp speed riffs reminiscent of Dillinger Escape Plan, while the latter is one of the few missteps on the album, a wankfest that doesn't really go much of anywhere. "Colony of Birchmen" is still as heavy as anything else the band does here, but somehow more accessible, grooving more than bashing or slicing, while "Hunters of the Sky" continues a similarly accessible but no less brutal path of heaviness. The biggest surprise may lie with the Thin Lizzy-esque harmonization and acoustic space drifting on "This Mortal Soil," which features less vocal growling and more actual singing overall, though still, of course, rocks the fuck out.
After having so many bloggers spread hype about countless uninspired and generic lo-fi indie pop bands, I'm actually quite thrilled to hear something so far on the opposite end of the spectrum. It's not common that I'm drawn to something so showy, let alone loud and destructive. But there's really no debating this one—this album rocks.
Similar Albums:
Dillinger Escape Plan – Irony is a Dead Scene
Isis – Panopticon
Pelican – The Fire in Our Throats Will Beckon the Thaw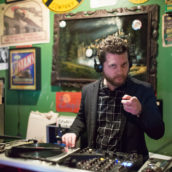 Jeff Terich
Jeff Terich is the founder and editor of Treble. He's been writing about music for 20 years and has been published at American Songwriter, Bandcamp Daily, Reverb, Spin, Stereogum, uDiscoverMusic, VinylMePlease and some others that he's forgetting right now. He's still not tired of it.