Matthew E. White & Lonnie Holley : Broken Mirror: A Selfie Reflection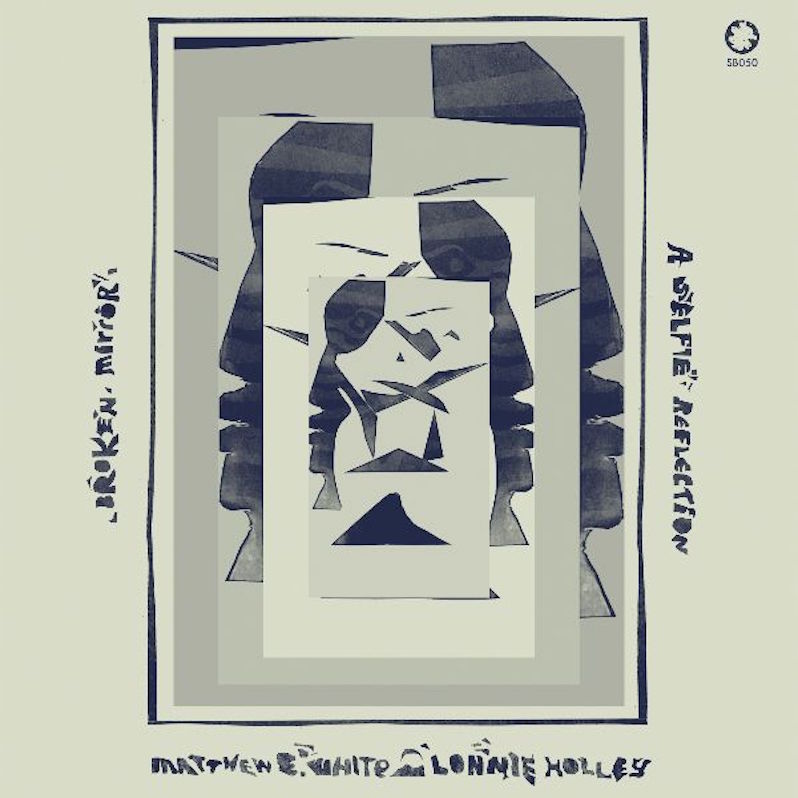 About half the audience (myself included) is likely to approach Broken Mirror: A Selfie Reflection as a continuation of Lonnie Holley's musical output. This vantage point makes a certain amount of intuitive sense: Lonnie Holley has been experiencing a coronation of sorts following his return to recorded music with the celestial blues of MITH, which only deepened with his mostly-slept-on jazzier record National Freedom. This sees Broken Mirror as the third entry in an evolving set of semi-self-contained work, reaching from air to earth and blood the way National Freedom reached down to air from the outer space of MITH. The record confronts you immediately with a bodily and visceral sense of funk, deep and nasty, rife with stank. This is precisely the kind of music Holley's deep blues growl and meandering Dionysian poet-drunkenness seems to gesture to, arriving in the flesh where we kill and fuck and scream to rant and ramble with oracular vision. This sense of order, the one privileging Holley, makes the post-punkified dub and funk feel simultaneously threatening, simmering with baking heat, as much as it is the sensible aesthetic progression. His work since 2018 likewise seems to chart a kind of birth, the soul swirling and condensing, formulating flesh within the womb only to burst out now with this record into the wetness and stench of life.
But this record is not billed as a Lonnie Holley solo record; further, his name doesn't even take top billing. That honor goes to Matthew E. White, a figure that has swung wildly between psych rock, avant-jazz, indie music and gospel. A mixture, in other words, that is perfectly commensurate for the palette of Holley, a mad-poet bluesman. White's career, including backing many major figures in the independent music world, had gradually found itself becoming more and more meticulous and refined, a slow unbecoming of the radical wildness of his earlier material. The music contained here was cut to tape three years ago in a fit by White, assembling a vast armament of musicians to cut some unfurled and wild music again, cataloging a number of lengthy improvisational jams, which sat on a shelf until live collaborations with Holley triggered the impetus to let him paw through the tapes, sing against them, and provide ideas for edits and overdubs to produce a finished work from it. In this guise, this record becomes a validation of the kind of celestial-minded vastness that White can conjure when not penned in by more song-oriented concerns, picking up the loose ramble of Holley to tap back into the electric-charged avant-jazz big band music of his earlier period.
What becomes fascinating then is how each of these structural reads, each valid in certain ways, produces oppositional interpretations. As a work of Holley's, this is more physical and terrestrial than he's been in the past five years; through White, it's the cosmos breaking open, like an egg giving birth to a universe. That kind of metatextual tension provides an additional bounce to the one contained on these lengthy and knotted avant-funk jams, adding a cerebral twist to an already-cerebral set of post-Laswell jams. This in turn seems to validate the position of Broken Mirror as inevitably now more a Holley record than a White one; like Holley's greatest lyrics and poems, it becomes a record of the heaving unquiet earth cracking open and revealing images of angels and spirits swirling inside, miniature infinities contained in handcuffs and semen and bent street signs. Matthew E. White may have led these sessions, placing them in the continuity of his works with Fight the Big Bull more than his solo material in a kind of spiritual rebirth, but their identity feels flipped inside out and consumed by Holley's presence.
The closest comparison that comes to mind is Soused, Scott Walker's collaboration with Sunn O))), a record which produced similar results. The legacy of the players of Sunn O))) revealed they always had the capacity for that level of nuance and meticulous detail in their music, but suddenly, once Walker's voice was there and his hand came near the structural edits of the material, ownership suddenly reverted solely to him, rendered as the vast dark successor to his own previous masterworks. This isn't necessarily a function of the often singer-oriented focus of most listeners, either, but instead one of the intense aesthetic and artistic gravity both Scott Walker and Lonnie Holley exert. It in many ways is the David Bowie problem; no matter how notable the backing player, from Adrian Belew to Stevie Ray Vaughn and more, his presence suddenly absorbs yours and you become a vehicle for that singular vision. The co-credit on this record is a kind one and one hopes, given the superlative quality of these cuts, that they continue to collaborate in the future, but it's highly unlikely anyone will walk away from this record thinking much else other than the warm human-mystic genius of Holley.
---
Label: Spacebomb/Jagjaguwar
Year: 2021
---
Similar Albums:
Langdon Hickman
Langdon Hickman is listening to progressive rock and death metal. He currently resides in Virginia with his partner and their two pets.