Remake/Remodel: Stitching up Ministry's 'With Sympathy'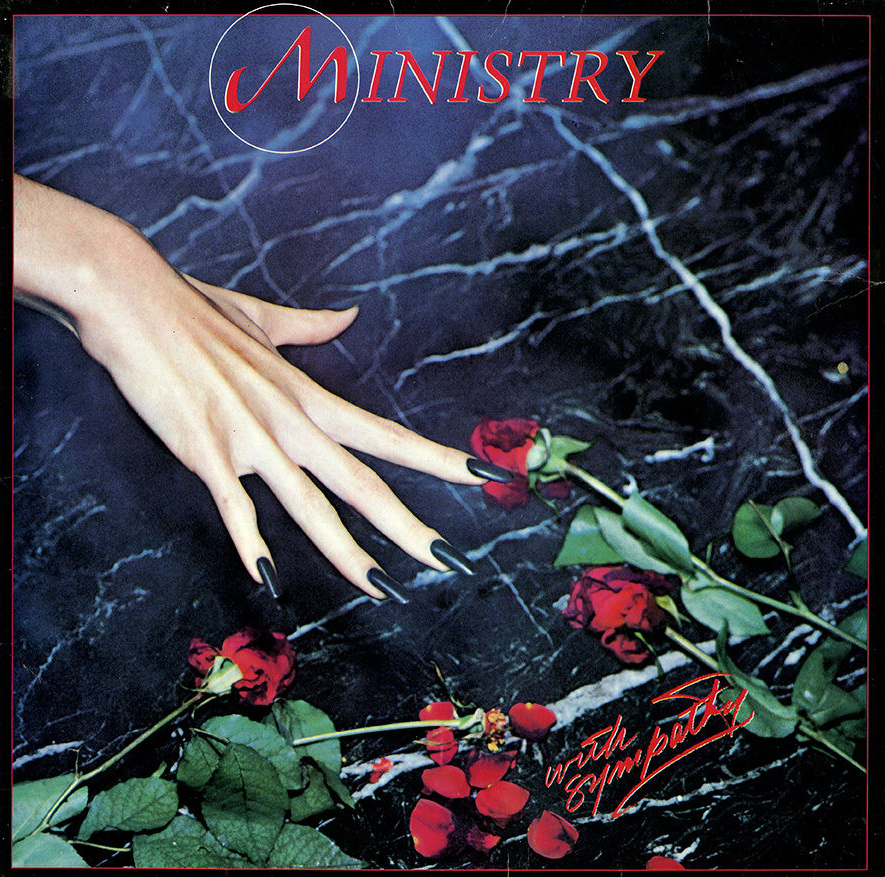 Welcome back to Remake/Remodel, the column where one of Treble's editors or contributors takes a classic—if imperfect, to our ears—album, and proposes an alternate tracklist in an effort to provide a different, albeit highly enjoyable listening experience. It's October, so it feels appropriate to visit an artist whose sound conjures up dark, creepy and vile connections to Halloween (and to every day, really). We also get to explore an LP with absolutely no love from who made it, yet possibly due the gift of redemption having turned 35 this year. Most of y'all don't remember, but the first version of Ministry had a sterile sound and an artiste's lyric angst quite unlike the industrial metal driven home by Psalm 69 in the 1990s. They'd leveraged the strength of their first single on Wax Trax! in 1981 to ink a deal with Arista Records, and With Sympathy was the resulting debut LP in 1983.
Over time, few albums have become so publicly despised by their creators as this one has by Ministry, at least as represented by lead vocalist/guitarist and sole remaining original member Al Jourgensen. He's spent decades undermining and disowning it, claiming Arista interfered with or mishandled its writing, production and promotion. Yet for every three of his quotes shitting on the company and the LP, a measured fourth suggests his relationship with the label was tense at worst and even amicable at best. Besides, many of the less polished Wax Trax! singles released on either side of With Sympathy still slot as guitar-dusted synth-pop and New Wave inspired by both funk and post-punk, right down to the Cuban-born, Chicago-bred Jourgensen's affected British accent. They're in line with Ministry's vision, but they don't sound all that far from Arista's version of it.
It's entirely possible that Jourgensen was more complicit in the final form of With Sympathy than he cares to admit, and maybe he's just a guy who gives no quarter to standing still artistically. He's guided the band to sounds so harshly different from With Sympathy for so long that disdain for that album has leached into a big part of the Ministry fanbase. Like an unwritten rule of baseball, you apparently can't claim to like both shimmery faux-Brit "Alain" and pierced-and-bearded cowboy Uncle Al without some rivethead mean-mugging you. It also doesn't help that fans of synth-pop think the synth-pop on With Sympathy is largely just OK. It cast Ministry as coattail-riders of the New Wave and New Romantics of the day, instead of as edgy contemporaries of The Cure and Joy Division. The band was good enough to support the likes of Depeche Mode and The Police on tour, but the album itself is inconsistent, sometimes dry and laughably stilted. So how much Arista pulled Al Jourgensen's ass out of the fire, and how much they put it there in the first place, will forever be contested.
Our remake of With Sympathy gives Ministry the time, patience, and flexibility Arista did not. We imagine the ability to replace the original album's lesser tracks with some of the Wax Trax! work that bookended it, all available on a number of official archival releases including Twelve Inch Singles (1981–1984) and Trax! Box. In the real world these revisions might push the album's release date into at least 1984. Hopefully, we'd strike a balance between Ministry's grittier ideas and the label's spit-shine to please the band, their fans, and Sire Records, who would offer them a new contract in 1985 and start to fully, willingly indulge Jourgensen's dark side with Twitch in 1986.
"Effigy (I'm Not An)"
We keep the opening With Sympathy track where it is, an introductory promise to not let bastards grind one down. It's arguably the brightest highlight on the original album, a great mix of synth propulsion and spirited guitar punch under Jourgensen's staccato vocal delivery.
"Cold Life"
We knock out the original album's "Revenge," about as weak a single as Ministry released from this period, and replace it with the song that helped kickstart their career. The B-side of their first Wax Trax! single "I'm Falling" was so well-regarded, later releases of the same single moved it to the A-side. The slap bass and horn breaks belie Jourgensen's early love for bands like Chic.
"Work for Love"
"Cold Life" is a good transition between "Effigy" and this With Sympathy cut that we move forward a bit in the tracklist. "Work for Love" maintains the band's dark threads to disco and early American synth-funk, complete with a grunted and whispered refrain.
"All Day"
We close out side one with a later Wax Trax! single that serves here as fans' introduction to Jourgensen's interest in sampling. It combines a plaintive Jourgensen melody with a dense, noisy soundtrack of drum machines and keyboards, a despairing welcome to the machine of the workaday world. Yes, we know a mix of this shows up on Twitch. We think it works here, and while this could have changed what that album would look like, it's also not unheard of to have different versions of the same song on different albums/labels.
"I Wanted to Tell Her"
Another of the strongest With Sympathy songs is this single, which we push back from its original position to a new spot opening side two. Not only is it more loose funk from this first incarnation of the band, but it's a reminder that they used to write and sing a lot more—and pretty well, too—about love and its complications.
"He's Angry"
This menacing track never saw the light of day post-With Sympathy, but could have very easily fit here in good, stark contrast to a lot of this album's pop songcraft. Full of harsh samples and tuned percussion, it's an early example of Jourgensen's sociopolitical lyrical critiques.
"Here We Go"
A lot of this remodeled side two leans on songs in similar keys, BPMs, and with intros and outros that lend themselves well to smart transitions. This With Sympathy track has a cleaner sound and more sharply defined melody and harmony than "He's Angry," but shares its frenetic nature. The synth stabs and lyrics about overcoming adversity recall early Duran Duran.
"She's Got a Cause"
Against a backdrop of chirping, shuffling keyboards, Jourgensen writes about giving yourself over to an obsessive mate. It's about as downright pleasant-sounding a song as Ministry ever committed to tape, in a quirky Devo kind of way. On the original With Sympathy album it was a way to sneak quietly out the back door. Here, however, it's our false finish.
"(Every Day is) Halloween"
Long considered a goth anthem on par with "Bela Lugosi's Dead," like the Bauhaus song this too never showed up on a proper studio album. Let's right that wrong, shall we? A stomping dance track with timeless words about nonconformity and even a "bomp-bompbomp" sample you can sing along with, it's a perfect way to leave the album on a strong note, storming off into the night and into an aggressively programmed future.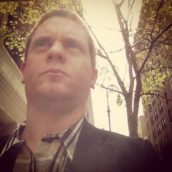 Adam Blyweiss
Adam Blyweiss is associate editor of Treble. A graphic designer and design teacher by trade, Adam has written about music since his 1990s college days and been published at MXDWN and e|i magazine. Based in Philadelphia, Adam has also DJ'd for terrestrial and streaming radio from WXPN and WKDU.