Of Montreal : Hissing Fauna, Are You the Destroyer?
The cover art to Of Montreal's Hissing Fauna, Are You the Destroyer? is at once the group's most abstract and the most telling in regards to the music beneath it. Two simple, black folds are held together with an adhesive tab, resembling the underside of an envelope, albeit one that's had a few spins under the spirograph. Once those folds are opened up, they refuse to stay closed, as if the album refuses not to be heard, Kevin Barnes' hyper-energetic melodies and lyrical confessions spilling forth and forcing their way out. That the album looks somewhat like a letter waiting to be opened only seems appropriate, given that this is Of Montreal's most intimately revealing record to date.
In the past, Barnes focused primarily on third person narratives and quirky storytelling, but somewhere around 2004, things went south for the Georgia-based songwriter as he moved north. Living in Norway, Barnes found himself the victim of a deep depression, and then subsequently became separated from his wife and daughter temporarily. Barnes catalyzed the resulting turmoil into such deeply honest and autobiographical entries as "Heimdalsgate Like a Promethean Curse" and "Cato As A Pun." The former finds Barnes addressing his depression directly: "I'm in a crisis/I need help/come on mood shift, shift back to good again." In contrast to the lyrical subject matter, however, the music is as joyous and vibrant as Of Montreal has ever been.
Delving further into the electronic sounds explored on The Sunlandic Twins, Hissing Fauna is a closer-to-perfect marriage of the psychedelic OM of yore and a Prince, Sly Stone and Human League inspired dance act. Leadoff track "Suffer For Fashion" is a magical, glimmering anthem that's as catchy and danceable as anything the group's ever done. Likewise, "Labyrinthian Pomp" and "Faberge Falls For Shuggie" get downright funky, Barnes attempting his best falsetto while allowing some slinky basslines to guide his sassy grooves. However, these tracks are two of a handful of character sketches on the album, their cheekiness adding a lighter side to the otherwise dark sequence of confessionals.
If the downcast lyrics and high-energy electro jams seem an odd match, it's only because of the contrast they create. It's clear that Barnes is fighting to lift his spirits and to overcome such demons with such powerful sounds. Consider this Rabid Pet Sounds, Barnes playing the drum machine-wielding Brian Wilson writing teenage symphonies for himself (even sounding a bit like the Beach Boy on the brief, beautiful "Sink the Seine"); thankfully, he's generous enough to share them with us. On "Gronlandic Edit," reminiscent of 2005's single "Wraith Pinned to the Mist (and Other Games)," Barnes seeks deeper spirituality, pondering "I guess it would be nice to give my heart to a God/but which one…which one do I choose?" "A Sentence of Sorts in Kongsvinger" is a melodic peak, an absolutely stunning synth symphony, telling of "a winter on the verge of a nervous breakdown while living in Norway." After this highlight comes the album's centerpiece, the sprawling, 12-minute "The Past is a Grotesque Animal," in which Barnes reads his tragic litany. It's a lot to take in one sitting, displaying the singer at his most vulnerable, offering lines like "I'm flunking out, I'm gone, I'm just gone/but at least I author my own disaster."
The album's final ten minutes reveal two of the most stunning tracks here: "She's a Rejector" and "We Were Born the Mutants Again With Leafling." The former is a full-blown electroclash rave-up, with Barnes sounding his most angry and conflicted ("there's the girl that left me bitter / want to pay some other girl to just walk up to her and hit her / but I can't / I can't / I can't"), as the latter is, simply put, a masterpiece of kaleidoscopic sound, multi-part layered harmonies cascading over one another in sonic bliss. Yet this gorgeous denouement finds our hero ending the album on a surreal yet optimistic note, declaring "we won't let this end in disaster."
The circumstances that led up to the creation of Hissing Fauna may not have been for the best, but what came out on the other side was something awe-inspiring and jubilant. By looking internally rather than to fiction and fantasy, Kevin Barnes has created something emotionally engaging and universal. Hissing Fauna is a new creative height for Of Montreal, and a classic album in the truest sense of the word, straight down to the packaging.
Similar Albums:
Flaming Lips – Yoshimi Battles the Pink Robots
Prince – 1999
David Bowie – Scary Monsters
MP3: "Heimdalsgate Like a Promethean Curse"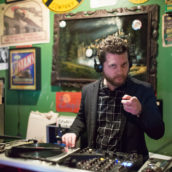 Jeff Terich
Jeff Terich is the founder and editor of Treble. He's been writing about music for 20 years and has been published at American Songwriter, Bandcamp Daily, Reverb, Spin, Stereogum, uDiscoverMusic, VinylMePlease and some others that he's forgetting right now. He's still not tired of it.