It's rare to be greeted with a "Happy New Year" in July. In fact, it's almost meant to elicit a negative reaction, after all, at this point, the year can no longer be called new. In May, one might be able to accept it. June is pushing it. But in July, it's half done—the year is officially over the hill. I can't help but be reminded of the episode of Seinfeld where Jerry and Elaine complain of receiving "happy new years" in February or March. Yet, we do often forget about the Chinese New Year, which begins later in the year. Call it a similar occasion for Oneida, for this month marks a personal sort of new beginning. Their Brooklyn studio was recently marked to be demolished to make room for condos for rich jerks and a shopping plaza. Powerless to do anything about it, the band moved on, instead finishing up their new album, the curiously titled Happy New Year.
Though they've got a new studio now, which they call "The Ocropolis," the final recordings from Oneida's previous home became the monumental Happy New Year. Technically, this might make it more of an ending than a beginning, but the band sounds more innovative than ever and come out fighting with their best album yet. One could argue the same for The Wedding or Secret Wars, their two previous albums in backward chronological order, and many have. Yet, on this record, the band seems to be exploring more ideas and textures, and at the expense of sounding a little too eclectic, they've made an incredibly diverse and accomplished set.
After hearing the Syd Barrett-inspired weirdness of opener "Distress," it's likely that some would believe the Brooklyn group has gone medieval on our asses, literally. Within that song, however, are lyrical themes of growth and death, and the ongoing cycle with which Oneida is too familiar: "so soon our transient comfort flies/and pleasure only blooms to die." Not far behind is the title track, a synth-glurping series of polyrhythmic throbs that's not much unlike the familiar Oneida of yore. Yet the band works their way up to a heroic, repetitive progression on the explosive rock in "The Adversary," a psychedelic powerhouse that unleashes a thunderous cacophony.
The track on Happy New Year that has inevitably received the most attention thus far is "Up With People," a trippy, deceptively simple eight minute synth-punk epic that, at times, recalls Love and Rockets. The groove is dirty and raw, which pairs well with Bobby Matador's free-spirited lyrics of "you got to get up to get free." Still, the band becomes even more adventurous on side two, beginning with the paranoid robot parade "History's Great Navigators." Pianos and other strangely melodic percussive instruments create a strange, metallic toy factory sound that's as hypnotic and sublime as it is curious. And returning to the themes of new beginnings, Matador sings, as if giving a word of sagely advice, "Cross your heart, hope to die/calm your voice, set your eye/turn your back and go."
A few excursions into acoustic sounds serve the band well, most notably "Busy Little Bee." Like any other song in the band's catalog, its vibe is largely of a psychedelic nature, but also pouring in vaguely Eastern sounds and instruments which I couldn't precisely identify. Still, they sound pretty darn cool. "Reckoning" as well is a largely acoustic track, mellow and gentle, with electric drones interrupting ever so politely. Two tracks later on "The Misfit," Oneida gets the volume cranked up again. With a mesmerizing groove and a distorted organ, they manage to sound like a Krautrock Suicide, motorik-izing Martin Rev and Alan Vega's keyboard punk. Loud yet somewhat subtle in its melodies, it's one of the album's highlights, transitioning into the lengthy finale, "Thank Your Parents."
"Thank Your Parents" was the original title of the proposed triple album, but instead the title was bestowed upon this piano-driven dirge, a haunting and repetitious closer to a multiple-personality album that succeeds in its willingness to escape from expectations. Happy New Year is a thing of beauty; while there's no diminishing the band's past achievements, the combination of moods and textures here is staggering. It's a stoic step toward the future, the first celebration of the Year of Oneida.
Similar Albums:
Secret Machines – Now Here is Nowhere
Faust – IV
Six Finger Satellite – Severe Exposure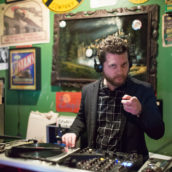 Jeff Terich
Jeff Terich is the founder and editor of Treble. He's been writing about music for 20 years and has been published at American Songwriter, Bandcamp Daily, Reverb, Spin, Stereogum, uDiscoverMusic, VinylMePlease and some others that he's forgetting right now. He's still not tired of it.