PUP : The Unraveling of Puptheband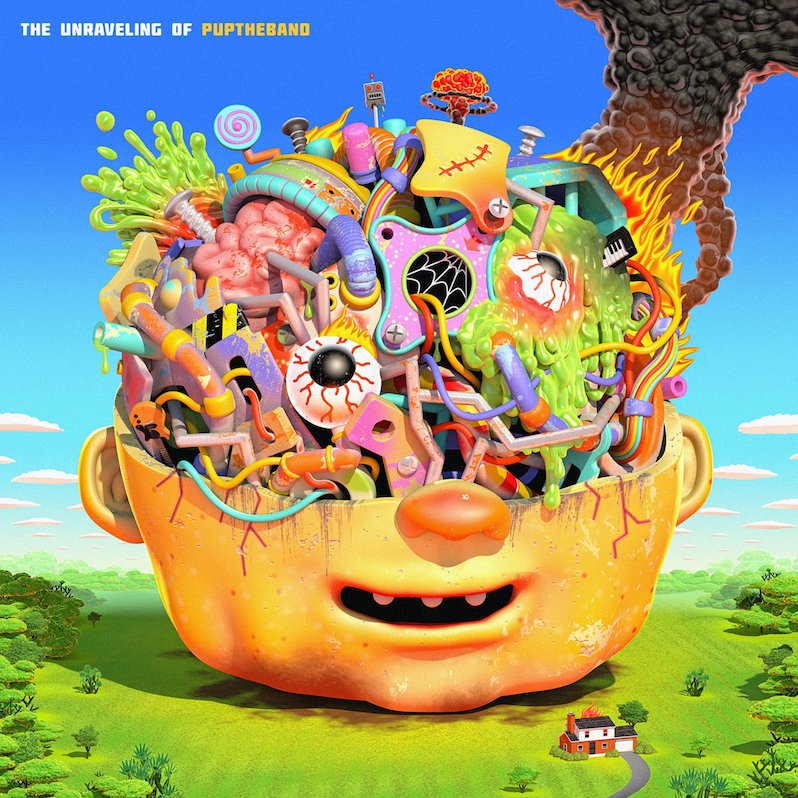 Messy internal politics and an abject refusal to remotely function are hallmarks of some of rock 'n' roll's greatest bands. The Who's dueling frontmen couldn't stand each other; Joey Ramone was convinced Johnny stole his girlfriend; and in the '90s, you could hardly move for tabloid headlines about the Gallagher brother's frequent drug-fueled squabbles. Now, with their fourth release, PUP make an argument for joining that dubious pantheon, albeit with more than a few self-deprecating winks at the audience.
Give or take a few songs, The Unraveling of Puptheband is a sort of loose concept album about how difficult PUP are finding it to be, well, PUP. They're beset by a stubbornly incurious fanbase ("They haven't listened to any new music since college"), artless label executives ("Show me four chords, it should be enough"), and a general inability to operate. As such, a large portion of their new release is music about music, often in a fun and creative way. "Matilda," for example, is sung from the perspective of an old guitar that is no longer played by its owner (and is far more poignant than it has any right to be). "Relentless" deals with singer Stefan Babcock's stage fright, while the album's closer is a charmingly bitter take on the conflicts between playing music for a living and the pressures to be a functioning adult.
There's a drawback with PUP's fourth outing, though, and that's that far too often, the concept outshines much of the actual music. This isn't PUP at their catchiest, or most ferocious, or even their funniest—it's certainly hard to top anything within the broad genre of meta-complaints about the music industry when you've already smashed out "If This Tour Doesn't Kill You, I Will" two albums ago, although "PUPTHEBAND Inc. Is Filing For Bankruptcy," is a phenomenally good runner-up. PUP have taken this album as an opportunity to focus their perennial wailing frustration inward and make a formative statement on what it's like to be a fairly popular band within a genre that preaches self-destruction and whose hardcore adherents often scorn actual success. But there's only so many albums you can pack full of lyrics about how hysterically unsatisfied you are with yourself and everyone else before it all starts to wear a little thin. Babcock himself seems aware of this—he's "too old for teen angst," as he comments in "PUPTHEBAND Inc. Is Filing For Bankruptcy."
Experimenting with new sounds—with synths on "Habits," for example, or the softer tone of "Robot Writes A Love Song"—is a smart way to combat this, bringing in something new to refresh the formula. Leaping sporadically from one musical dynamic to another is something PUP have always been good at, and Unraveling continues this trend. It boasts a decent variety of sounds that are usually good at keeping you guessing, like in "Waiting," where a heavy, metallic riff launches effortlessly into a stadium-pop chorus.
It just doesn't always go far enough. The admittedly tricky balance between embracing new styles while retaining a continuous sense of personality is all too often lost, leaving the band in a disappointing haze that abandons the brittle, hyper, full-throated mania of efforts like Morbid Stuff and The Dream Is Over, but doesn't quite figure out what it ought to replace it with. If PUP are—as the album title insists—unravelling, shouldn't everything sound just a little more visceral than this? That's not to write off the album by any means. It's a collection of mostly good songs alongside a couple of great ones. Unfortunately, it suffers from a kind of directionlessness that prevents it from graduating very far beyond that middle ground. But then, PUP have a penchant for meta-self-commentary. Who's to say that's not intentional?
---
Label: Little Dipper/Rise
Year: 2022
---
Similar Albums: