13 Record Stores to Order From While Social Distancing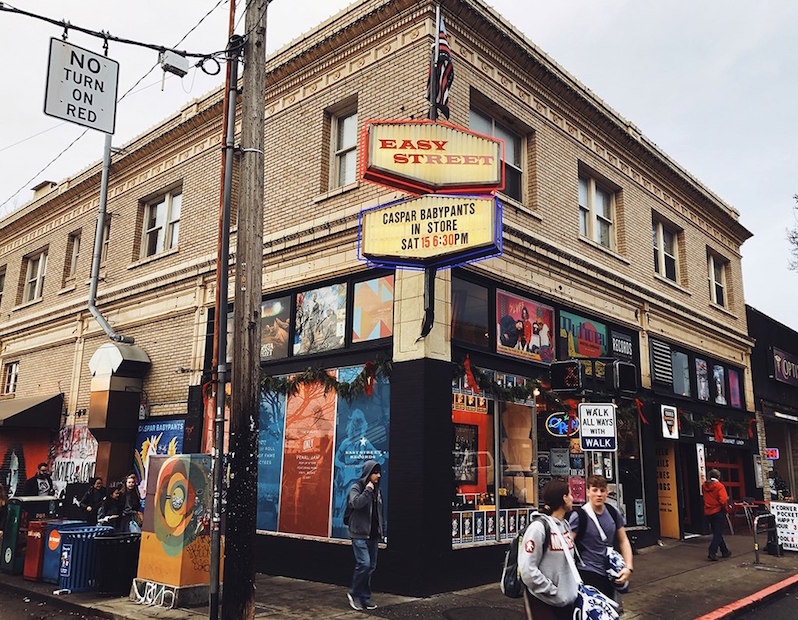 COVID-19 has really done a number on the music industry. While bands have been figuring out how to navigate a landscape with no live music (temporarily, we'd hope), the need for social distancing has caused a massive slowdown in the economy, and that includes record stores. It's been a couple months, already, and some places are slowly opening up, some doing curbside pickup, and some making appointment-only visits, but regardless of the status of your local shop, record stores could use a boost. We, personally, miss visiting them, but in the meantime there are still a lot of record stores that are doing mail order via their website or Discogs page. So here's a roundup of some of our favorites that you can order from right now, without going against safety regulations.
---
(San Francisco)
In November of 1997 Amoeba Music San Francisco opened its doors in the space of an old bowling alley, across from Golden Gate Park, on Haight Street. It was San Francisco in its pure essence before they sold physical media item number one. Self-described as a 21st century music outlet (that's right), a website, a popular live performance venue, and trading post for new and used discs. They stock every kind of music and movies, from the top 40 to the best in underground rock and hip-hop, soul, electronica, new and classic jazz, world music, roots music, and experimental music. They also have the biggest, most diverse, and affordable selection of DVDs and vinyl LPs found anywhere.
But here is the nut, ANYBODY who claims to be a DJ, still fucking with vinyl (cause it's the sole truth)—if you are not cruising the dollar bins, spending afternoons in the jazz sections, catching diggers carpel tunnels flipping through their vast 45's selections….you hustling backward. Amoeba SF is the Mothership that at some point every DJ has to devote time to because you never know which fool just sold their collection to pay rent. – John-Paul Shiver
---
(Boulder)
Last year my wife and I had an afternoon to kill on a trip to Boulder for a wedding, so naturally we went wandering in search of a record shop. Going into Bart's Record Shop completely blind, I was pleasantly surprised to find a neighborhood shop overflowing with stuff I wanted to take home with me, but for which probably didn't have enough room under my cramped airplane seat. In addition to the usual new and used rock staples, their jazz section is well stocked, and there are more than a few collectibles to thumb through. I brought home a copy of Sade's Diamond Life and Slowdive's Souvlaki, but you can see what's in stock on their Instagram every day. (Call in to place an order—wait, call? Yeah, apparently!) – Jeff Terich
---
Bric-a-Brac Records & Collectibles
(Chicago)
Chicago is a goldmine for mom n' pop record stores but Bric-a-Brac Records & Collectibles is my favorite. Known for its wide local selection, in-store daytime gigs and whimsical collector's items, the store is curated with an irresistible charm. The shop's collection favors quality over quantity; you'll always be able to find the record you wanted, or a retro action figure you didn't know you needed. It's the only record store in Chicago where you can pick up a vintage Furby, catch a show and nab that limited run vinyl you thought you had missed out on. That translucent purple disc may be sold out everywhere but I bet there's one left at Bric-a-Brac. – Patrick Pilch
---
(Seattle)
It speaks to how strong Seattle's record store options are that it wasn't that hard to come up with a favorite to highlight here, even though the iconic Bop Street Records is closing in June and Sonic Boom has been on lockdown since mid-March. One of the bigger shops in Seattle, Easy Street has two levels of new and used vinyl to dig through (with a lot of their new inventory online), and if you're in the Seattle area, the Easy Street van is making house calls. Also, when this all clears up and you're ready to finally do some real crate digging, pay a visit to their cafe, have some coffee and a breakfast burrito, and admire your purchases with a boost of caffeine. – Jeff Terich
---
(New Orleans)
My favorite part of visiting Louisiana Music Factory on my last trip to New Orleans was hanging out with the cat that lives at the store. (Always visit the store with the cat, folks.) My second favorite part was buying the records, of course, of which they have a lot, including a lot of classic New Orleans music like Dr. John, Allen Toussaint, The Meters and so on (though ironically, Dr. John's Gris Gris was reissued by Jackpot, a portland label and record shop). Their website only has a small selection of what's available in the shop, mostly selections of their NOLA specialties, but honestly, a lot of these jazz and R&B records are essentials anyway. After all, New Orleans has an impressive musical tradition. – Jeff Terich
---
Portland, Oregon is a mecca for vinyl junkies. (Fun fact: Discogs is headquartered in Portland.) Ever since I got my driver's license, I've rarely made a trip into the city without stopping by one of the city's many record stores. The one I've been a patron of for the longest is Music Millennium, supposedly the oldest record store in the Pacific Northwest, and without doubt one of the best. I still remember the first trip I made there nine years ago, and the thrill of finding copies of Radiohead's Kid A, The Strokes' Is This It and Love's Forever Changes in the used CD section to add to my burgeoning collection. As my collection grew to include vinyl, I've found countless other goodies there, from bootleg Frank Ocean LPs to a like-new copy of Aphex Twin's Selected Ambient Works Volume II. Seriously—if you can't find it at Music Millennium, either it doesn't exist or it's already sold out. When this is all over and it's safe for them to open their doors again, there's nothing I'd love more than to go buy myself a microbrew at the in-house bar and peruse the wares for hours while a local band performs on the upper level.
Other essential Portland record stores include the bright and colorful Jackpot Records (which is not related to Jackpot! Recording Studio), the defiantly indie Mississippi Records (which is in fact related to the label of the same name), the sprawling vinyl bazaar Crossroads Records, the nerdcore bunker Future Shock, the metal institution 2nd Avenue Records and the twin Everyday Music establishments. (You can buy online from Music Millennium, Jackpot Records and Mississippi Records.) And since we're talking Portland, I'd be remiss if I didn't mention Powell's Books, whose downtown home base, affectionately dubbed the "City of Books," claims to be the largest independent bookstore in the world. Should you be in need of something to read—be it a John Darnielle novel or Jeff Chang's Can't Stop Won't Stop—in addition to something to listen to, they could really use your support too. – Jacob Nierenberg
---
(Los Angeles)
A lot of record stores have had to live in the shadow of Amoeba in Los Angeles, considering it's massive. (Though closed for the time being, until it moves into its new location.) But don't overlook the mom and pop shops, like Permanent Records, which always has an impressive selection of used gems worth browsing through. They have a webstore, but to make things a little more fun during quarantine, they've been doing Instagram sales where they'll post a record, and the first person who posts "DIBS" gets to buy it. Gotta be quick though! – Jeff Terich
---
(Richmond/Charlottesville)
Between Richmond and Charlottesville, you can put a serious dent in your bank account going record shopping. (And that includes some off-the-beaten-path places like Low Vintage, a thrift shop with—when I was there at least—an impeccably curated collection of hardcore, post-punk, no wave and industrial records that made my jaw drop.) The gold standard of the Old Dominion State, Plan 9's two locations are large, always stocked on new releases and other various merch. And they'll ship to your door. It's a necessary visit when you're strolling through Carytown but even when you can't go inside, you can still peruse their online stock.  – Jeff Terich
---
(New York City)
Rough Trade has locations in both New York City and London—and if you're in London, the Notting Hill location is a must-visit destination for rare crate diggers (the basement has racks full of well curated finds, some pretty valuable at that). The Williamsburg Rough Trade is more of a new vinyl destination, however, which is also what makes it essentially perfect for buying remotely. There's no perusing the condition of each vintage find, making sure the condition is pristine—that's fun too, but it'll have to wait until after social distancing is finally over. In the meantime, odds are better than great that Rough Trade has what you're looking for. – Jeff Terich
---
(London)
You could spend a month record shopping in London. Probably. I could anyway. Every time I make my way there, it's a big part of my agenda, in large part because there are a lot of great places to pick up some great records. Sister Ray, located in Soho, caters to a wide variety of tastes, though it leans a bit more on the indie/rock/psych end of things—if you get the title reference then you're the target demographic. Though that being said I've picked up some great jazz records there as well. The bulk of the music is in the basement, and unfortunately flipping through the underground racks is going to have to wait for the time being, though they do have a Discogs and an official online store. So spend some time browsing at each.
---
(Berlin)
I took a train to this shop a few years back when I tagged along on a work trip my wife took, and I only wish I had more time to spend there, even though I remember it being a particularly sweaty day (protect the records at all costs!). Spacehall is, simply, huge. The electronic/dance section could keep anyone busy for days, but that also more or less goes for every section—at the time I was mostly picking up vintage post-punk stuff, though I specifically regret not buying The Normal's "Warm Leatherette" 7-inch even though it was right in front of me. Considering Berlin is a great music city with a lot of options, this is by no means one's only option, but their Discogs page is overwhelmingly well stocked, with more than 28,000 items in stock(!). – Jeff Terich
---
(San Diego)
Vinyl Junkies began as a quarterly record show where various vendors would bring their offerings to local rock venue The Casbah, and people can shop while listening to DJs (I've spun there!) and drinking a beer. Eventually, it was turned into a a brick-and-mortar shop—though the record shows will resume after social distancing guidelines lift—that's about as well curated a selection of records as you'll find inside a craftsman house in Southern California, not to mention regular live in-stores and DJ sets. There's a "Diggers Den" with low-priced records, and you'll find plenty of gems in there, but the main shop is loaded with excellent new and used items. I've picked up some great records by Come, Yaz, Daughters, Junior Murvin and Gene Clark there, and there's a Prurient box set I've had my eye on for a while (but is, uh, a little pricey because it's 10 LPs or something like that). But they do window service and mail order, so no matter what they've got you covered. While you're considering San Diego shops, M Theory and Folk Arts Rare Records have active Discogs pages, plus most shops in town are doing curbside pickup if you're a local (or visiting, but you're probably not, we're guessing). – Jeff Terich
---
(Austin)
If you've ever been to SXSW, then you probably know Waterloo Records. Every year they put on daytime shows, and I've seen a few myself, including Kurt Vile and Frightened Rabbit. But yes, they are indeed a record store, and one you could easily devote the better part of your day to. In-stores are a regular occurrence (at least during non-social-distancing times) and they maintain an ample stock of new and used releases, including Austin and Texas locals. They have a webstore as well as a Discogs store, plus they're doing curbside pickup right now. – Jeff Terich
---
Also, don't stop here. There are a lot of great record stores around the world that are worth ordering from. Take a look at Discogs' list of brick-and-mortar-shops that have Discogs pages to order from and do some remote crate digging!
---
Support our Site—Subscribe to Our Patreon: Become one of our monthly patrons and help support an independent media resource while gaining access to exclusive content, shirts, playlists, mixtapes and more.