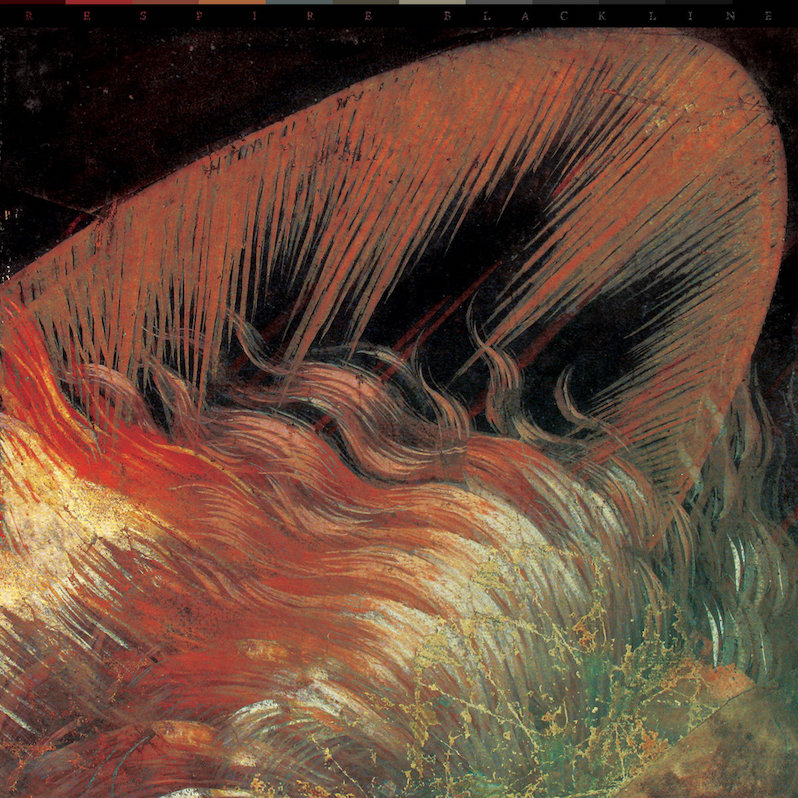 Respire, like most other bands in 2020, have had a trying year to say the least. Nary a soul hasn't had some kind of challenge to overcome, or some perspective to apply towards themselves—like, for instance, global fear of a deadly illness, the loss of income from canceled tours, or cutting ties with a label (for very good reasons). As the year closes out, Respire's third LP Black Line encapsulates some of those trials, some of the rage, and even some of the love, of our lives and converts it through post-blackgaze skramz alchemy into something else entirely.
Certain albums seek to cement listeners with their first track. Opening track "Blight" doesn't reveal all the band's tricks at once but rather makes for a captivating introduction, its sound that of aural paralysis in its finest form. It's a profound opening that teems with string trills that pinch at razor sharp intervals, with all the weight of a classic composition behind it. This calm soon subsides, hurtling into "Tempest," the album's first proper track. By contrast, it's mayhem incarnate, with gang screaming vocals both guttural and goblin, belted from throats and gullets, backed by a fury of incessant percussion and grisly, angular guitar work. Respire's greatest strength has always been getting in touch with an emotional center that feels so completely wrought with not just anger but disappointment, bigger fuels for fires of the spirit that often unveil harsh truths. And between the tracks bouts of fury and calamity are quieter affairs, where strings and twinkly guitars linger, mingling among the sonic ruins.
"Cicatrice" flirts with chugging prog inspired death metal riffs, fusing harsh, sometimes naked treble-drunk riffs along a wall of blood-curdling noise. Respire's greater aesthetic achievement on their third LP lies in their lyric writing, however. It would be a challenge to find a band within the same field of orbit that could muster phrases like, "and all that still grows, a wallow/the branch yearns for something else/transcendence and exit wounds/fed to the fates, the collow/we live on (to suicide) just to bleed (the earth's disease)." It's not just a singular song either, lyrically this sees Respire at their most accomplished, their most deeply poetic.
That uncanny sonic warmth is still present, however; "Lost Virtue" escalates across a pre-recorded mandate of assessing the world's horrors, yet still manages to feel close, horns echoing and collapsing into a rhythm that eventually builds to a crescendo to match the desperation not just of our narrator and the world, but the listener, it's fuel for anxiety and simultaneously fuel for catharsis. The shorter "Kindling" offers a reprieve to the overt intensity of the album, flowing with a rapturous beauty that would feel forced in any other track in the album. It's breathing room that isn't artificial, as if Respire—while addressing the horrors of our world, our existence—asks listeners to focus on something calming.
There are some distinct callbacks to the band's prior efforts throughout, proving that they haven't let go of their prior identity. "Embers to End" offers an increased awareness of its percussive cadences as well as a drastic amount of tonal shifts, feeling much closer to some of their earlier compositions while remaining significantly denser. While that same density might in lesser hands risk suppressing some of the finer elements and inclusions, Respire's grace and tact comes not from delicacy, but from an overt symphonic expression of unadulterated emotional output. It comes from rage and hate and love and sorrow, a wall of sound that screams the human condition alongside the personal, lived experience. Sonically, they have better married that concept than they ever have.
"Flicker and Faint" sees Respire embarking upon a more morose and lengthy affair, letting the weight of the track take shape with choir-like clean vocals, chanting "do you think the universe will blink when we're gone?" a surprising element to introduce, but one so sincere and seamless that it fits. The shift back toward harsh vocals among a sea of growing intensity is beyond satisfying, as each element is reintroduced to its fullest state, only to be paused to allow a single string instrument or vocalization to pierce through.
Black Line closes with "Catacombs Part II," a continuation of the soundscape they built on their second LP, Denouement. Acting as a bridge, yet as a tremendous sonic callback to their first LP as well, it effectively couples and completes a sprawling trilogy. The track feels deeply personal, a catalogue not just in its sonic aspirations, but also in its documentation of Respire's journey to this point. "I'll stay with you/till the last notes chime/till the silence breaks/though the street's lit up/though our hearts fail fast" reads not only as one narrator's loyalty to another, but also as a dedication to community, to the world, to upholding responsibility for a better tomorrow by being just a bit more human.
---
Label: Church Road
Year: 2020
---
Similar Albums: