Shadow of the Horns: Hell bent for leather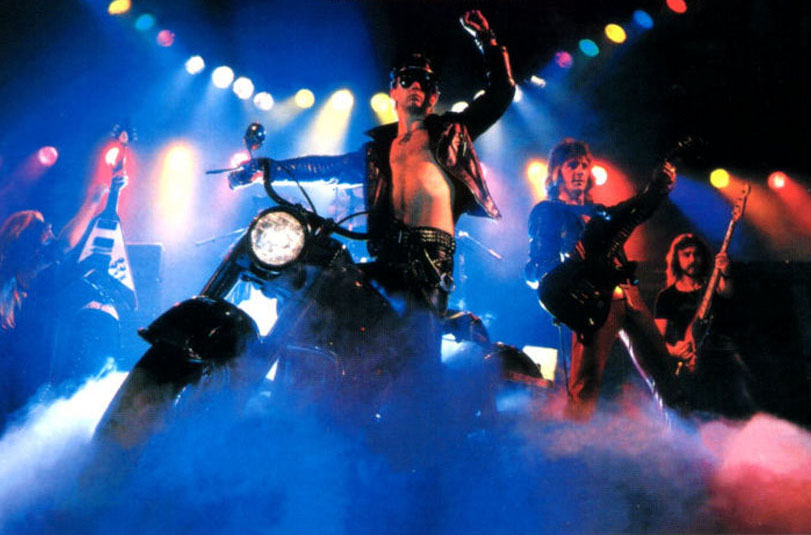 I think it's fair to say that when readers come to this column every month, they expect to be updated on what's happening in underground metal. It's not exclusively underground, just like Treble itself isn't exclusively an underground music publication, but the majority of it certainly is. I write about Metallica on this page, and have a couple times in fact, but most of the time I'm more excited about discussing Yob or Thou or Tribulation or Anagnorisis. That's generally the sort of metal that excites me, that makes me absolutely love this music.
But before we get to the best of what's happening in independently-released metal, we need to talk about one of the biggest bands in metal: Judas Priest. Last month, I alluded to this in my monthly metal essay, and I'm beyond thrilled to say that I've finally seen one of the titans of heavy metal live. I often credit Judas Priest with awakening my interest in metal. The truth is more that I got there through the side door thanks to metal-adjacent bands like Helmet and Soundgarden, but as a youngster I heard some of their early classics such as "You've Got Another Thing Coming" and "Breaking the Law," and I ate it up. Priest made me love metal.
So when I saw that Judas Priest were coming to San Diego for the first time in years (despite Rob Halford having taken up residence here back in the early '00s), I made sure I wasn't going to miss it. And that's despite the fact that they were playing at a large arena where I've had major frustrations in the past, from some unpleasant incidents involving miscommunication with press liaisons and impossibly long waits to get out of the parking lot. I was willing to look past all that. This is Judas Priest we're talking about here.
Initially, the atmosphere felt a little underwhelming. Far too many of the amphitheatre's seats looked empty, and roadies' attempts to mount a large Judas Priest banner on a motorized rig failed. Twice. It's the sort of disappointed shrug I was expecting, along with some way-too-expensive beer. But when you're a captive audience, you pay for it. Because damn it, you came to have a good time.
But once Black Sabbath's "War Pigs" started blaring through the speakers, everything changed. An atmosphere of meh suddenly turned electric, and before I knew it, somehow all those empty seats now had asses in them. And once Priest started ripping through tracks from their outstanding new album Firepower, my malaise had evaporated. This is what I came for. This is what I've been anticipating for months.
Considering this was a co-headlining tour with Deep Purple, the setlist might have been slightly shorter than those of their earlier 2018 tour leg, but what was there was all fire: "Electric Eye," "Turbo Lover," "Living After Midnight," "Painkiller," "Hell Bent For Leather," etc. They played the hits, they played the deep cuts, and they had fun doing it. What's truly remarkable, though, is how great Rob Halford sounds. The man's always had one of the most insanely expressive voices in metal, and at 67 years old, his voice still has a superhuman quality. He hit those notes. Damn right he did—with about a dozen different leather-jacket costume changes throughout the evening, as well as a floor length denim battle vest.
Considering how long Judas Priest have been around, it's probably worth pointing out that the band's lineup has changed a few times, and seeing them in 2018 isn't necessarily the same as seeing them in the '80s. While guitarist Glenn Tipton still records with Priest, he's retired from touring due to a recent Parkinson's diagnosis (though he's made appearances at shows earlier this year). Yet whether or not this is the same band that released Screaming For Vengeance—literally—two original members (Halford plus bassist Ian Hill) and a drummer that's closing in on his 30th year (Scott Travis) is impressive. These are lifers, and they're partially responsible for recruiting this one as well.
What's heartening, however, is seeing that a metal band can still be so much fun even when they're inching closer to their 50th year. And for that matter, to see so many people right there with them—everyone was singing along to "Breaking the Law." Everyone. These are the moments that keep me excited about being a metalhead, and serve as a reminder that in spite of all the evil cosplay and absurd mythology, the reason we listen to metal is because it feels good.
The best metal tracks of September 2018
Glacial Tomb – "Breath of Pestilence"
A lot has been made of the recent spate of jokey, anti-fascist black metal that's been circulating of late. Objectively, this is a good thing; metal's been letting the enablers speak for way too long, and even if it's all done with a bit of snarky humor, more anti-Nazi metal is certainly welcome. That being said, those disappointed in the execution would do well to listen to Glacial Tomb, a band that already released a ripper of an anti-Nazi song last year, and which features Khemmis Ben Hutcherson among its ranks. "Breath of Pestilence" is their latest offering, a crusty, vile and totally ass-kicking black metal track that sounds utterly evil without actually, y'know, being evil. It's the kind of black metal that always hits the right spot, dark and dank and full of menacing roars. (Also, if you haven't yet, read my interview with Hutcherson about Khemmis' latest, awesome album.)
from Glacial Tomb, out Oct. 26 via Gilead
---
Devil Master – "Obscene Charade"
While we're on the subject of crusty, old-school evil, Philadelphia's Devil Master is all three of these things in the best way. As much hardcore as they are metal, and as much metal as they are goth and death-rock, Devil Master immediately recall all of the nastiest sounding cassettes in your collection from the '80s. (And if you weren't alive in the '80s, well, the nastiest cassettes in your collection now, I suppose.) "Obscene Charade" immediately brings to mind the raw assault of early Slayer or Hellhammer, yet with the melodic approachability of old-school goth or punk. It's fast and it's short, and it's lo-fi as fuck, but damn is it a lot of fun.
from Manifestations, out Nov. 2 via Relapse
---
Deadbird – "Luciferous Heart"
When we think of the locales responsible for some of the greatest doom metal, the first instinct is probably to name somewhere like the United Kingdom or Sweden—countries that have produced some truly influential and pivotal releases in early doom. But in the past couple of decades, American doom metal has more than held its own, particularly that born in the south. Arkansas has given us Pallbearer and Rwake, two bands whose entire catalogs are utterly essential, as well as Deadbird, Chuck Schaaf and Reid Raley's post-Rwake band. It's been a long 10 years since their last release, 2008's Twilight Ritual, but the devastating heaviness and breathtaking power of new track "Luciferous Heart" from their upcoming third album more than makes up for the wait. It's melodic and melancholy, two hallmarks of any great doom metal track, but rife with a dense, sludgy distortion and more than a little groove to balance out the bummer. Doom metal, in general, isn't really intended to be energizing music, but this is the kind of anthem that makes me want to run laps or play some sweet air-guitar licks or high-five my fellow hesher. That's the kind of doom metal I could use a lot more of.
from III: The Forest Within the Tree, out Oct. 12 via 20 Buck Spin
---
Witch Ripper – "Sucker Punch"
If the badass tone of Witch Ripper's sludge metal reminds you of Mastodon, there's a good reason for that. The Seattle band's new album Homestead was recorded with Matt Bayles, who also produced and engineered Leviathan. So some similarities are probably going to be inevitable. That being said, Witch Ripper are uniquely their own band, slinging their own meaty riffs with breakneck rhythms and more than a little reverence for some old-school heavy metal fretwork (that finger-tapping solo—chef kiss). And all of that, honestly, would be enough—this band's showy instrumental abilities are all quite dazzling. But "Sucker Punch" is simply a hell of a song, laden with hooks and taking the listener through one thrilling passage after another. There are melodies, solos upon solos, and a growing intensity that serves as a reminder that Witch Ripper are not fucking around.
From Homestead, out now via DHU
---
Evoken – "Valorous Consternation"
New Jersey funeral doom masters have built their reputation on the fusion of grace, beauty and majesty with something utterly crushing and intense. Their albums such as 2001's Quietus and 2012's Atra Mors are so highly regarded for a reason—few bands are able to craft a doom metal work of such contrasting dualities and make it sound so natural and affecting, though more recent efforts by Bell Witch and Mournful Congregation suggest that there's still plenty to be explored in this territory. As Evoken prove with new track "Valorous Consternation," however, they've still got plenty of exploring to do on their own. At eight minutes and change, this track is far from the band's most colossal or sprawling, but it feels titanic, opening with a juxtaposition of massive riffs and super creepy synthesizers. By its midsection, however, it transforms into a spacious gothic dirge, and a truly chilling one at that. It, of course, rises back up again into a fiery explosion of burly riffs. Evoken cover a wide spread on "Valorous Consternation," from a triumphant march to a graveyard detour and eventually a plunge into the depths of hell.
from Hypnagogia, out Nov. 9 via Profound Lore
Piece by piece
The best metal albums of the month:
Bosse-de-Nage's Further Still: The Bay Area black metal band still aren't the most outspoken members of their genre, but they're a little less invested in the mystery-persona than before, which is good. They've always had one foot in post-hardcore, arguably a less fantastically mythical style of music, and their latest finds them doubling down in that area. This is still black metal, but the more immediate punk-rock roots are there for everyone to hear, and in the process they've managed to open up some more interesting aspects of their sound while streamlining what they do. (Flenser)
Jesus Piece's Only Self: Arguably a hardcore record more than a metal record—but a really fucking heavy one—Jesus Piece's debut is one of the most uncompromising slabs of pure aggression I've heard all year. And that's saying a lot. This is a nasty piece of work; heavy doesn't quite cover it. But it's more than that—it's atmospheric and experimental, fusing elements of industrial and ambient music with their muscular assault. It's the kind of album that gives you nuances to find after the initial beatings have healed. (Southern Lord)
Pig Destroyer's Head Cage: I don't mean to keep harping on this, but I do find it annoying that the initial reaction from some corners of the metal Internet was "This doesn't sound like an album that Pig Destroyer already made, therefore it's bad." That's not the kind of logic that makes any sense to me, especially considering Pig Destroyer have been evolving and growing for pretty much their entire career. This album has more groove, more hooks, more badass riffs, and a lot less grind. Certainly it's a trade off and I understand the disappointment that, well, Pig Destroyer is a different band now. But the band they've become is amazing. (Relapse)
Sumac's Love In Shadow: One of the most forward-thinking metal albums I've heard all year and, for that matter, simply one of the best albums of the year in any genre. And that's not just my enthusiasm talking—it's actually not so simple to say "this is a metal album." It is, surely, but it's a lot of other things. The trio crafts massive avant-garde metal works with a great deal of improvisation, their technique as much like jazz or post-rock as metal, though when it's heavy, it's devastating. This is breathtaking music that I'm still taking my time to unravel, and excited about every new piece I uncover. (Thrill Jockey)
…and Emma Ruth Rundle's On Dark Horses isn't technically metal, but lord is it heavy. And amazing.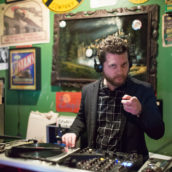 Jeff Terich
Jeff Terich is the founder and editor of Treble. He's been writing about music for 20 years and has been published at American Songwriter, Bandcamp Daily, Reverb, Spin, Stereogum, uDiscoverMusic, VinylMePlease and some others that he's forgetting right now. He's still not tired of it.