Sleigh Bells : Bitter Rivals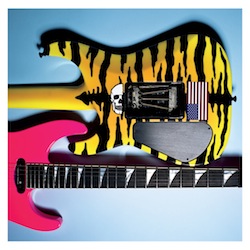 "Hi!"
This enthusiastic greeting, followed by the sound of a sword being unsheathed, is how Bitter Rivals, the third album by Brooklyn noise-pop duo Sleigh Bells, starts: with a smirk and a threat. Derek Edward Miller's guitars start off with a clean 12-bar blues riff, the opposite of everything we have come to expect from an act whose mission is to be as loud as humanly possible. Thirty seconds later, all inhibitions are eschewed and the song begins in earnest, as violent and marvelous as fans are used to. Alexis Krauss shouts over pounding drum programming, and sings sweetly in the chorus: "You are my bitter rival, but I need you for survival."
Last year's Reign of Terror helped solidify Sleigh Bells' reputation as a band who tends to keep its foot on the gas at all times — to start at eleven and stay there with rare reprieves identified more by a shift in Krauss's delivery from screaming to cooing than any instrumental changes. Bitter Rivals changes that, introducing new textures and dynamic ranges without sacrificing the intensity. "Young Legends" is a perfect example of a song that is clearly a Sleigh Bells song, but the lack of distortion from Miller's axe brings it down just a notch. "Tiger Kit" begins with a clean sound, and even when it takes off, it's slightly more subdued than past Sleigh Bells' works. The animal sounds peppered throughout help ease any perceived danger.
There is some other experimentation with these less traditional sounds. "You Don't Get Me Twice" starts off with an electronically enhanced guitar chord and other sound effects. "To Hell with You" features heavily reverbed string sounds, and in the realm of Sleigh Bells it's a love ballad ("I'll go to hell with you, and here's the proof"). Other songs, like "Sugarcane," still have the level of attack and carefully cluttered arrangement that Sleigh Bells are known for. Bitter Rivals ends with "Love Sick," another example that Krauss and Miller can ramp it up just as well as they ever could.
On first listen, the songs on Bitter Rivals don't appear to have the quality hooks of songs like "End of the Line" or "Comeback Kid," and some of the strongest moments are weakened by distracting effects. After a couple times through, however, you start to look forward to certain moments and the desire for immediate replay grows. This is the kind of album that may need to age for it to be appreciated, and despite any early distaste, Bitter Rivals has high probability of sounding even better with time.
Similar Albums:


Yeah Yeah Yeahs – Mosquito


Santigold – Master of My Make Believe


Cults – Cults