Smashing Pumpkins : Pisces Iscariot (Deluxe Edition)
Even the greatest artists sometimes need editors. If Smashing Pupmkins' newest 44-track odyssey Oceania isn't proof of that, I'm not sure what is. Yet for how prolific Pumpkins leader Billy Corgan has proven to be over the past 20 years, the first few of those were spent exercising restraint in a way that even for an admitted disciple of Floyd and Rush, like himself, seemed unusually disciplined. Certainly now, most of us only know Corgan of the double albums, box sets and multi-part album legacies, but in the brief couple of years before Melon Collie and the Infinite Sadness, and its five companion EPs stacked with B-sides, Corgan & Co. actually left quite a bit in the vaults.
In 1994, the Smashing Pumpkins were still riding the success of the previous fall's Siamese Dream, an album so massive as it is, it's kind of crazy to think Corgan tried to make something bigger (he certainly didn't make something better). But by that point, the band had recorded a lot of material — so much, in fact, that the Pumpkins were able to fill an entire full-length CD with unreleased or rare tracks. Some of them had appeared as b-sides to Siamese singles and some had languished on the cutting-room floor, but an hour's worth made it onto the rarities collection, Pisces Iscariot.
Now, with a deluxe version of this collection arriving after previously released (and awesome) Gish and Siamese Dream reissues, the inevitable punchline is that for all the extra material that made it onto the compilation, there's at least another 75 minutes of it that was available to fill up a second disc. B-sides to b-sides, outtakes from outtakes, Pisces Iscariot in deluxe form is like a couch that keeps producing demo tapes from between its cushions. And considering how good the original castoffs are, that's an embarrassment of riches.
It's probably not surprising that, upon its release, Pisces Iscariot was mistaken for a third proper Pumpkins album. It's certainly good enough — not Siamese Dream good, mind you — but way too solid to consist merely of throwaway tracks. Corgan's acoustic take on Fleetwood Mac's "Landslide," somehow, ended up a radio hit and probably one of the simplest, prettiest songs he ever recorded. But when rocking out, the Pumpkins knocked it out of the park as well. "Frail and Bedazzled" became a lesser radio hit on the strength of its hooks and fuzz, while "Pissant" surged and seethed with Corgan's snot-nosed rancor. When opting for dreamier climes on "Obscured," the band ushers in a welcome change of pace after the relatively generic "Hello Kitty Kat." But 11-minute psych epic "Starla" is the headlining act. In the liner notes, Corgan refers to it as the coolest thing they ever did, and that's not too far off. He also notes that it's not necessarily the best, however, and while I'll also give him that much, it's at least top 20.
There are moments on Pisces, particularly with tracks like "Frail and Bedazzled" or "Starla," where it's not entirely clear how these never made it on to proper albums. The second disc of material, meanwhile, has neither the polish nor the standard of quality as the first. That's not really so problematic in the long run, as Pisces in its original incarnation is meant to serve as a well sequenced program, carefully chosen by Corgan, where the bonus material is just that — a li'l something extra. "By June" feels incomplete and unresolved, a playful nursery rhyme that never really goes anywhere interesting, but by comparison, "My Dahlia" is actually a pretty fun psych-folk-pop tune with a jangly sound fairly uncharacteristic of early Pumpkins albums. There's a cover of "Cinnamon Girl" that's certainly loud, but doesn't offer much for anyone who already liked the song. "Cinder Open" is a pretty instrumental, and "Jackie Blue" is a nice slab of stoner rock, but neither really feels resolved in a way they would if they were to be released as something other than bonus tracks.
Smashing Pumpkins, throughout the '90s, seemed to always have an ample supply of great b-sides, which The Aeroplane Flies High likewise showed, and some of that probably has something to do with Corgan's innate tendency toward the prolific. But also to his credit, he made sure that everything that was going to be released was in the proper shape to do so, polished and shiny enough for a proper album, even if there wasn't one to take it. Pisces Iscariot is a case of buried treasure rather than trash, and sounds more fully realized than most other alt-rockers' garage-sale reels. So maybe, at least for a time, Corgan actually was all the editor he ever needed.
Similar Albums:
My Bloody Valentine – EPs and Rarities: 1988-1991
Nirvana – Sliver: The Best of the Box
Smashing Pumpkins – Siamese Dream
Stream: Smashing Pumpkins – "Landslide"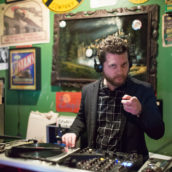 Jeff Terich
Jeff Terich is the founder and editor of Treble. He's been writing about music for 20 years and has been published at American Songwriter, Bandcamp Daily, Reverb, Spin, Stereogum, uDiscoverMusic, VinylMePlease and some others that he's forgetting right now. He's still not tired of it.