St. Vincent : St. Vincent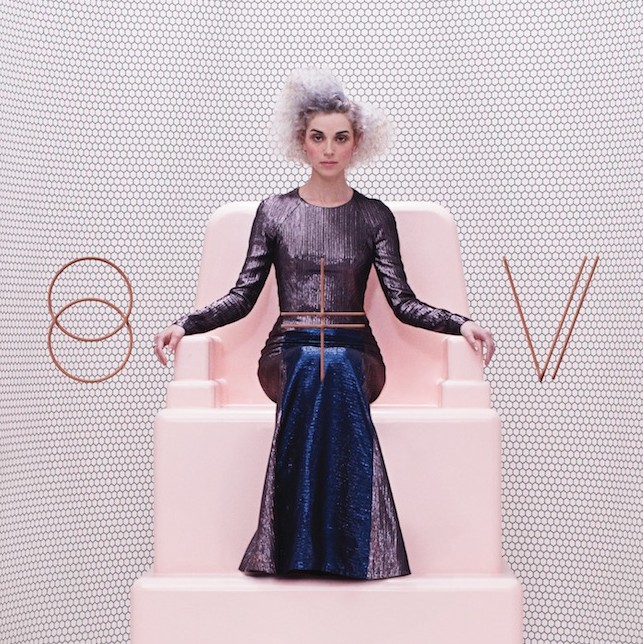 The cover of St. Vincent's self-titled fourth album presents Annie Clark as a deified rock star, the camera angled so low that she can look down upon us from her throne with that unsettlingly superior glare. It's a far cry from the uncomfortable ambiguity she projected on the covers of her first two albums, Marry Me and Actor. This isn't the woman struggling to break free on Strange Mercy's album art, either: this is someone who has broken free and fully intends to subjugate us to her newfound power.
It's a reinvention of image—not even mentioning Clark's shock of silver hair—that recalls that other rock star known for his frequent changes in personae. It's hard to listen to listen to this new St. Vincent self titled effort and not think of Clark stepping up to take her place as this generation's Bowie. That's the scope of the album's ambition, and that's the scale of its success.
St. Vincent's previous efforts involved setting up an uncomfortable atmosphere of serenity, brimming with tension that would eventually buckle and break to reveal those albums' distorted-guitar heart. The conflict is different with this album: here, Clark crafts some exquisite, accessible pop, then works to subvert that accessibility with full-throttle experimentalism. Both "Regret" and "Psychopath" are bouncing numbers that wouldn't sound out of place scoring montages in romantic comedies, but sandwiched between them is the wild-eyed fever of "Bring Me Your Loves," in which Clark chants, almost screams, over a frantically buzzing electronic guitar.
There's a hint of derangement to almost every song here—"Rattlesnake" is melodic until it suddenly collapses into a distorted guitar solo; nervous synths lend anxiety to the otherwise relaxed groove of "Every Tear Disappears"—but that makes the moments when the pop facade breaks down all the more satisfying. When "Huey Newton," which starts as a ballad with a lilting hip-hop beat, suddenly shifts into shredding guitars that recall quite a few '80s-metal classics, it's a revelation. Sonically, St. Vincent takes what defined eighties popular music — Madonna, Talking Heads, hair metal, and yes, David Bowie — and chews it up, spitting out something that sounds like all of it and none of it. As Clark would put it, it feels just the same, but brand new.
Lyrically, Clark builds on the themes that the album's art suggest. Spiritual experience is a part of it. "Rattlesnake" is based on Clark's real-life attempt to commune with nature that almost led to her death, while "I Prefer Your Love" sees her rejecting Jesus in favor of her mother's more fulfilling love. But that personal earnestness is mixed with questions about leadership and power; "Digital Witness" is all about how we expose ourselves online to prying eyes, while "Bring Me Your Loves" is issued like a proclamation to a cult leader's followers. Even song titles like "Prince Johnny" and "Huey Newton" evoke leaders, though their lyrics are more opaque.
Ultimately, it's the album's strangely beautiful closing track — which starts off like a muzak "Birth in Reverse," but morphs into something resembling Bowie's "Life on Mars?" — that ties these themes together. "Severed Crossed Fingers" reminds us that the powerful, intimidating woman on the album's cover is human, too. The problem with sitting on that high throne looking down at everyone is that everyone can look back up at you. Those oversharers she pokes at with "Digital Witness"? She admits she's one of them, comparing songwriting to "draining our spleen over years." She's chosen an overwhelming, emotionally taxing profession, and she'll keep doing it until she's "humiliated by age, terrified of youth / I got hope but my hope isn't helping you."
Using an album comprising elements of '80s pop to make a statement about the ephemeral nature of her own success would be audacious if Clark's songwriting wasn't so immaculate, so emotionally open. What's resulted instead is one of the most engaging pop albums of recent memory, and certainly the best of Clark's career. If anything, the album's quality contradicts the message behind "Severed Crossed Fingers": with music this bold and audacious, St. Vincent doesn't have to worry about fading into obscurity anytime soon.
Similar Albums:


David Bowie – Hunky Dory


Sky Ferreira – Night Time, My Time


Talking Heads – Fear of Music