Still Corners : Strange Pleasures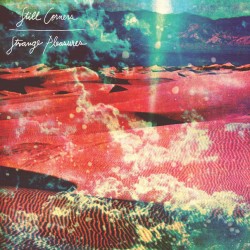 In 2011, Still Corners made an impressive entrance with their dark brand of dream-pop on debut Creatures Of An Hour. Between the lo-fi production, instrumentalist Greg Hughes' noir soundtrack influence (including John Carpenter), and vocalist Tessa Murray's chilling, removed vocals, the album chased a variety of aesthetics, accumulating in strange, new, and rather haunting sound. However, it's important to note that, when working on that debut, Hughes (the project's composer and primary lyricist) was recovering from a dark and looming period in his life. Having just experienced a turbulent end to a relationship, Creatures served as a sort of catharsis, transferring the artist's pain to a tangible format to be dealt with. When all this is taken into account, two years later, it's only natural that the group's second album is a departure in both sound and theme.
If Creatures Of An Hour was deep, dark, and nightmarish, Still Corners could be juxtaposed as being wide, dreamy, and bittersweet. While the debut plunged the listener into a deep connection with the material, this effort is written from the standpoint of a true pop album, teasing the listener with a variety of musical and lyrical references, but rarely stepping away from a more well-rounded sound. However, that's not to say that the album is boring and disengaging. In fact, it's clear that Hughes has put much more precision and thought into this set of songs. There are layers upon layers of synth-draped goodness that are, this time around, much more stylized and seem to be placed more deliberately. But the trade-off for that pop-satisfaction results in a collection of tunes that are a bit more predictable than the sudden, spacy, drops that made Creatures so alluring.
Still, Strange Pleasures stands on its own as a brilliant dream-pop record. Opener "The Trip" begins with swirling synths and takes its sweet time to bloom, introducing layers of guitar and synth until a gorgeous guitar solo finally gives way to Murray's voice. And while the tone and feel of the songs change up quite frequently, that pattern is always intact, with Hughes' expansive instrumentals rising and falling to make room for Murray's soft voice. And, save for a few small-scale breakdowns, the album's driving tone only truly takes a break during "Going Back To Strange," a dreamy ballad focusing more on ambient textures than steady beats.
Strange Pleasures is a dream-pop album that clings harder to its pop side than many other mainstays of the genre. Its production is much more methodical and delicate than before, and the lyrics are simultaneously less daring and more accessible. Given the haunting, otherworldly feel of the band's debut, it would've been nice to see Still Corners take the same clean production of this album and head in an even more expansive, dark direction, along the lines of M83's or Chromatics' more recent endeavors. Still, at least half of these songs would be excellent singles, and Strange Pleasures is a satisfying work of dream pop, even if one that's a bit anticlimactic.
Similar Albums:


Melody's Echo Chamber – Melody's Echo Chamber


Chromatics – Kill for Love


Frankie Rose – Interstellar