SXSW 2011: Treble takes Austin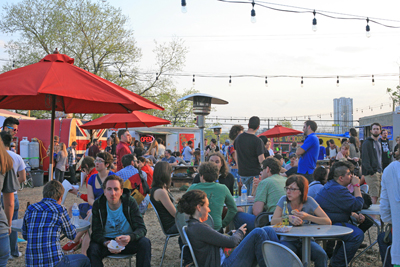 The realization that you're about to embark upon a week of live music, industry schmoozing, trend-chaser blogging and drunken revelry sets in at the airport prior to boarding your flight for Austin. As we sat in the Houston airport, awaiting our final connection to the Texas capital city (and music's capital city as well, depending upon who you ask) we were overwhelmed by a sea of silver Macbooks. Journalists, bloggers perhaps, a few label types, and possibly a member of My Morning Jacket, all headed to Austin and brandishing technology. SXSW was about to get real.
Of course, once you arrive at Austin-Bergstrom airport, there's already live music happening, not to mention barbecue from the Salt Lick, so really, SXSW more or less begins the moment you arrive. But before you actually get to the exciting prospect of checking off all the bands on your list, there's the pesky matter of checking in for your wristbands at the Convention Center, which this year was a surprisingly short process, enough to give us time to grab some excellent sandwiches from The Ugly Banjo and a soda before diving headfirst into an evening of rock 'n' roll. And those sandwiches were awesome, by the way.
With stomachs full and our itinerary more or less planned out for the evening, we were ready to take whatever SXSW wanted to throw our way, sometimes literally.
Wednesday, March 16
Gallery: SXSW 2011 – Wednesday
8 PM: The first show you catch at SXSW isn't always the most amazing, for most of the same reasons that opening acts at shows aren't always satisfying. The 8PM slot is typically filled by newer bands with fewer chops. But Esben and the Witch, themselves a fairly new act, started off the evening with an intense and powerful set. Playing an ethereal and eerie batch of songs from new album Violet Cries, the UK act seamlessly transitioned between hard-driving post-punk rave-ups and heady, abstract dirges made more mesmerizing by the group's drumming, which essentially consisted of one solitary drum, pounded in primal, tribal patterns by each of the three members at various points in the set. The group didn't quite look as goth as, say, Zola Jesus, whose sole show this week I hope to have the pleasure of catching. But their dark atmosphere and sinister melodies nonetheless emitted a sinister and haunting glow. I couldn't imagine a better start to the evening.
9 PM: The line at Emo's for the Vans Showcase was intimidating, to say the least. But lucky for us, the line was only for suckers hoping to buy a ticket to see Bad Brains. I don't envy the poor bastards all the way in the back. Wristbands do wonders for getting you into these showcases, however, even if badge holders get priority entrance (something that only makes a difference at shows like the James Blake/Raphael Saadiq/Duran Duran show at Stubb's, which we probably wouldn't have gotten into even if we wanted to). The second of many high energy acts that evening at Emo's, Trash Talk started off by making the startling announcement that their bass player had been stabbed earlier that week and as such, they were wishing him a speedy recovery and dedicated their set to him. What ensued thereafter was a completely insane 30 minutes of destructive hardcore that instantly took me back to my teenage years. The pit looked a little intimidating at first, but it wasn't long before the group's singer jumped in and screeched from the floor, writhing and wriggling while a stagehand followed him, holding the microphone cable.
9:50 PM: Anyone attending SXSW 2011 needs to see old school punk rock veterans OFF!, fronted by the charismatic and just plain awesome dude Keith Morris. Before they began, Morris introduced his bandmates, who include members of Redd Kross, Burning Brides and Rocket from the Crypt, when some impatient dude in the back yelled "Shut up!" Morris paused and replied "What's your hurry? It's a party! Have fun!" His positivity and enthusiasm were infectious, and made their set of one-minute explosions from recent release First Four EPs all the more fun. Morris even made a touching dedication of "Jeffrey Lee Pierce" to the song's namesake, while reminiscing about the good old days of playing the Hong Kong Club in Los Angeles. But even without the history lesson, OFF!'s set simply bursted with energy and good vibes, reminding everyone how much fun a good old fashioned punk rock show can be.
10:40: At last, the reason for the insane lines: Bad Brains. Though they looked more like someone's cool uncles than a group of hardcore veterans, the band nonetheless had the chops to stir up the beyond-stoked crowd. H.R., well groomed and wearing a suit, looked oddly serene and at ease while yelping through classic songs such as "Attitude" and "Sailin' On." Meanwhile, crowd surfers and stage divers galore floated over the audience and fashioned themselves into human projectiles. This, later on, would prove a problem, as one violent asshole was thrown out for being a violent asshole, even pulling out part of the club's doorframe while two bouncers wrestled him to the sidewalk. It's probably lucky for him that he wasn't arrested, though there was already one emergency vehicle at the scene earlier, most likely for a poor sucker who the bouncers also carried out earlier, after pausing at a trash receptacle to allow him to vomit.
12 AM: The festivities paused momentarily while we witnessed the violent dickhead kerfuffle, and an as-yet unresolved incident of lost personal property, but they nonetheless resumed about an hour later at Red 7 to catch the last few acts at the Jagjaguwar/Secretly Canadian/Dead Oceans showcase. Seattle's Cave Singers proved to be a pleasant surprise, pounding out a high energy hoedown that far exceeded my expectations of what I thought to be a fairly mundane indie folk group. Not so! Which isn't to say there wasn't some of that too, but the band also rocked out a good amount of the time, and closed out the set with energy and fire.
12:50 AM: At some point at SXSW, it's necessary to catch at least one band from Austin. And while there are few discernable sonic similarities between most of them, there is certainly a hell of a lot of talent. Okkervil River is one of my personal favorites, and with a new album due out in a little over a month, I had to catch them at least once this week. New material made up a fair amount of their set, including the spectacular, waltzing new single "Wake and Be Fine," which sounded kickass live. But the group moved through quite a few classics, including longtime favorites "Black" and "For Real," as well as "John Allyn Smith Sails," complete with its "Sloop John B" ending.
Not a bad first night, but after being up for roughly 22 hours thanks to an early flight, we had to reserve some energy for the next day, which begins earlier and has a lot more in store.