SXSW 2011: Treble takes Austin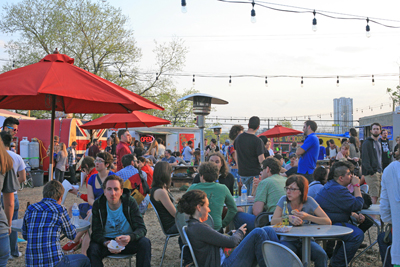 You don't have to attend SXSW to realize that a lot of crazy shit happens in Austin during the week, but you don't quite get the full picture until you've seen Sixth Street with your own eyes. In the course of about ten minutes while walking from one venue to another at 10:30 PM, I saw, among other things, two people getting arrested, one drunk woman being carried out of a bar by a bouncer, a massive drum circle, numerous people on stilts, a band covering "Life is a Highway" and a guy handing me a flyer for a show while saying the words, "testicle adhesive." Anyone interested in snatching up that band name should strike while the iron's hot.
Entertainment is everywhere in Austin, but we came to rock, so on to the showcases and parties.
Friday, March 18
3 PM: The stiltwalkers and street drummers may be the ones keeping Austin weird, but the sun was doing its job of keeping Austin hot on Friday. By 2:30, after spending a few minutes baking on Red River, my highest priority was grabbing a cold beer. Actually, it was my second priority, as Twin Shadow was high on the must-see list for the week. At the Windish Agency Party at Emo's, George Lewis Jr., clad in a brightly colored shirt, remarked that the show was the band's seventh of the week. "I'm pretty proud of that," he said, grinning. And from there, the band launched into a harder, faster version of "Shooting Holes at the Moon" than the one heard on 2010's Forget. In fact, most of the band's set rocked a little harder than I was expecting, which was a most pleasant surprise. "Castles In the Snow," in particular, seemed to stomp with more intensity, while "Slow" began with a much more subdued, drawn out intro before easing into the new wave single I came to love last year.
4 PM: So, it's really hot. And the body heat and moisture inside Emo's inspired a new strategy: get some burgers at Jo's, chill inside an air conditioned room for an hour or so, then get back to the music recharged, determined and reinvigorated. And wouldn't you know it, it paid off!
6 PM: The Gorilla vs. Bear/Mexican Summer party at Klub Krucial leaned heavy on chillwave, based on the lineup, and I wasn't particularly interested in said chilled waves. However, the lineup was a little more diverse upon closer inspection, and the inclusion of Shabazz Palaces made it worth penciling into the schedule. The hip-hop outfit fronted by Digable Planet Ishmael Butler didn't operate like a typical rap performer, doing away with the emcee-DJ dynamic by adding some live percussion and lots of digital effects. Butler and his percussionist incorporated some choreography into their surreal, stream-of-consciousness set, which made it all the more fascinating to watch. More importantly, it bumped. Can't wait to hear their new album on Sub Pop
6:30 PM: Immediately following Shabazz Palaces, White Denim ascended to the stage on the Klub Krucial patio, drawing a crowd that consumed the entire outside area. Squeezing into the sea of bodies was a bit of a challenge, but worth it to witness at least a few songs of high energy, albeit idiosyncratic indie rock. The Austin combo is probably the only band I've ever seen that managed to combine punk, math rock and blues into one ass kicking package, and damned if it isn't a hell of thing to see and hear.
8 PM: At the Kiss and Fly, velvet ropes divided the mezzanine level into VIP/Champagne room area and public shlub floor. We, apparently, aren't VIPs. No matter, we weren't there to feel important, we were there to catch Dirty Beaches. The solitary project of nomadic Montreal musician Alex Zhang Hungtai, Dirty Beaches resembles a more rockabilly leaning Suicide. Hungtai affects a manic, Alan Vega-style mutter and howl, and the dude certainly has the eerie terror thing down as well. But in a live setting, Hungtai has a little bit more nostalgic kitsch appeal, assuming a more explicitly rockabilly (or psychobilly) appearance, from his tight white t-shirt to his greased-up hair. And you better believe he combed his hair between songs. He dedicated a cover of Nick Cave's "The Singer" to the late Trish Keenan of Broadcast, who died earlier this year, adding just a slight touch of somber to his set. Yet the performance turned meta as a TV screen showing a Vice magazine documentary about global musicians depicted a performance of Dirty Beaches, while we were watching Dirty Beaches. Whoa.
8:45: Hell bent on seeing Kylesa, I pointed my compass directly at the Dirty Dog Bar for the Metalliance Tour. The show boasted a pretty long and impressive metal lineup, one that was sure to appease metal fans of all stripes, from The Atlas Moth's atmospheric sludge, to Saint Vitus' classic doom metal and headliners Helmet playing their trademark post-hardcore crunch. We arrived in time for Weedeater, who I thought were kind of boring. Not that there was anything necessarily wrong with their set, but it didn't do much for me. That happens reasonably often at SXSW, but on the upside, this week hasn't had too many of those moments.
9:40: We came for Kylesa and Kylesa is what we got. And they were awesome. As a general rule, any rock band with two drummers is bound to be pretty intense, and that certainly held for the Savannah, Ga., sludge band, who charged through a spectacular set of songs primarily from their two most recent releases, Spiral Shadow and Static Tensions. Guitarist Laura Pleasants showed off her serious chops, both in her pyrotechnic guitar skills and her vocal roar, which rivaled a good many men fronting like-minded acts. While they at no point dropped below a constant level of awesome, "Don't Look Back" proved to the the high point, combining the best of both heavy metal power and rock 'n' roll fun in a fists-in-the-air anthem. Also, celebrity sighting at the show: Mastodon's Brent Hinds.
11:45: No line at the Merge showcase. Hallelujah! All that waiting the prior day still left a bit of a mark, but being able to head right into the Parish made it fade significantly. At a quarter to midnight, twangy but dreamy indie rock duo Wye Oak took the stage to an almost packed house. They made note of the fact that it was their third set of the day, and they apologized for playing basically the same songs. But no apology was necessary. Knowing very little about the band, I found their music to be a most pleasant surprise. It's rare when a band can remind you of both The Spinanes and Neil Young and Crazy Horse, but it can certainly be said of Wye Oak. Note to self: look up their records back at home.
12:45: Here we are, the main event. And I don't just mean for the evening, but very likely the entire festival. Wild Flag is awesome. A supergroup of sorts featuring Sleater-Kinney's Carrie Brownstein and Janet Weiss, Helium's Mary Timony and The Minders' Rebecca Cole, the band revealed themselves as a tight, high energy and totally kickass rock powerhouse, even though they've only been performing for the last few months. If their set at the Parish showed us anything, though, it's that these ladies don't mess around. Brownstein showed off her best Pete Townsend leaps and windmills, something I've missed since Sleater-Kinney took their indefinite hiatus. While the only song I knew prior to the show was "Glass Tambourine," which was just debuted as a stream a few weeks ago, each and every jam they burned through was a winner. And now that album is Number One on my most anticipated list for 2011. Perhaps I'm gushing a bit much, but it's not exaggeration. I wanted a high-energy, tightly played rock 'n' roll show, and I got one.
There's still one day left for SXSW, and I've certainly got an open mind. Wild Flag is going to be very hard to top.