SXSW 2011: Treble takes Austin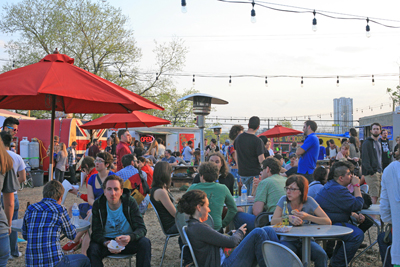 It's probably important to get this out of the way before I get any further: I did not watch Kanye West at the Vevo Power Station. I like Kanye West, don't get me wrong, but when tens of thousands of people flock to a single show at SXSW, it quickly grows far less appealing. This isn't Bonnarroo, or Coachella, or Lollapalooza. Maybe on a different day I might have had a change of heart. After all, seeing Yeezy would be a hell of a thing. But after four days of shows, the last thing I wanted was a bloated, typically obnoxious festival experience at 3 AM.
Instead, what I saw comprised a handful of amazing, smaller acts, some more laid back but still quite good bands, and some truly batshit stuff at the end of the evening.
Saturday, March 19
2 PM: While planning the itinerary for the week, I took special care to mark on my calendar all of the sets Canadian goth-dance artist Austra had scheduled. We finally made it to one at the Swan Dive, as part of the BrooklynVegan/M for Montreal day party on Saturday. I couldn't help but notice that the group's drummer happened to also be that of TRUST, one of the few bands we saw during the week that I strongly disliked. Yet Austra, on the other hand, was easily among the week's best. Playing a brief set of about five songs, the band grooved through some dark, albeit stunning ethereal pop, heavy on the dance beats. Think a prettier, more hook-laden Fever Ray, or Bat for Lashes with a bit more of a disco streak. Truly excellent, and another 2011 release that ranks high on my must-hear list.
4 PM: I spent much of the week watching bands whose music we hadn't heard much prior to the festival, in addition to bands that I had never seen live. And while I already loved Owen Pallett's music, SXSW was my first time catching the Canadian artist, and I certainly hope not my last. Pallett, with only a violin, his voice and a series of loop pedals, creates mesmerizing and beautifully layered songs, much of those in this set pulled from his most recent album, Heartland. Pallett, chipper and cheerful, noted that he was willing to do anything during his set, as long as "anything" entailed singing and playing violin. Those didn't seem like limitations, however, as Pallett did some amazing things with seemingly simple parts. He asked the crowd for requests, to which one person shouted "Joanna Newsom!" His response: "I played Joanna Newsom yesterday, and I have a once-a-year-only Joanna Newsom policy." Instead, he busted out a spectacular cover of Caribou's "Odessa." Incredible!
6 PM: Quite a few blocks west of the freakshow on Sixth Street, Waterloo Records hosted a four-day series of free shows on a solar powered stage. We caught the last of those shows, performed by Kurt Vile and the Violators. Sounding much more heavy and psychedelic on stage than on his more Tom Petty-like albums, Vile and his band rocked hard while looking super chill in the process. About half his set consisted of new songs from his album Smoke Ring for My Halo, among them "Jesus Fever" sounding especially great. Unfortunately, just the night before, some of Vile's equipment was stolen, and at an event like SXSW, likely much harder to find. That said, the missing equipment didn't cripple his show from what I saw.
9 PM: Just about every venue in Austin has two stages, and some of them even have three. One of those dual stage clubs, 512, had been hard to ignore all week, since every walk down Sixth entailed hearing whomever was performing on its rooftop stage. But the club also has a smaller stage inside, where we caught a short but impressive set by Brooklyn's The Forms. The set began from the front of the bar and moved upward slowly, as the duo moseyed into the crowd with an accordion and a steel drum. Some people looked highly confused, one guy danced in between them. But after a two-minute acoustic busk, they took the stage and hammered out a series of electronically-driven math rock gems, heavy on the hooks, that reminded me how much I enjoyed their last album.
11 PM: Another band whose album I should probably put back into regular rotation (even though it's still pretty new): Braids. Having played likely close to a dozen shows during the week, the Canadian band nonetheless emitted blissful and beautiful sounds during their set at Club deVille, their final performance of the week. As I remarked earlier in the day, they reminded me of a cross between Animal Collective and The Sugarcubes, but live they actually seemed much more graceful and dreamy. A worthwhile combination of sight and sounds to shoehorn into the last evening of live music of the week.
12 AM: Prior to going to the Panache Booking showcase at the Mohawk, I didn't know all that much about Ty Segall. I knew he played psychedelic garage rock, I knew he had a bit of retro charm and that he most likely appealed to anyone into the Woodsist or In the Red catalog. But I had no idea how insane his fans were. People lost their shit during the admittedly fun and loud set, some even going to far as to dive into the crowd from the balcony above. A photographer next to me on a different balcony remarked later that once someone came plummeting toward him, that's when he knew it was time to head for the hills.
1 AM: The last show of the week we saw was also, easily, the weirdest. I had told a few friends and associates we met up with during the week that we were going to check out Quintron and Miss Pussycat, and they universally responded with, "Oh… WOW!" Some of that was likely an expression of surprise that the duo was still going strong, while some clearly knew the band's schtick and were amusedly reminded of the ridiculousness of it all. So, for those unfamiliar, the New Orleans duo plays a danceable blues rock style essentially entirely on a heavily effects fueled organ. It's a swampy stomp, fun, simple and upbeat. But before that even begins, they perform a Punch-and-Judy on drugs style puppet show, involving party magic, secret pizzas and decapitated policemen. It's really bizarre, and I'm not sure I followed the plot entirely, but the absurdity of it all had me laughing out loud when a cop said to a cat, "you're guilty of practicing party magic… and making secret pizzas." Uh huh. Yup.
As we departed from the goofball Vaudeville of Quintron's entertaining, if confusing, show, Austin seemed much more empty than it had all week. Just earlier that evening, Sixth Street seemed far more congested and chaotic than usual. We hypothesized that quite a few of those folks were headed to see Mr. West, though it's just as likely many were burned out and ready to call it a week. By the fourth evening, the week catches up to you. And we were no exception. But what a hell of a week it was.