Taking Liberties: An interview with The Antlers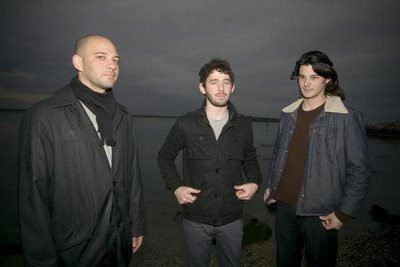 Certain artists have a way of creating music that simultaneously sounds amazing and evokes an intense emotional response from the listener. While most artists would likely be content to accomplish but one of these tasks, a small and elite group of songwriters have pulled off parallel assaults on the ears and the heart, against which defending oneself is essentially futile. These are the albums such as Funeral and In the Aeroplane Over the Sea, Agaetis Byrjun and Ok Computer. They're the M83s and the Elliott Smiths. And in 2009, there's a new artist to add to this group: The Antlers.
With third album Hospice, their first as a three-piece band, The Antlers have unleashed an album so sonically dense and so thematically compelling and devastating, it's hard not to be left speechless after listening. The album is a complex and masterfully written narration of the relationship between a terminal patient and a caretaker, which only intensifies as the album draws toward its heartbreaking conclusion. In songs like "Kettering," the group opens the scene with a surreal kind of haze, while "Sylvia" trades the wooziness for a cathartic release. There is a small ray of light in "Bear" that makes it all the more of a tearjerker, while "Epilogue" strips away the effects and the layers for an emotionally bare song that's as simple as it is overwhelming.
Some of the record is drawn from frontman Peter Silberman's personal experience, though he explains that the album is meant as more of a reflection of more universal themes.
"Hospice is about being unable to stand up for yourself or stand up to other people," Silberman said in a recent interview. "More often than not, I think we all have trouble getting ourselves out of situations that make us unhappy—relationships, jobs, living situations, all of these things. Sometimes that prison break requires more of a backbone than expected. I think Hospice about that breaking point. It's what happens when you can't get out, or when you can't pull yourself out. The record is mostly true, liberties were taken with reality."
Silberman spent a year and a half working on Hospice, after two years of what he described as "living it." But the recording process was a bit unconventional, particularly when it came to the basic skeletons of songs, or lack thereof. As Silberman explains, the songs remained somewhat nebulous until the tape began to roll.
"To be honest, I didn't know what it was going to sound like," Silberman said. "I began with one idea, but the minute the recording began, it became a much darker sounding record than I expected. It was sort of shapeless for a long time, some kind of sound-ocean with texture and without structure. A lot of records are recorded with the basic tracks established first and the ambience laid on top of that. This was the opposite."
With such heavy lyrical themes in the ten songs on Hospice (or eight, if you consider that two are instrumental), the album could have potentially run the risk of being a difficult listen. Yet in tracks like singles "Bear" and "Two," Silberman trades overbearing, atmospheric density for catchy melodies and sprightly rhythms. It's a curious juxtaposition, but one that works surprisingly well. According to Silberman, there was a concerted effort not to keep the album too heavily weighted by its darkness.
"Ultimately, I wanted the record to pull itself out of bleakness," Silberman said. "I think the sunnier arrangements are, ironically, some of the darkest songs of the record, but the direction of the record is intentional. By the end, we've left the hospital, but only one of us walks."
Prior to Hospice, Peter Silberman recorded two albums solo under the name The Antlers. But for the third release, he enlisted the aid of drummer Michael Lerner and keyboardist (and bowed banjo player) Darby Cicci, fleshing out the sound to a much richer and more aurally dazzling whole. Since then, the group has continued to work as a trio full-time, taking the sound of The Antlers into new directions for the future.
"A couple of years ago, before we started working on Hospice, Michael had heard I was looking to put a band together," Silberman said. "He and I started playing together and it felt like a perfect fit. Hospice had him drumming more hypnotically and piecemeal, but whatever we make next will really show just how powerfully intricate he can be. Darby was friends with a now-ex bass player. He was originally playing trumpet and bowed banjo (which is what he played on Hospice), but as time's progressed, he's switched to keyboards. I've never heard somebody make as massive a wall of sound as Darby behind his rhodes, synth, & pedalboard."
In addition to expanding into a full, three-piece band, The Antlers have undergone yet another dramatic transition, namely signing to a label for the first time. Frenchkiss Records, home of Les Savy Fav and Passion Pit (and former home to The Hold Steady), is releasing Hospice to a much wider audience. According to Silberman, signing to Frenchkiss has been an extremely positive move for the band.
"We'd self-released Hospice early in the year and had done well with it, but we wanted to do more," Silberman said. "Frenchkiss was really supportive and open to our ideas, and they brought a million more ideas to the table that helped give the record the kind of release it needed. We love them a lot."
With Hospice now available to a wider audience and The Antlers firmly established as a three-piece band, the group has begun working on new material in addition to touring the country. Yet Silberman, Lerner and Cicci are still exploring all of the capabilities of their newest album, a masterpiece that only continues to evolve and grow in a live setting.
"Live, the songs are bigger and more open," Silberman said. "We've traded out some recorded elements for flexibility in how the songs are played. The songs become a bit more triumphant, more dynamic.
"We're enjoying ourselves."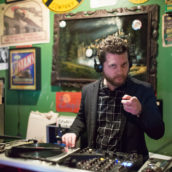 Jeff Terich
Jeff Terich is the founder and editor of Treble. He's been writing about music for 20 years and has been published at American Songwriter, Bandcamp Daily, Reverb, Spin, Stereogum, uDiscoverMusic, VinylMePlease and some others that he's forgetting right now. He's still not tired of it.