The 90 Minute Guide: Kanye West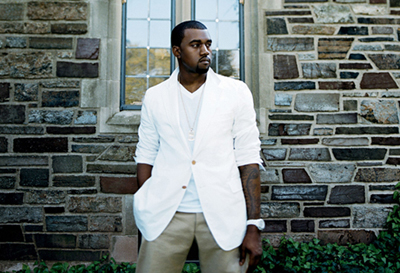 This week marks the release of Kanye West's third album, Graduation, an album that has come to be one of the most highly awaited albums of 2007. While it's tempting to give further lip service to 50 Cent's comments about quitting the rap game if Graduation outsells his new album Curtis, which is being released the same day, it's all a bit of a silly media circus that needs a bit of lion-taming. Rather than focus on this `battle' or whatever it is, we decided to take a look at Kanye West's career, which, for a guy just turning 30 years-old in 2007, is pretty damn impressive.
Kanye may have his detractors and critics, and certainly he's not infallible. Not everything he touches is gold, and the fact that he's produced recent Mariah Carey material should be evidence of that. And then there's the ego thing—check the line about being dressed in a speedo and looking like a hero in "The Glory." But damn if he doesn't have some amazing albums and singles under his belt, whether his own material or created in collaboration with another artist. From Jay-Z to T.I. to Talib Kweli to Alicia Keys, West's collaborators run a wide range in hip-hop and R&B, yet his own work is by far the most adventurous, drawing samples from Daft Punk and featuring additional production from Jon Brion.
With such an impressive array of material in his repertoire, it seemed only appropriate that Ye be given the 90 Minute Guide treatment, from tracks he produced to his own emcee skills. It's a great listen, and a remarkable reminder of how mighty a presence Kanye West is in popular music.
Side One
Kanye West – "Home"
Before Kanye West officially released College Dropout, an unofficial version of the album circulated, which included the track "Home." It didn't actually make the final cut, but it was nonetheless a pretty solid track, a soulful celebration which gets a bit of a reprise on Graduation's "Homecoming." Though "Homecoming" has the star power of Coldplay's Chris Martin, this track is bit…ahem…stronger, if for no other reason than it's a bit warmer and cracklier.
Dead Prez – "It's Bigger Than Hip-Hop"
Though West's big break came with his work with Jay-Z and Roc-A-Fella Records, he produced a handful of hip-hop and R&B singles in the late '90s and early '00s, including "It's Bigger Than Hip-Hop" by Florida based political rappers Dead Prez. Its minimal bass and bounce beats are a far cry from the elaborate productions that came later in his career, but it bumps regardless.
Jay-Z – "Izzo (H.O.V.A.)"
This is, more or less, where Kanye West became the producer in hip-hop. Under Jigga's rap about his drug dealing past in Virginia and Maryland, Kanye lays down a slowed-down sample of The Jackson Five's "I Want You Back." It was hard to avoid hearing this in 2001, which certainly contributed to West's increasingly high profile, though it wasn't quite his best production outside of his own albums…
Talib Kweli – "Get By"
…this was. Upon hearing it at the tail end of 2002, I could not stop playing "Get By," and it still stands as an amazing song. Sampling a loop from Nina Simone's "Sinnerman," this single from Talib Kweli's Quality is everything that hip-hop is supposed to be. Something of a contrast to "Izzo," it's a song that reads as a long list of social ills (as Kweli's often do). Rather than a sense of celebration, there's an empowerment in this song that's bolstered by West's impeccable production.
Alicia Keys – "You Don't Know My Name"
Kanye West has done work outside of hip-hop, in case anyone hadn't noticed. He's worked with Brandy and Monica, but one of his strongest collaborations in R&B was "You Don't Know My Name," the standout single from The Diary of Alicia Keys. This track shows off the talents of both West and Keys, as Keys, herself, is an accomplished musician, her own piano sounding beautifully here, while West layers on orchestration and a beat that bumps hard, in spite of the song's laid-back smoothness.
T.I. – "Doin' My Job"
Pharell Williams called T.I. the Jay-Z of the south, so it only makes sense that Kanye would eventually cross paths with the young emcee. While many of T.I.'s tracks are marked by a distinctly Southern synth-fried bounce, this track, an unapologetic selling drugs for survival tale, has an unmistakable Kanye West sound, its high pitched soul sound giving the gritty track a lighthearted sound.
Slum Village – "Selfish"
Kanye West shares a lot in common with the late Jay Dilla, as they're both synonymous with solid hip-hop production, and both take many of their cues from classic soul. Dilla worked with Slum Village early on in the decade, but on the group's Detroit Deli album, West provided some beats and lyrics of his own. "Selfish" is one such track, a chill song reminiscent of De La Soul or A Tribe Called Quest's best.
Kanye West – "Through the Wire"
Kanye's debut single "Through the Wire" was about as good a hip-hop debut single gets. While most would be content to drop a simple party jam as their lead single, Kanye went for the personal on this one. Retelling the near-death experience of a recent car crash with a lock-jawed delivery (while he explains how he needed reconstructive jaw surgery), West turns his "tragedy to triumph." It's a frail side of West that isn't always as apparent, and for that it's an outstanding inclusion.
Mos Def – "Sunshine"
Mos Def's The New Danger was a bit hit-or-miss, and the one track from Graduation on which he appears, "Drunk and Hot Girls," well, kind of sucks. But the two have made some great tracks. "Sunshine," which samples "Let the Sunshine In," is a solid hip-hop song and far better than any of Mos' rock experiments.
John Legend – "Live It Up"
Much in the same way that Kanye and Alicia Keys made something amazing with "You Don't Know My Name," he and John Legend accomplished a similar feat on several tracks from 2004's Get Lifted. The closing track, "Live It Up," was an elaborate and lush affair, showcasing West's production at its most ambitious, while softening some of the big beats that mark his best hip-hop tracks.
Side Two
Kanye West feat. Adam Levine – "Heard `Em Say"
As it is, "Heard `Em Say" is a pretty damn good song. But what's most amazing about this song is that dude from Maroon 5 doesn't sound as painfully annoying as he is on pretty much any of his own songs. Kanye's also remixed a few Maroon 5 tracks, but I haven't bothered listening, precisely because the original versions need not be revisited in any shape or form.
Common – "Chi-City"
When Common and Kanye West come together, the result is typically nothing short of brilliance. Not everyone has been as enamored with Finding Forever (we liked it, so there!), but Be is commonly (ha!) regarded as one of Common's finest half-hours. Kanye produced the majority of the tracks, while J Dilla took the reins on a handful of songs. "Chi-City" is one of the best of Kanye's bunch, funky and furious with Common's self-assured and serious rhymes at the front.
Kanye West feat. Jamie Foxx – "Gold Digger"
While West has had his share of hits, "Gold Digger" is, without a doubt, the biggest thus far. Beginning with Jamie Foxx's world famous Ray Charles impersonation, the song erupts into a jam so catchy, nobody can resist its hook. It bounces, it bobs, it weaves, and yet it's kinda funny. Kanye alternates between cautionary ("I ain't sayin' she's a gold digger/ but she ain't messin' with no broke niggas"), defensive ("I don't care what none of y'all say, I still love her"), and back to stern ("if you ain't no punk/ holla we want pre-nup"). Classic.
Rhymefest – "Brand New"
Kanye West and Rhymefest go way back, back to at least 2004, in which the two collaborated on the standout single from College Dropout, "Jesus Walks." The two Chi-City emcees came together in 2006 on Rhymefest's own album Blue Collar, from which single "Brand New" comes. Once again, Kanye proves himself one of America's most boastful, but does so with a bit of a smirk as he proclaims "I'm-a keep talking shit till I run outta hits."
Justice – "D.A.N.C.E."
No, Kanye West played no part in the production of this song in the slightest. Rather, this song comes in due to an infamous performance outside of the studio, at the MTV Europe Music Video Awards. Justice and Simian won the award for the song "We Are Your Friends," but Kanye took to the stage and claimed that he should have won the award instead. Media outlets everywhere criticized the outbursts, and Kanye did apologize, while he was opening for U2 on an Australian tour, interestingly enough. Just recently he was picked as a MySpace Music `featured artist' curator, and alongside fellow rappers like Mos Def, Kanye chose to highlight Justice. How `bout that?
Lupe Fiasco – "The Cool"
Lupe Fiasco was introduced to the world primarily through Kanye West's single "Touch the Sky," so it should come as no surprise that West would, in turn, produce a track on Fiasco's debut album Food & Liquor. "The Cool" is a standout on that record, which also featured tracks produced by The Neptunes, and a reasonably uncharacteristic one, as there are few of the pitch and speed altered voice samples that have come to be a West staple. Rather, it's a solid hip-hop song with a great beat, which is really all you need sometimes, though Fiasco's own lyrics are certainly strong enough on their own.
Lupe Fiasco, Kanye West & Pharell Williams – "Us Placers"
As Lupe Fiasco and Kanye both were gearing up to release new albums this year, they came together, along with Pharell Williams, for a curious mixtape track titled "Us Placers," which featured the trio rapping over Thom Yorke's "Eraser." It's simple and raw, and probably won't make any further appearances besides Ye's Can't Tell Me Nothin' mixtape, but it's a fun little rarity that actually comes together pretty well.
Consequence – "Don't Forget `Em"
Consequence has been rapping for a long time, first appearing on A Tribe Called Quest's Beats, Rhymes and Life. Yet, like Common, Consequence and Kanye have had a long professional relationship, as he made an appearance on College Dropout in 2004, and West produced Consequence's latest effort, Don't Quit Your Day Job. This track is a highlight, a low-key track about not letting money go to your head, with a great sample reminiscent of The Pharcyde's "Runnin'."
Kanye West – "Stronger"
With Graduation, Kanye doesn't necessarily go bigger than he has in the past, but rather sustains a different sort of `big,' in this case one that's fortified with giant synthesizers and in the case of leadoff single "Stronger," some vocal samples from Daft Punk's "Harder, Better, Faster Stronger," which makes for an awesome hook. His pop culture referencing lyrics are witty and humorous—"do you know how long I been on ya/ since Prince was on Apollonia/ since OJ had Isotoners"—and overall, it's a pretty impressive way to introduce his third album.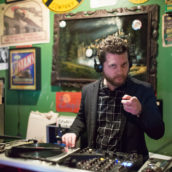 Jeff Terich
Jeff Terich is the founder and editor of Treble. He's been writing about music for 20 years and has been published at American Songwriter, Bandcamp Daily, Reverb, Spin, Stereogum, uDiscoverMusic, VinylMePlease and some others that he's forgetting right now. He's still not tired of it.