The Best Tracks of the '00s, No. 12: Solomon Burke – "Don't Give Up On Me"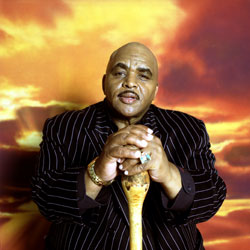 The decade has almost come to an end. And of course, you know what that means-lists, `best ofs' and all kinds of general retrospective features and columns. Treble is no exception, hard at work on figuring out the best albums and singles of the past nine years. Yet, before we get into albums and singles, we're taking a look at the best non-single tracks to emerge since the Y2K scare proved to be a non-event. Every week we'll be highlighting a handful of our favorite tracks of the decade, so keep checking back to hear about what songs remained on repeat on our iPods, CD players, tape decks and turntables since Jan. 1, 2000.
Solomon Burke "Don't Give Up on Me"
From Don't Give Up on Me (Fat Possum; 2002)
From the opening acoustic chords and organ sounds of `Don't Give Up on Me," a new generation of music enthusiasts were re-introduced to the reigning `King of Rock n' Soul.' This song is the ultimate "forgive me, I love you" song that I've dedicated to so many of my former flames when our amor had turned blue. The song reminds me of one of the best times of my life as a single guy living in the South—New Orleans, La., to be exact. You can feel the oozing sound of the southern blues throughout this lovely lament.
I recall finally seeing Burke live in concert and he sat on his throne as crooned this modern day classic, just like a king should with two of his soulful maidens by his side. What a sight. But it's the sounds of "Don't Give Up on Me" that linger with you long after Burke's vocal has subsided. It's one of the songs that you have to play on a jukebox at a Southern Bar, after a long peaceful afternoon rain shower, as the bartender listens to you as you share your own blues in between sips of your favorite cold drink.
Two things they appreciate in the South is cold bar drinks and some Solomon Burke. In fact, Louisiana is where I first discovered the sound of King Burke, at a French Quarter bar. I've been a follower of his majesty's songs ever since.
Download at