The Fall : This Nation's Saving Grace
Mark E. Smith has a reputation for being an irascible drunk, a miserable misanthrope, and a disagreeable bandmate. He's the only permanent member of The Fall, whose lineup has changed so many times, it's been a completely different band, several times over. Yet, Smith is The Fall. It's his songs that drive the band's albums. It's his cantankerous and garbled delivery that sets them apart. Musically, however, the band was always traveling in an exciting direction, playing jangly post-punk on early records like Live From the Witch Trials, more recently taking on glam-inspired, yet dirty stompers. Yet the band hit their stride in the mid-80s during a time known as `The Brix Period,' named for the band's then-guitarist, and Smith's wife at the time. During this period, The Fall recorded several of their greatest albums, including The Wonderful and Frightening World of the Fall, Bend Sinister, and the album that has come to be known as the greatest of their career, This Nation's Saving Grace.
This Nation's Saving Grace marks a true high point for the band, mixing confident and strong musicianship with knockout songwriting. While the band had previously mastered the fine art of messy and dissonant post-punk chaos, this line-up had taken it to a more accessible realm, albeit one still arty and strongly independent. After a short instrumental in "Mansion," the band brashly announces their presence with the explosive "Bombast." As gruff and as confrontational as ever, Mark E. Smith shouts with venom, "Bastard! Idiot! Feel the wrath of my bombast!" over a loud and thoroughly rocking backing. And more of Smith's random bursts of genius erupt in "Barmy," where he declares, "Out of England I dream of its creamery/when I'm here I dwell on Saxony."
Though by no means straightforward, "Spoilt Victorian Child" is full of rock `n' roll swagger, propelled by Brix's awesome riffs and Mark's sideways delivery, ultimately resulting in him spelling out "E-N-C-Y-C-L-O-pedia." Yet "LA," slightly mellower and darker, finds Mark E. Smith showing an incredible amount of vocal restraint on this almost-instrumental track. Musically, it has a dark, synth-propelled groove, making it one of the most accessible tracks on the album, followed by one of the most abrasive—"Gut of the Quantifier," a glam-inspired stomp with repeated cries of "stick it in the mud/stick it in the gut." An almost rockabilly swing style drives "My New House," another rollicking standout.
"Paint Work" is one of the strangest songs on the album, an acoustic track paired with sampled voices, an organ melody, a drum machine and Smith's indecipherable mumbles. On "I Am Damo Suzuki," the band pays tribute to Can frontman Damo Suzuki, borrowing melodies from the band and dropping references to their songs in the lyrics, such as "what have you got in that paper bag? Is it vitamin C?" As tributes go, it's a bizarre one, but a damn good one, making it a true Fall essential. The short, eerie "To NKroachment: Yarbles" closes off the album with a haunting bassline and bizarre layers of effects.
Cassette and CD versions expanded on this eleven-track version of the album, adding the rockabilly, Brix-sung "Vixen" and the melancholy jangler, "Petty Thief (Lout)." And in 1988, three singles released around the time of the album were tacked on to the tracklist: the careening punk rock death-ride "Couldn't Get Ahead," the '50s-ish singalong "Rollin' Dany," and the awesome, abrasive rocker "Cruisers Creek." These five tracks have become so inseparable from the original, that it's easy to forget that they weren't originally there. In any case, they're absolute must-haves.
The Brix period didn't last all that long, she and Mark eventually getting divorced. And as a result, Mark penned the vicious "Sing, Harpy!" in 1990. It might just be that Mark E. Smith isn't meant to be a married, domestic man. And I can't imagine him being one. Rather, he's the frontman of one of the greatest, most inconsistent, most unpredictable and strangest bands in history. With 25 studio albums, there are several that achieve a greatness similar to that of This Nation's Saving Grace, but it's still at the top of the pyramid, displaying the best that the post-punk legends had to offer.
Similar Albums:
Pere Ubu – Dub Housing
Mekons – Rock `n' Roll
Wire – Chairs Missing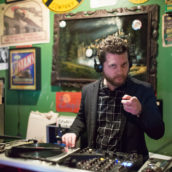 Jeff Terich
Jeff Terich is the founder and editor of Treble. He's been writing about music for 20 years and has been published at American Songwriter, Bandcamp Daily, Reverb, Spin, Stereogum, uDiscoverMusic, VinylMePlease and some others that he's forgetting right now. He's still not tired of it.