The Jesus Lizard : Liar, Down (reissues)
Touch & Go's virtual shut-down earlier this year was one of the most heavy hitting tragedies in independent rock this decade. Having fostered, nurtured and birthed some of the most innovative and often twisted rock music of the past three decades, its end was one that left fans with a gut punch that the likes of only Big Black or Killdozer could administer. Technically, it does still exist, operating as a catalog-only label, but those looking for the next generation's Scratch Acid or Girls Against Boys would have to look elsewhere. Before T&G announced it would no longer be releasing new music, however, it had one major item on its release schedule before its doors would be closed to any and all incoming talent: a complete reissue series of The Jesus Lizard's Touch & Go catalog.
It's fitting that The Jesus Lizard should be the last band to see anything released on Touch & Go, as they were the most notorious, most influential and just plain most kick ass band ever to have called the Chicago label their home. The irreverent heroes' catalog is treated with reverence, of course, with extended liner notes and bonus tracks. And you better believe that includes vinyl releases. Going through the catalog chronologically, however, there's a clear trajectory, as the band goes from rough and abrasive punks on Head and Pure toward their pinnacle of fucked-upness on Goat, which is often considered their greatest album. It's hard to argue with that; Goat is pretty much distorted, drunken, misanthropic perfection. Yet the releases that came afterward, Liar and Down, found the group inching toward accessibility while tightening their sound. "Tight" is a relative term, mind you. They still sounded pretty unhinged, but with top-notch musicianship.
Liar doesn't stray too far from the groundwork laid on Goat, but it does find the band streamlining their dirty post-hardcore sound just so slightly. Right off the bat, "Boilermaker" lunges straight at the listener with Duane Denison's escalating riffs and David Sims' pummeling basslines. "Gladiator" pounds and throbs, "The Art of Self-Defense" rumbles and roars, and single "Puss" is even, oddly enough, kinda catchy. In fact, "Puss" was the most accessible song the group had recorded up to that point, though no less brutal or frightening. David Yow hadn't stopped maniacally moaning or dropping trou by any means. But the album also revealed some more complex aspects of the band's approach, namely in "Zachariah," an eerie dirge of sorts that mined the film score sound of Spaghetti Westerns for a sprawling, melancholy scrape. Making this reissue all the more worthwhile is its inclusion of single "Wheelchair Epidemic," a rowdy 7-inch highlight.
Two years later, with Down, The Jesus Lizard were still pretty merciless when it came to volume and brawny. But it was their last independently released album before they made the leap to Capitol, and as such it's the sound of the band potentially opening up to a wider audience. They were releasing videos, which were then shown on Beavis and Butthead, and even had a song on the soundtrack to Kevin Smith's Clerks. In fact, that song, "Panic In Cicero," appears as a bonus track on Touch & Go's reissue of Down. So, certainly, someone thought they had enough mass appeal to start introducing them to slightly more commercial audiences, if subversively.
Keep in mind, however, that The Jesus Lizard weren't making any appearances in Meg Ryan movies or at MTV's Spring Break. Down, though not quite the churning exercise in sadism that Goat and Liar were, was still pretty fucked up. In fact, Sims' ironclad bass smack in opening track "Fly on the Wall" was as heavy as ever, though Denison's guitar was just a little more melodic, and Yow even sang, a little bit, rather than purely yelping or moaning. "Mistletoe" grinds and pummels with a blood-dripping smile, while "Countless Backs of Sad Losers" is a triumph of rusty, mutant blues. "Destroy Before Reading" is even a little sexy, which is not a word often associated with a degenerate lot like The Jesus Lizard, but they certainly made it work. And the meaty organ in "Horse" lent just the right amount of soul to the band's bruised glam vamp. On the subject of glam, however, the inclusion of standout single "Glamorous" is yet another fine addition to this deluxe reissue, as is the brief "Deaf as a Bat" and previously mentioned "Panic in Cicero."
Two years after Down, The Jesus Lizard made their Capitol debut with Shot, which was then followed by Blue two years later. And while those were nice enough records, they weren't quite the pummeling, invigorating, frightening masses of bass, blood and rock `n' roll that their Touch & Go output was. No band was ever quite as awesome and unsettling, and that they managed to stand out as one of the greatest bands to have emerged from a label that seemingly exclusively sponsored greatness is a testament to their vicious legacy.
Similar Albums/ Albums Influenced:
The Birthday Party – Junkyard
Future of the Left – Travels With Myself and Another
Akimbo – Jersey Shores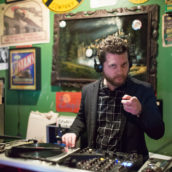 Jeff Terich
Jeff Terich is the founder and editor of Treble. He's been writing about music for 20 years and has been published at American Songwriter, Bandcamp Daily, Reverb, Spin, Stereogum, uDiscoverMusic, VinylMePlease and some others that he's forgetting right now. He's still not tired of it.