The Top 50 Albums of 2010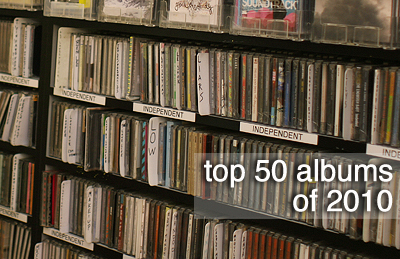 In the process of reviewing, compiling, ranking and tallying up our favorite music at the end of a given year, inevitably comes the question of how the year compares to the one that preceded it. Sometimes it takes years to fully discover everything worthwhile released in a certain year; 2006 stands out as having exceptional dividends despite what initially seemed to be an onslaught of bland indie pop efforts. Yet 2010, with only a couple more weeks left before its sun sets, stands out as having given birth to more great albums than most of us are used to. Not that there's such thing as a bad year for music, you just have to know where to find it. In 2010, however, great music happened to lurk around every corner. Don't dismiss it because it was the year that gave us "witch house" (ugh), it also gave us some truly challenging and invigorating releases in hip-hop, electronic and metal, not to mention some stuff that just plain rocked.
We liked a lot of albums from 2010, but here are the 50 we liked most.
50. Ted Leo and the Pharmacists – The Brutalist Bricks (Matador)
Years of toiling away as indie-rock road warriors and studio stalwarts paid off this year with a best-ever slot on 2010's Billboard pop charts. Arcade Fire? Sure, them, but let's give props to Ted Leo & The Pharmacists as well, who managed to peak at #114 in the Top 200 with The Brutalist Bricks. The band's ninth album smartly synthesizes a jaunty, peppery back catalog including The Tyranny of Distance and Shake the Sheets. That synthesis also manages to cast Leo and his band in the same sonic light as the great power-pop of Nick Lowe, Joe Jackson and Elvis Costello ("Even Heroes Have to Die," "Bottled in Cork"), with hints of the cracked punk variations of The Minutemen and their spinoff fIREHOSE ("Gimme the Wire," "Last Days," "Where Was My Brain?") peeking through as well. In today's radically altered landscape of music sales-and even what constitutes "pop" music at all-in retrospect, Ted Leo at long last seeing that sort of success is really no surprise. – Adam Blyweiss
49. Erykah Badu – New Amerykah Part 2: Return of the Ankh (Universal Motown)
The last time I really listened to an Erykah Badu album was back in 2000 with Mama's Gun. Looser and already shedding the coffee shop feel of the classic Baduizm, Badu was quickly showing her eclectic and sometimes strange creative streak. Little did I know that while I was looking away, that streak took over in a big way and yielded New Amerykah Part One (4th World War) – an album that while admirable in its complexity, political gumption and derring-do, was tiring in its overflows. Her follow-up, on the other hand, is as easy and comforting as Baduizm was. Using more sampling and richer instrumentation than Part One, Part Two feels warm; as Badu said to Billboard, "There's a strong undercurrent of bottom, a rumbling to these songs that feels good to me. It feels like a hug." And hug it does – songs like "Umm Hmm" and "Turn Me Away (Get Munny)" have an easy sensuality to them, relaxed. Rather than singing about politics and the state of the world, Badu dwells on relationships and even lets her sly humor peak through, sounding more like your old friend than a person on their soapbox. Using beats by J Dilla, ?uestlove and Madlib (among many others), New Amerykah Part Two (Return of the Ankh) is still daring and wildly creative, but still familiar – here Badu is looking and pushing forward, while still looking back and sounding amazing the whole way. – Jackie Im
48. Superchunk – Majesty Shredding (Merge)
When most of us think of rock in the '90s, particularly the early '90s, we think of sludgy guitars and hirsute singers mumbling lyrics that were really depressing, if you could figure out what the guy was saying. In this environment, the pop punk of Superchunk was almost jarring in its buoyancy; an entire band in the vein of Nirvana's "Sliver" and "Son of a Gun." And so it was in 2010, in a music world dominated by detached chillwave, post-ironic dance rock and larger than life hip-hop icons, that Superchunk emerged from a nine year break with an album of sublimely hook-filled power punk, reminding us all how fun guitars can be. Listening to Majesty Shredding, one can't help but think the band has spent the better part of the '00s frozen in a capsule like something out of "Futurama" (rather than quietly contributing tracks to compilations and playing the occasional benefit show) and woke up refreshed, full of new ideas and ready to rock. Here's hoping they stay awake a while longer. – Elizabeth Malloy
47. Mount Kimbie – Crooks and Lovers (Hotflush)
After releasing a pair of much-lauded EPs for Hotflush in 2009, London duo Mount Kimbie looked to stretch the boundaries of their sound on Crooks & Lovers, their debut full-length. Though it clocks in at just shy of 36 minutes, Kai Campos and Dominic Maker manage to jam a ridiculous amount of diverse and vivid ideas into the record, moving ever further from any (ever less disclosing) dubstep tags while charting territory both more aggressive and unrestrainedly pensive. Crooks & Lovers may not contain any singles as immediately magnetizing as "Maybes" or "William," but it is full of moments and pieces that will be alternately energizing listeners as long as they return to the album. – Tyler Parks
46. Girl Talk – All Day (Illegal Art)
December 7th recently became more than a day that will live in infamy. In Pittsburgh, hometown of the man who is Girl Talk, that day was declared Gregg Gillis Day. After All Day, his latest mashup extravaganza, offered free to listeners, he certainly deserves it. Gillis has done more in popularizing sampling collage than nearly anyone else in the field, and has certainly crossed quite a few fanbases, especially indie kids. What sets All Day apart from both other artists as well as Girl Talk's own previous work is the breadth of knowledge and depth of selection he brings to the mix. When everyone from the Grateful Dead, the Four Tops, and Neil Diamond to Arcade Fire, Collective Soul, Phoenix and Supergrass make cameos, as well as the usual suspects such as Jay-Z, Lady Gaga, Daft Punk and the Beastie Boys, no one can claim that Girl Talk is a niche act. Gillis is both a populist and, with his expertise, an elitist technician, which makes him a lethal party combination. – Terrance Terich
45. How To Dress Well – Love Remains (Lefse)
The concept behind How to Dress Well – atmospheric, ultra lo-fi electro-R&B — is a weird one, but a good one. Research fellow Tom Krell is the sole artist behind the fuzzy grooves and haunting croon, and his approach is successful in that it takes largely familiar elements and repurposes them for entirely unexpected ends. Bedroom jams like "Decisions" and "Ready for the World" find common ground between soul, dubstep and freak-folk, while darker moments like "Suicide Dream 2" lurk in dim, foggy realms, mysterious and melancholy. The first time I listened to this album, I honestly didn't like it very much, but there was something alluring about it all the same. That certain indefinable quality ultimately brought me back to soak longer in its static-ridden ambient glow, and I'm glad I did. Love Remains reveals its beauty over time, and when it does it's like nothing you've heard before. – Jeff Terich
44. Male Bonding – Nothing Hurts (Sub Pop)
The dichotomy of punk and pop elements in Male Bonding's sound is at a unique balance of Zen-like proportions. Not only is their sound quick, raw and rough around the edges, but it wields hook after hook, making it hard to resist their charms. Formed in the ashes of UK noise band PRE, John Arthur Webb (lead vocals and guitar) and Kevin Hendrick (backing vocals and bass) recruited drummer Robyn Silas Christian to hit the skins and began playing parties in suburban London and eventually signing with Sub Pop Records. The resulting first effort from that signing, Nothing Hurts, is a lean and abrasive half-hour of punk rock energy, grunge density and indie pop hooks. With a start this strong, their momentum isn't likely to slacken in 2011. – Jordon Chiarelli
43. Warpaint – The Fool (Rough Trade)
One of the freshest sounding albums of 2010 was The Fool, the debut full length from Los Angeles-based all female quartet Warpaint. Produced by award-winning producer Tom Biller (Silversun Pickups, "Where the Wild Things Are" soundtrack), The Fool is overflowing with pop experimentation from the shimmery post-punk/dance meanderings of "Bees," to the otherworldly atmospheres of "Set Down Your Arms," and topped unexpectedly girlish vocals of frontwoman/guitarist Emily Kokal, and cohorts guitarist Theresa Wayman and bassist Jenny Lee Lindberg. Call it "art rock," if you will, but note that Warpaint's brand is the most unpretentious art rock around (one needn't look further than "Undertow," an easygoing play on / homage to Nirvana classic "Polly," or the acoustic power balladry of "Baby" for evidence). While the album is not without a few missteps, they are admissible because at the end of the day, as a first record, The Fool is the type that creates a hankering for a second. – Jamie Ludwig
42. Crystal Castles – Crystal Castles (Fiction-Last Gang-Universal Motown)
Crystal Castles does not, by any means, play music that would be considered friendly. Their type of dance music is not one that promotes communal hedonism like rave or house culture did or does, but rather a deterioration of individual self-control, a willing possession of sorts with no particular concern as to whether good or bad feelings come out of it so long as it's feeling all the same. It's basically punk, as completely visceral and cathartic as anything produced by Minor Threat, The Jesus Lizard or Big Black. In any case it's certainly a minor comfort at the very least that nihilism remains an attractive artistic concept if not a full-on social one, and can be reconciled pretty handily with attractive sounds. – Chris Morgan
41. Swans – My Father Will Guide Me Up a Rope to the Sky (Young God)
Swans have had innumerable lineup changes throughout their existence, and have likewise also taken on a nearly endless array of genres, from their beginnings in noise terror to post-punk, industrial, folk and ambient. And up to their dissolution in 1996, Swans maintained only one constant: frontman Michael Gira. Resurrected after a 14-year absence, Swans once again took new shape with My Father Will Guide Me Up a Rope to the Sky, an intense, albeit melodic new excursion for Gira and his newest cast of players. Neither as abstract as Soundtracks for the Blind nor as belligerent as their early material, Father is a work of rugged beauty, lining up highlights such as the metal stomp of "My Birth," the bluesy folk of "Reeling the Liars In" and the malevolent dirge of "Jim." This is nothing and everything like the Swans of yore; it's exquisite. – Jeff Terich