The Top 50 Albums of 2010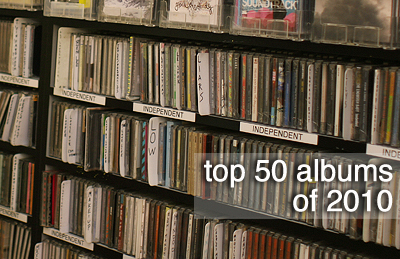 10. Titus Andronicus – The Monitor (XL)
I'm from New Jersey, and don't think that I haven't noticed what all you other Americans are trying to do, coming to the Delaware River with your pitchforks and torches looking to raise hell because the state adds more to the country's STDs than its GDP. Well the last time I checked, no other state has a band named Titus Andronicus, let alone any band that plays at their level of primal fury and/or beauty. What other band can you think of loves American history so much that they wrote a whole album about it? While also referencing quotes from William Lloyd Garrison, Jefferson Davis and The Butthole Surfers? That's what I thought. You may burn us down and deprive the Grease Truck of its most precious resource (grease) but The Monitor has already done its share of damage on your children and your children's children, who in time will make Sherman's March to the Sea look like a fucking stag party. You're welcome, America. – Chris Morgan
9. The National – High Violet (4AD)
A few years ago, I made the mistake of underrating the National's Boxer, possibly one of my favorite albums of all time. Buried in my own reviews, work, and other activities, I had not given it the time it so richly deserved. This year, I had no such intention of making the same mistake, and I wasn't disappointed. High Violet finds no drop off in the steady climb of the National's artistic ascent. From the crunching melodies and soul-stirring build of opener "Terrible Love," to the lyrically earnest Springsteenian "Bloodbuzz Ohio," and the gorgeously orchestrated (by Nico Muhly) "Vanderlyle Crybaby Geeks," High Violet is what modern albums ought to be. Matt Berninger's vocals hang above each track like a distant observer, yet are emotionally tethered to every note played and every lyric intoned. "All the very best of us string ourselves up for love." Indeed. – Terrance Terich
8. Caribou – Swim (Merge)
The funny thing about Dan Snaith is that any and all of his albums could have essentially been titled Swim and nobody would have batted an eye. Up In Flames, The Milk of Human Kindness, Andorra — each one was built on a solid foundation of gravy-thick psychedelic sonics, with the electronics barely showing underneath all of the bells and whistles (and flutes and guitars and keys), leaving the listener to wade, then plunge, deep inside that soup. But the album Snaith actually titled Swim is Snaith's most overt dance album, piling up synth hooks unsafe for the epileptic and basslines better fit for movement below the belt than distortions in the cerebellum. Which isn't to say it's not kind of trippy; "Sun" should set that record straight quite easily. But with pulse-pounders like "Odessa" and "Kailli" among the album's many standouts, Caribou finally throws his own unique, underwater cosmic rave. – Jeff Terich
7. Big Boi – Sir Lucious Left Foot: The Son of Chico Dusty (Def Jam)
In the works for years before its eventual release, the first proper stand-alone solo record from OutKast's Big Boi had a mountain of hype to live up to. Impressively enough, the awesomely titled Sir Lucious Left Foot: The Son of Chico Dusty delivers on pretty much every level. Though a member of one of the greatest duos in hip-hop history, Antwan Patton has always felt criminally slept-on in comparison to the ostensibly universal flood of praise that's thrown toward his partner André Benjamin, aka André 3000. Big Boi is often painted as the straight-forward G figure of the group, while 3000 is typically held to be the more artistically-honed, chance-taking eccentric — an imposed dynamic they've wrestled with for much of their career. In the post-glow of the bold and musically diverse Sir Lucious Left Foot, such rigged generalizations are flipped on their head and can now hopefully be put to rest for good.
After all songs with verses from Three Stacks were prevented from appearing on the record by the ever-frustrating Jive Records, leaving only a noteworthy production credit on "You Ain't No DJ" attributed to André, this stellar batch of tunes was amassed in total by Big Boi, frequent collaborators Organized Noize, and a handful of other guests and producers. Pushing through a gamut of styles and moods, Sir Lucious Left Foot features uncompromisingly massive and layered songs, most grounded in the distinctive, wonky, space funk-tinged Dirty South boom-bap we've come to expect from OutKast. Big Boi reportedly spends up to a year or two with the music from a planned album before he ever drops a verse in order to fully absorb the vibe and rhythm of the compositions; a work ethic that is evident throughout this entire record, as his flow is perfectly interwoven into each song with a confidence that can only come from such an intimate understanding. I mean, he doesn't just coast along and ride these beats — from the soaring let-me-reintroduce-myself jam "Daddy Fat Sax," to the monumental, stuttering talk box-bounce of "Shutterbugg," to the breezy melancholy of "Shine Blockas," he completely demolishes each one with unbelievable swagger. And beyond its effectiveness at eroding whatever regrettably persistent assumptions about OutKast and Big Boi, we can all enjoy the fact that Sir Lucious Left Foot: The Son of Chico Dusty is, more importantly, a fantastic hip-hop record. – Derek Emery
6. Ariel Pink's Haunted Graffiti – Before Today (4AD)
Since his first release on Paw Tracks, Ariel Pink was perhaps best known as the perpetual outsider, making lo-fi recordings that were sometimes scattered, patched together and, ok, maybe a little weird. We didn't see his music too much on year-end best of lists and while I too could find his onslaught of releases a bit uneven, it was hard to deny that the guy was interesting and had the capability to make an amazing album. Then came Before Today. More cohesive and more thought-out, the songs on Before Today sound worked over, but never worked. They still had a bit of strangeness and surprise that older songs did, but these songs also packed more of a punch. Past versions of songs turn up here and you could hear how much they benefited from the fine-tuning. Mining 1960s AM classics (among many, many others), Ariel Pink again draws from his music collecting habit yet still sounds uniquely him – warped vocals, twisty-turny arrangements, and Dadaist lyrics, they're all here but taken a new direction. For a longtime listener, it was seeing all of my favorite aspects of Ariel Pink's music amplified and brought forth and like a proud parent, I was raving and playing it to anyone I could. – Jackie Im
5. Deerhunter – Halcyon Digest (4AD)
Bradford Cox continues to solidify his claim to being the most prolific song man at work today with Halcyon Digest, a work that finds Deerhunter further incorporating the gauzy ambience of Cox's solo project, Atlas Sound, into the dynamics of the band and the diverse song structures that these dynamics create. Album opener "Earthquake" sets things on a sedate and lucid trajectory, injecting a healthy dose of otherworldliness into the listener before he or she gets to the jangling and jagged indie by-way-of the '60s guitar pop of "Don't Cry" and "Revival." That is to say, Deerhunter's breadth and ability to weave together their varying interests and fascinations has definitely reached its high point to date on this record. While it would stand to reason that Cox's palette may be running out of combinations by this point, Halcyon Digest shows just how adept he and Deerhunter are at recalibrating their every little thing just enough to continually astound. – Tyler Parks
4. Kanye West – My Beautiful Dark Twisted Fantasy (Roc-a-fella/Def Jam)
Kanye West once boasted that he could wear nothing but a speedo and still look like a hero. One might attempt to point to the emotional nakedness of 2008's 808s and Heartbreak as a metaphorical display of that very statement, but in comparison to the epic piece of self-examination through the history of hip-hop that Yeezy released this year, that album was just an auto-tuned hissy fit. Initially proposed as a throwback to classic, soul-inspired hip-hop when first conceived, My Beautiful Dark Twisted Fantasy ended up a gilded hallway of every influence, every impulse, every trainwreck and celebration that Kanye West has ever experienced. He confidently leaps from bitterness in the old school-sounding "Gorgeous" to damning his kingly status on "Power," from nodding with the naysayers in agreement on sparkling smash "Runaway" to transforming into a three-headed caricature on "Monster." And he invited everyone along: Rick Ross, RZA, Jay-Z, Nicki Minaj, Justin Vernon, Chris Rock, Elton John, Rihanna… you could be on it too, double check the liner notes if you're not sure. But this is still Yeezy's happening. Because throughout every crackly sample, every booming synth and every plinking piano, West is the host of this extravagant affair, sometimes offering too much information, sometimes speaking through characters, but ultimately giving the performance of his career. – Jeff Terich
3. Janelle Monáe – The ArchAndroid (Badboy)
I almost quit listening to full-lengths this year, but Janelle Monáe made me feel bad about it. By turns dazzlingly intricate and as simple as a manual override, it's a seam-busting sensory narrative. Weirdly, the album it most resembles is another moon-shot of glam and discord, Mellon Collie & the Infinite Sadness: multiple interludes; yaws of bravura followed by neck-snapping WTF; overconsidered segues; constant drama; a couple songs that outright suck, caught in the general math of things. Monáe is a genuine auteur who values the gift of overreach and sometimes gets in her own way. But few figures in modern music are as breathtaking. "Tightrope" and "Cold War" were among the most discussible tracks of the year but, not to belabor the MCIS comparison, the best cuts were the deepest: the spidery New Wave of "Locked Inside"; the bubbly New Wave of the Of Montreal-guesting "Make The Bus"; the one that sounds like Lost In Translation; the one that sounds like that old Laika song. A quiet favorite is "Neon Valley Street," a shivery-good lullaby so genre-confused it sticks out even on a highly genre-confused record. Monáe gets me and my problem: it's not that I need albums to be shorter, it's that I need them to be longer. – Anthony Strain
2. Arcade Fire – The Suburbs (Merge)
Arcade Fire wear everything on their sleeve. When they're writing songs about death, religion and politics, this approach makes for big, beautiful, but hardly subtle music. For third album The Suburbs, Butler, Chassange & Co. turn their sites on decidedly less incendiary subject matter – the sprawling hinterlands surrounding America's cities – and somehow this makes for some of the group's most deeply affecting music yet. A loose concept album about a war that catches the teenagers of Dullsville, USA in the middle, The Suburbs contains some trademark orchestral crescendos on songs like "Rococo," but there's also the deceptively breezy title track, and the disco thump of "Sprawl II (Mountains Beyond Mountains)." It's not so much that the Arcade Fire are mellowing as they mature or reigning in their excesses, as they harnessing their power and exploring what else it can do. Always evocative, with The Suburbs, the band proves they can also be funny, disarming and endlessly full of hope. – Elizabeth Malloy
1. LCD Soundsystem – This Is Happening (DFA-Virgin)
I have to admit to feeling slightly skeptical about this record after being introduced to it by "Drunk Girls." It is probably also true that I was suffering at that time from that malignancy that occasionally strikes some of us in these times of immense musical plenitude, that is, I forgot just how much James Murphy's music means to me in the flood of things that came after Sound of Silver and slowly but surely usurped its rotation time on my turntable. However, as it turns out there was no need for perturbation, and This Is Happening has made strikingly clear that I had been unknowingly suffering from LCDS-deficiency for some time. It goes without saying then that these two pieces of black plastic have gotten more spins than any others that I have mortgaged my future to in the past year.
Whether he is borrowing, stealing, covering, inventing, playing the fool, the straight man, or the outsider who is for a moment granted a privileged view of everyday obscurity, James Murphy manages to bring himself and his prodigious personality to bear on the music he releases. So while This Is Happening travels through Bowie and Eno ("All I Want"), Talking Heads ("Home"), Iggy (Somebody's Calling Me"), The Velvet Underground ("Drunk Girls") or, more obscurely, The Pool ("Dance Yrself Clean"), it always arrives back at James Murphy-though evidently this time around an iteration of the man clad in white and meandering around a Malibu mansion. But what is the "this" that is "happening"? Is this the end for LCD Soundsystem, the end of an era…is it true? I hope not. There is nothing to replace them, live or on record, and I am certainly in no hurry to begin trying. – Tyler Parks