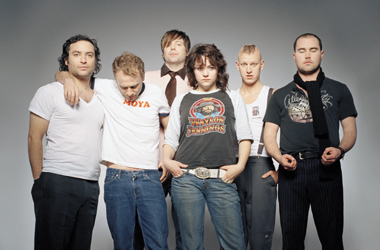 North Hatley, a remote township outside of often-frigid Montreal, doesn't exactly scream white-hot rock'n'roll. In fact, the town of 600 (which doubles in the summer months, but who's counting?) is so far out there that any screams it might have had were long since muffled beneath frost-covered scarves, and everyone is too frozen to listen much, anyhow.
And yet, North Hatley is exactly where Montreal's Stars chose to head to record their third full-length, Set Yourself on Fire. It was chosen in part for its frigidity (where else could you tease five people into claustrophobic hibernation with little more than the will to create, Super Furry Animals records and heaping piles of booze?) and partly because a stroke with sheer luck granted them a house and studio near-gratis.
Set Yourself on Fire, the group's first release since 2003's Heart, is a bit of a coming out party for the band. While Heart and 2001's Nightsongs were written quietly via computer and without a guaranteed audience, Fire was birthed from a campfire huddle with very specific intentions – the result of a Juno nod and more than a little raving from best-of-2004 lists.
And it shows in the music. Rather than writing alone, the five Stars – singers Torquil Campbell and Amy Millan, keyboardist Chris Seligman, drummer Pat McGee and bassist Evan Cranley – sat around together, filling ideas into other peoples' songs and adding or vetoing community council-style.
"(Heart) would start with a beat or a bassline, and then we would come in and layer and layer and layer," Campbell said. "The song didn't really become a song until we put those layers on it, so we wanted to try and write ones that stood up to a four-on-the-floor setup … anyone (was) free to come up with anything, really."
The band also wanted to accomplish more on the production level. After the initial work was done in North Hatley, they recorded with British engineer Tom McFall and then headed to mix in Los Angeles.
"We're a very ornate band (but) we had never been given the opportunity to realize stuff we were doing on an arrangement level," Campbell said. "We hadn't had the ability to bring in strings and pianos and really get the sounds that we wanted to get (with Heart) so we were determined to do that. We also wanted to write it as a band in a room with a drummer, and write the songs so that they were playable even without all that ornamentation."
As the sound was freed, so the rest would follow. Gone were the days of Heart's lyrical crush and coy, soft-spoken grins and bashful voyeurism. After the mellowed-out effect of that album, the members of Stars decided it was high time to get a pair, and what they decided on was a lot closer to the beat of turbulent break-up sex – heated and thrusting, groping and apologetic.
"I wanted it to be a record that was more in touch with the rest of the world," Campbell said, "and not quite so private or so interior as Heart. I wanted something you can listen to at a party rather than something you can listen to by yourself."
It was an expected change. The group was still honeymooning when Heart came out, but after three years of working and learning from tour mates such as Broken Social Scene and The Dears, they developed an itch for something a little more dynamic.
"We just wanted to – for the lack of a better word – rock a bit more. There was definitely the urge to make something more ballsy and faster – there were a lot of mid-tempo songs on Heart and we wanted to write one or two songs that you could dance to, all while preserving what was unique about us – which is that we don't rock. There's no attitude, there's no moment of cool. We wish we were, quite frankly, but we just can't take ourselves that seriously."
But then, such attempts at staidness never did much for pop, anyway.
"I like the idea of pop songs as an illusion," Campbell said, "like a magic trick. It's so simple and so short and it doesn't really weigh anything, but if you do it in the right order it's an incredible illusion. It can seem very profound, and can last a long time."
His study of music from that perspective was lifelong. Study in the university was soon abandoned for study of Curtis Mayfield, Lloyd Cole and spinning catchy pop rhythms into multifaceted tales of disgrace.
"I spent a lot of time learning how (to) subvert things in order to make them palatable," he explained. "I think a lot of Stars is about writing songs that seem initially too simple and too commercial and too traditional, and then putting something in them that is kind of perverse and sick and dark and twisted that makes you realize that the person may not be as reliable as you thought they were – or not as predictable."
Campbell cites the desire-filled "Reunion" as one such example, but please don't mistakenly think that the fucked-up figures that color the lyrics are necessarily the same who wrote them.
"One's personality comes out in one's work in ways that I don't think I could ever figure out," Campbell says. "I don't know myself as well as my friends know me or as well as my family does, so it's really more of a process of trying to erase one's personality and create something that has its own."
The tracks on Fire are, consequently, what Campbell sees as both a composite of the personalities behind them and "quite separate" from each of them.
"We're all very much ridiculous people and we all like laughing and like each other's senses of humor a lot," he said. "I don't know if that comes out in the music at all, but that was that's how it gets made. We can laugh at one another, so I think that the music, in fact, is kind of our moments of stillness or our moments of trying to calm down and stop being so silly for a minute."
It's fitting, then, that the album opens with the deep, ominous command, "When you've got nothing left to lose, you've got to set yourself on fire." The demand sounds a little harsh, a bit too pessimistic and self-sacrificial, but according to Campbell, that, too, is part of the joke.
"We were having a conversation on how it just seems like the world is so filled with sadness and evil and chaos, and that the voice of beauty and forgiveness is so ignored. And there's really nothing you can do – the only response that people pay attention to is people immolating themselves and I find that sort of depressing".
Hence, setting oneself on fire isn't exactly advice – at least not on the literal level. Rather, he says, it's a piece of advice on a metaphoric level in that it encourages one to use weakness as a weapon in a world we've just now realized never really heeded to our beckon call.
Says Campbell: "We're the first generation that really expects to lose and really knows they're living in a world that could die at any moment."
Campbell says that such a realization has been used against its vulnerable youth, manifesting itself in selfishness, consumption and the belief in "irony as a form of protection against the truth of the world."
"Its getting us nowhere," he continues, "so I guess my mandate in naming the record is to bring up the idea that you have to ignite that in you which is beautiful. You have to burn yourself before somebody else does, because they're coming for us and I think that the only thing we can do is let them see us burn. I don't want to burn on their terms – I want to burn on mine."