Tindersticks : Falling Down a Mountain
The Tindersticks are a brilliant anomaly. Really, how many tremolo-voiced, jazz-based, Scott Walker-influenced, Northern Soul bands could have survived in a landscape populated by Britpop? Unless my math is incorrect, the answer is one. I suppose there's a correlation as to why Blur and Oasis were by far more popular than Pulp (or all three more than the Tindersticks). What Tindersticks fans can be thankful for is the fact that they were popular enough to even continue at all. Putting out an album every two years for a decade was, by most standards, prolific, but then the band began to implode. After a few lineup changes and solo endeavors, the 'sticks came back with The Hungry Saw, an album that was more than just a return to form for ardent followers, while also garnering new listeners of a new generation.
This year sees the release of their second 'comeback' album, Falling Down a Mountain, (a phrase I last heard used by INXS as the subtitle to their single, "Kiss the Dirt"). By any account, Falling Down a Mountain should be considered a triumph. Not only is it a confirmation, and thus revelation, of the band's mere existence, but also a celebration of a particular style of music. For the Tindersticks, everyday is like Sunday, a late weekend comedown from a few nights of pub-crawls and broken hearts. The jazzy guitars, lilting keys and aching string arrangements all strike at the inner turmoil of the soil in the loveliest of ways. In other words, being sad never felt so good.
That's not to say the entire album is melancholic. Falling Down a Mountain contains a few upbeat gems, including the swinging "Harmony Around My Table," an ebullient handclapping sing-along that will keep your toes tapping with the doo-wop sound. Much has already been made of the silliness of the duet with the great Mary Margaret O'Hara, "Peanuts," but I don't think the detractors are giving it a fair shake. First of all, what a pairing! I'd listen to these two sing the contents of an Algebra primer, and the truth is not that far off. Essentially, "Peanuts" is a musical description of the transitive property. O'Hara sings that her man loves peanuts, but she doesn't care. Yet, since he loves peanuts, and she loves him, she loves peanuts, too. I'm laughing just thinking about the ridiculousness of it, but the choruses tell a different story, one aching with sadness, about a couple trying to find common ground in a troubled relationship. The glory of the track is the sound of their two voices together, Stuart Staples sounding for all the world like a blessed combination of Nick Cave and Antony Hegarty.
Even if you don't care for "Peanuts," most can find greatness in other tracks on the album, such as the modern spaghetti western feel of "She Rode Me Down" or the Massive Attack-like thematic opening title track. "Black Smoke," a song currently making the downloading rounds as an introductory teaser, is another stunner, doing its best to make me shimmy like a madman. "No Place So Alone" wouldn't seem out of place on a Tarantino soundtrack, awash in jangles, tambourines and echo-y guitars. "Factory Girls" finds Staples singing along with a lonely, tinkling piano (at least at first), and as such is another one for the Sunday morning wistful. One of the best tracks is saved for last, tucked neatly away as a closing farewell, the generically titled, "Piano Music." The song, however, is anything but generic, with strings, piano and guitar combining into a track that is at turns energetically charged and others as weepy as all get out.
Tindersticks is most likely one of those bands that will get the vast recognition they deserve long after they've gone. Twenty or so years from now, there will be a massive resurgence of the band's popularity. Perhaps someone will use their music in a film, or this style of music will make a grand comeback. Either way, the people will come out of the woodwork, claiming that they were 'sticks fans way back when. With only two albums under their belts since their five-year hiatus, it may be too early to say that they're back on track with their output consistency, but here's hoping.
Similar Albums:
Nick Cave & the Bad Seeds – The Boatman's Call
The National – Boxer
Richard Hawley – Truelove's Gutter
Video: "Black Smoke"
Download at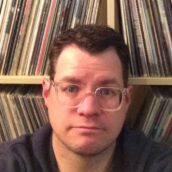 Terrance Terich
Terrance Terich firmly believes that 1985 is the best year for music. He lives near Seattle with his books, movies, and music.