Tom Waits : Orphans: Brawlers, Bawlers and Bastards
Tom Waits isn't necessarily the most prolific artist in rock music. His output in the '70s was frequent and plentiful, but so was just about anyone else's at the time. In the '80s, he spaced out his records by two or three years, then left a five year gap between Frank's Wild Years and Bone Machine, and subsequently, a six year gap between The Black Rider and Mule Variations. Since then his studio albums have been coming a bit more regularly, but what is most important of all, given just how many albums the man has released on the whole, is that they're pretty much all good, and most of them spectacular. But in that time, he's amassed a healthy collection of rarities and outtakes, enough to make a box set out of them, and that's exactly what he did.
Orphans, a three-disc collection, is a bizarre compilation, and not just because it's such a large wealth of material. Sets of this very nature, piling together compilation tracks, covers, outtakes and the like, are often spotty, disjointed and incoherent, but usually pretty fun. The fun aspect here is a given, seeing as it's Waits, but it's the farthest thing from spotty and incoherent. These "orphaned" songs may not have found a home on a proper album, but together make for an impressive rag-tag gang. The songs found on this collection span a wide range of time, some of them having been written during the Island years, but in the interest of putting together a worthwhile release, Waits re-recorded many of the songs, and even threw in some new tracks to keep it all fresh and shiny-like. Interestingly enough, while the discs are separated thematically—Brawlers being the rockers, Bawlers being the ballads, and Bastards being the weird, experimental odds and ends—somehow each ends up being a strong collection of its own, each track fitting together nicely.
The material on Brawlers though new to some, should sound familiar to most, mainly for being classic Waits through and through, juke joint blues stomp and back alley moaning with a bit of old fashioned rock `n' roll just for fun. "Lie to Me" opens it up with a jittery, ragged hop, as "Low Down" finds Waits growling over a Marc Bolan-like guitar rif. "Fish in the Jailhouse" is typical Waits mambo howl, squealing guitar colliding with exotic melodies, stomping percussion and the occasional metallic clang. "Bottom of the World," though haggard and soaked with booze, sounds more like a `bawler,' but is a magnificent inclusion anyhow. "Ain't Goin' Down to the Well" is simple enough, little more than some guitar, harmonica, tambourine and Waits' deep bellow, but it's easily one of the most fantastic things here. "Road to Peace," a political musing, is the closest to straightforward blues rock here, while "Walk Away" has an old school Delta blues, almost Negro spiritual, sound. Of course, only Tom Waits could turn the classic "Sea of Love" into a cry of seedy, sultry desperation. And only Waits could title a song "Buzz Fledderjohn."
To complement the rowdy bruisers on disc one, there's the second installment, Bawlers, displaying the soft side of Waits' personality. Throughout his career, he's become almost as famous for ballads such as "Time," "Downtown Train" and "Tom Traubert's Blues" as he has for "Jockey Full of Bourbon" or "Underground," and with good reason. Though I already knew how good those weepy old slow dances were, Bawlers merely reminds me, once again, of the emotional weight that this quarry-throated old troubadour can wield when he steps away from his seedier, mythical material. The jazzy, one-too-many-drinks resignation in "You Can Never Hold Back Spring" is a lovely gem, sad and beautiful, like so many of Tom Waits' compositions. "Little Drop of Poison," originally included on the soundtrack to Shrek, moves away from tears on the piano to a sinister tango, fitting for a cartoon, but still unmistakably Waits. "Little Man" is simple and sparse, just Waits and his 88 keys, and most affecting for that very reason. And then there's the standard—"Young At Heart" closes this portion, seeming both appropriate and paradoxical. There's certainly a youthful wonder to everything Waits does, but the man's so steeped in legend, he'd have to be 1,000 years if he's a day. (Or in his fifties, whatever).
Then, of course, there are the Bastards. These songs practically speak for themselves. There's the Weill/Brecht composition "What Keeps Mankind Alive?" There's the depressing, disturbing and defeating "Children's Story," which would give any normal child some god-awful nightmares. There's the amusing insect narration of "Army Ants." There's a fantastic cover of Skip Spence's "Books of Moses." There's the Sparklehorse collaboration "Dog Door." There's the odd piano lounge track, "Altar Boy." And then there's the entertaining car monologue, "The Pontiac." Throw in the Bukowski reading, and you get an idea of how scattered, off-kilter and thoroughly wonderful these curiosities and cast-offs are.
A three-headed beast with sharp claws and teeth, fiery breath and a tender heart, Orphans is both intimidating and alluring. Listening to it in one sitting is pretty much impossible, but that doesn't really matter. Each of its three parts is packed so full with essential Waits tracks, enjoying it piece by piece is most certainly a viable option. Prolific or not, the man has quite a few notches on his belt, and somehow, the lost tracks make up for some of the best material he has to offer.
Similar Albums:
Tom Waits – Beautiful Maladies: The Island Years
Captain Beefheart – Trout Mask Replica
Nick Cave and the Bad Seeds – Abattoir Blues/The Lyre of Orpheus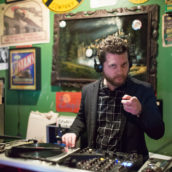 Jeff Terich
Jeff Terich is the founder and editor of Treble. He's been writing about music for 20 years and has been published at American Songwriter, Bandcamp Daily, Reverb, Spin, Stereogum, uDiscoverMusic, VinylMePlease and some others that he's forgetting right now. He's still not tired of it.