Treble's Guide to Summer Festivals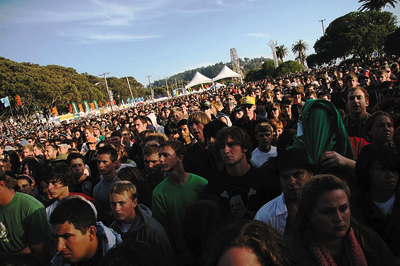 Just over a week ago, music fans gathered in the hot, dusty Empire Polo Fields in the Coachella Valley to check out artists like The Cure, Morrissey, Paul McCartney, My Bloody Valentine and The Killers. And some got tased for not wearing their wizard costumes. Anyway…with Coachella having rung the starting bell, summer festival season is officially here. Sure, it's still only spring, but in the right place, the weather will most certainly resemble that of the summer months. And June isn't as far away as you might think.
The unofficial start of summer, however, is Memorial Day, marking the beginning of grilling season and the Sasquatch Festival in Washington. From there (and actually a little earlier!), music festivals around the country will be happening well into the beginning of Autumn, and even beyond. We've assembled information on several of the biggest music festivals around the country, spanning from West Coast to East Coast, and happening between May and September. Here's all the info you'll need.
The Deli's Best of NYC Festival
thedelimagazine.com
When: May 6-10
Where: Various venues, New York City
Cost: About $15 per show
Lineup: Blank Dogs, Crystal Stilts, Elizabeth and the Catapult, Lowry, Takka Takka, Chairlift, Angel Deradoorian, Religious Knives, Kaiser Cartel
Pros: Lots of unique artists, definitely unlike any other festival, and probably the only event of its kind where you'll see a group like Blank Dogs
Cons: It takes place in small venues, so chances are the tickets won't be in enormous supply, and many acts are relatively unknown outside of New York, that said the lineup is pretty solid, you can trust us.
NYC PopFest
NYCPopFest.org
When: May 14-17
Where: Various Venues, New York City
Cost: $12-16 per show; one show is free
Lineup: Radio Dept. Pants Yell!, Suburban Kids with Biblical Names, My Teenage Stride, lots of twee/indie pop groups.
Pros: Like The Deli Best of NYC, it's an intimate series of shows without the overwhelming corporate logos and crowds swallowing city blocks or remote campgrounds, plus lots of great pop acts, many of them Swedish!
Cons: It's almost so indie it hurts, but there's definitely bands worth seeing, regardless.
Sasquatch Festival
sasquatchfestival.com
When: May 23-25
Where: The Gorge, George, Washington
Cost: $154.50 for weekend, $56.50 per day
Lineup: Kings of Leon, Yeah Yeah Yeahs, Decemberists, Jane's Addiction, Nine Inch Nails, TV on the Radio, Ben Harper, Erykah Badu, Silversun Pickups, Fleet Foxes, Gogol Bordello, Santigold, Grizzly Bear, Explosions in the Sky, Girl Talk, Blitzen Trapper, Murder City Devils, M83, Of Montreal, Walkmen, Wrens, St. Vincent, Dodos, Animal Collective, Bon Iver, Devotchka, M. Ward, Doves, Sun Kil Moon, Gaslight Anthem, King Khan and the Shrines, Shearwater, Mos Def
Pros: Sasquatch has a pretty kickass lineup, as always, so that's plenty of reason to check it out, and tickets are more than reasonable. Plus, you can arrange to have deluxe, private campsites, so you can make a fun weekend of it.
Cons: My brother will tell you that, should the weather happen to turn bad, you run the risk of having your tent blow over, which kinda sucks. It's also not in a major metropolitan area, so make sure you've got enough gas to get there.
Roots Picnic
okayplayer.com/rootspicnic
When: June 6
Where: Festival Pier at Penn's Landing, Philadelphia, Pennsylvania
Cost: $47.50
Lineup: Roots, TV on the Radio, Public Enemy, Santigold, Black Keys, Antibalas, Asher Roth, Kid Cudi
Pros: It's just one day, with two stages, so there's very little chance you'll miss who you want to see; You probably will want to see all of the headlining acts with the exception of…
Cons: Asher Roth.
Noise For the Needy
NoisefortheNeedy.org
When: June 10-14
Where: Seattle, Washington – various venues
Cost: varies from show to show
Lineup: Constantines, Art Brut, Grand Archives, 1990s, Crystal Antlers, Throw Me The Statue, countless smaller groups.
Pros: Benefits charity, lots of small shows, plenty of great new bands to explore.
Cons: You know what? When it's a charity show, and there's bands you want to see, there is no con.
Bonnaroo
Bonnaroo.com
When: June 11-14
Where: Manchester, Tennessee
Cost: $224.50-249.50 for whole weekend, depending upon how early/late you buy
Lineup: Bruce Springsteen and the E-Street Band, Beastie Boys, Erykah Badu, Phish, Nine Inch Nails, David Byrne, Wilco, Al Green, Snoop Dogg, Elvis Costello, Paul Oakenfold, Ben Harper, TV on the Radio, Yeah Yeah Yeahs, MGMT, Andrew Bird, Public Enemy, Band of Horses, Merle Haggard, The Decemberists, Ani DiFranco, Animal Collective, Phoenix, and way too many more to list.
Pros: Bonnarroo offers one of the lengthiest and most diverse lineups of any of the festivals mentioned here, promising something for everyone, to some degree; Kanye West won't keep you up at 4AM with his light show.
Cons: Hippies, man; Kanye West won't keep you up at 4AM with his light show.
Telluride Bluegrass Festival
Bluegrass.com
When: June 18-21
Where: Telluride, Colorado
Cost: 4-day pass $185, individual days $60
Lineup: David Byrne, Conor Oberst & The Mystic Valley Band, Elvis Costello and the Sugarcanes, Jenny Lewis, Emmylou Harris, Tim O'Brien, Todd Snider, lots of bluegrass artists
Pros: It will be vastly different than any other festival (save for maybe another bluegrass festival) and you get to see the likes of Jenny Lewis and David Byrne between fiddlin', banjo pluckin' bluegrass bands, which is pretty cool.
Cons: More hippies, you could get really tired of hearing bluegrass, and you're kinda way out in the middle of nowhere in Colorado, but we suppose that's no worse than being in the middle of nowhere in the desert in California.
Summerfest
Summerfest.com
When: June 25- July 5
Where: Marcus Amphitheatre, Milwaukee, Wisconsin
Cost: varies, tickets available for individual dates
Lineup: Bob Dylan, Willie Nelson, Bon Jovi, Conor Oberst, Kid Rock and Lynyrd Skynyrd, The Fray, The Roots, Kenny Chesney, No Doubt, Femi Kuti, Judas Priest, Chicago, Earth Wind and Fire, Lupe Fiasco, Rodrigo y Gabriela, Talib Kweli
Pros: The event lasts for nearly two weeks, so even if you miss one night, there may be another that catches your interest; diversity, lack of pretension.
Cons: With lack of pretension comes a plethora of bands you probably don't want to see, but plenty more are to be announced, so don't assume it's all The Fray and Kid Rock just yet.
Pitchfork Music Festival
pitchforkmusicfestival.com
When: July 17-19
Where: Union Park, Chicago, Illinois
Cost: $35 for individual days, $75 for whole weekend, $60 for two day pass
Lineup: Built to Spill, Jesus Lizard, Yo La Tengo, Tortoise, The National, Yeasayer, The Pains of Being Pure at Heart, Fucked Up, Plants and Animals, Matt & Kim, Wavves, Charles Hamilton, The Duchess and the Duke, Disappears, Flaming Lips, Grizzly Bear, M83, Walkmen, Pharoahe Monch, Blitzen Trapper, Black Lips, The Very Best, Mew, Vivian Girls, Japandroids, Women
Pros: One of the best parts of Pitchfork Festival is that all of its Friday night acts are strictly playing audience requests (go to the Web site to put in your votes), so you're guaranteed (almost anyhow) to hear what you want. That and the lineup is fairly different from several other festivals going on, so you're bound not to have a repeat of, say, Lollapalooza.
Cons: It's going to be hot. There's no way around that. Also, some of the quieter, twee acts may seem out of place on a big stage, but we'll give them the benefit of the doubt.
All Points West Festival
apwfestival.com
When: July 31 – Aug. 2
Where: Liberty State Park, New Jersey
Cost: Single Day Passes $89, 3-day passes $199
Lineup: Beastie Boys, Yeah Yeah Yeahs, Vampire Weekend, The National, Organized Konfusion, The Pharcyde, The Knux, Fleet Foxes, MSTRKRFT, Shearwater, Tool, My Bloody Valentine, Gogol Bordello, Neko Case, Crystal Castles, St. Vincent, The Cool Kids, Kool Keith, Coldplay, Echo and the Bunnymen, MGMT, The Black Keys, Elbow, Mogwai, We Are Scientists, Ghostland Observatory, Lykke Li, numerous others
Pros: better hip-hop lineup than a lot of other festivals, lack of truly appallingly bad artists, My Bloody Valentine, Echo & The Bunnymen.
Cons: Like most other summer fests, you'll probably sweat out half your body weight, and you might not be able to see Kevin Shields as close as you like.
Lollapalooza
Lollapalooza.com
When: Aug. 7-9
Where: Grant Park, Chicago, Illinois
Cost: Advance 3-day passes are $190, regular passes TBD.
Lineup: Depeche Mode, Tool, The Killers, Jane's Addiction, Beastie Boys, Kings of Leon, Lou Reed, Thievery Corporation, TV on the Radio, Neko Case, The Decemberists, Animal Collective, Andrew Bird, Vampire Weekend, Arctic Monkeys, Ben Folds, Deerhunter, Peter Bjorn and John, Gomez, Gang Gang Dance, No Age, tons more.
Pros: Depeche Mode and Lou Reed are pretty damn good reasons for going, particularly because they're not playing a lot of the other big festivals; you can get a private luxury cabana for 20-45 of your closest friends, with personal servers and bar service. That's pretty amazing.
Cons: Barack Obama most likely won't be there; the heat will be pretty nasty; the lineup is good, but awfully familiar; Asher Roth (again).
Outside Lands
sfoutsidelands.com
When: Aug. 28-30
Where: Golden Gate Park, San Francisco, California
Cost: $225 for 3 day tickets, $595 for VIP, which includes special seating, massage services, VIP food concessions, booze, a poster and nicer restrooms
Lineup: Pearl Jam, Dave Matthews Band, Beastie Boys, Incubus, Black Eyed Peas, M.I.A., Ween, Modest Mouse, Band of Horses, Dead Weather, Built to Spill, Mastodon, Tom Jones, Q-Tip, The National, Os Mutantes, Deerhunter, Raphael Saadiq, John Vanderslice, Akron/Family
Pros: San Francisco is a beautiful city, so there's probably no better place to hang out for the week if you're making a trip out of it; lineup is impressive and different enough that you have a good chance of not repeating any other summer festival experiences; Os Mutantes! Tom Jones!
Cons: The number of artists to avoid is unusually high, that said, it probably shouldn't be that hard to do.
Bumbershoot
Bumbershoot.com
When: Sept. 5-7
Where: Seattle Center, Seattle, Washington
Cost: $80 for 3-day pass
Lineup: Sheryl Crow, Modest Mouse, Katy Perry, De La Soul, Michael Franti & Spearhead, Raphael Saadiq, Isobel Campbell and Mark Lanegan, Long Winters, World Party, MSTRKRFT, Roy Ayers, Common Market, No Age, Matt and Kim, Dead Confederate, Cave Singers, Gang Gang Dance, Holy Fuck and more to be announced
Pros: It's inexpensive in comparison to other fests; a good selection of local artists set it apart; Roy Ayers! World Party!; Seattle's hard to beat in terms of locale.
Cons: Katy Perry, seriously, WTF; School starts on Tuesday.
All Tomorrow's Parties New York 2009
curated by the Flaming Lips
atpfestival.com
When: Sept. 11-13, 2009
Where: Kutshers Country Club, Monticello, New York
Cost: $235 for weekend; $75 Friday, $75 Saturday, $95 Sunday; variable with lodging
Lineup: Flaming Lips, Animal Collective, Jesus Lizard, Panda Bear, Melvins, Autolux, Feelies (performing Crazy Rhythms), Dirty Three (performing Ocean Songs), Suicide (performing first self-titled album), Drones (performing Wait Long by the River), Antipop Consortium, El-P, Black Dice, Atlas Sound, Dead Meadow, Akron/Family, Sleepy Sun
Pros: All Tomorrow's Parties is always a unique experience, and this should prove to be no exception. The performances are held in intimate venues, so you get more of a club atmosphere than that of a giant festival ground, and with bands like Feelies and Suicide performing classic albums in their entirety, it could end up being a once-in-a-lifetime event. Plus, the lineup in and of itself is pretty amazing. Furthermore, it's being held next to a resort, so lodging is on site (more or less), in addition to restaurants and bars, so all you need is essentially in one place.
Cons: It's in upstate New York, away from major cities, so getting there is a bit of a hassle. And the hotel rooms come only in 3 night blocks, so the smallest amount you pay will be $450. In the long run, that's not a bad deal, but if you're only planning on going for one or two days, you might need to sort out a crash situation with other festival goers.
As of the time of this article, lineups had not yet been announced for Street Scene, Siren Fest, Monolith, Sunset Junction, Voodoo, Treasure Island, Pygmalion and Austin City Limits, but we will, of course, post information as it becomes available.
photo by Matt Mills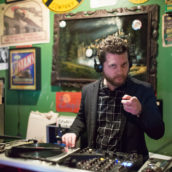 Jeff Terich
Jeff Terich is the founder and editor of Treble. He's been writing about music for 20 years and has been published at American Songwriter, Bandcamp Daily, Reverb, Spin, Stereogum, uDiscoverMusic, VinylMePlease and some others that he's forgetting right now. He's still not tired of it.