Ty Segall Band : Slaughterhouse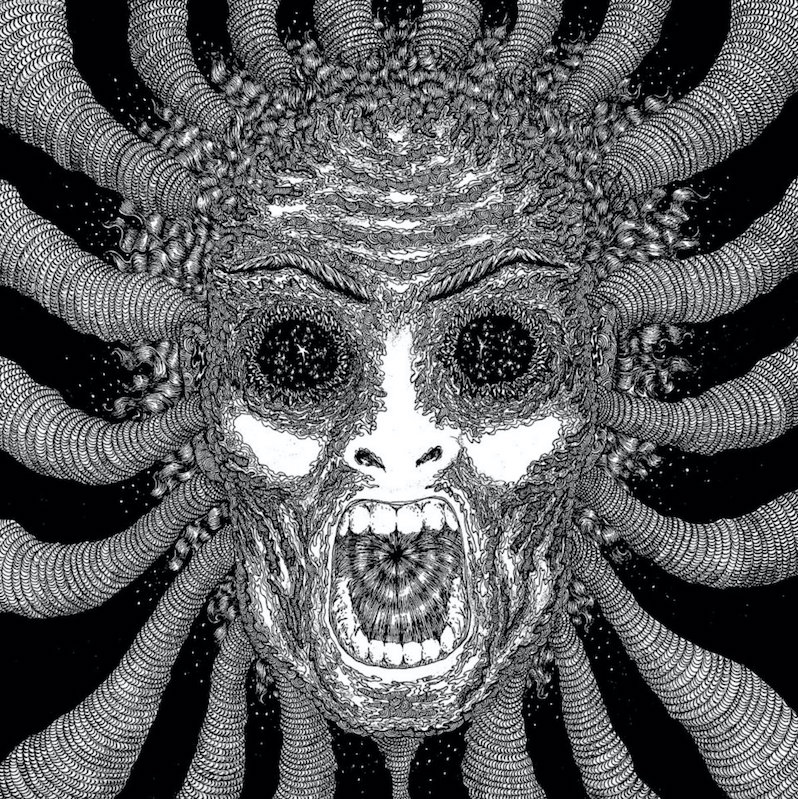 Ty Segall's prolific output over the past year has provided a strong sampling of what to expect from his increasingly diverse rock psychedelia. Based on 2011's Goodbye Bread, and 2012's collaboration with White Fence, Hair, it'd only be natural to expect Slaughterhouse to be yet another high quality and coherent example of the lo-fi, garage rock for which Segall is known. His first album for In the Red, Slaughterhouse, isn't just one of the best releases of the year, but a bold new direction for Segall sonically, dramatically expanding his depth and maturity as an artist.
Simply put, I probably wasn't the only one who didn't expect Slaughterhouse to rock as hard as it does. Segall's music has been described as face melting before, but Slaughterhouse's cover takes that concept to the nth degree with a black and white demon face that's surely the spawn of Medusa, Regan from The Exorcist and The Blair Witch. (Admittedly, with a cover like that, and a name like Slaughterhouse, one should indeed expect a neck-breaking full length.)
Leadoff track "Death" opens with distortion and guitar feedback before some chanting, occult-like lyrics ensure that all the squares have cleared out of the room. Segall rips into the chorus and implores his audience to "have no fear," a nice assurance, but also an unnecessary one if you listen to the follow-up track, "I Bought My Eyes." The second single off the album, it boasts some of the most infectious guitar riffs and pop vocals Segall has ever written. The sounds remain crusted and rough but the melodies are tight and memorable, a trend that continues throughout the whole album and in this instance recalling early works by The Pixies or Pavement.
The middle section of Slaughterhouse finds Segall veering towards more emotional waters without sacrificing his bravado. "Tell Me What's Inside Your Heart" isn't a sappy love song or a whiny ballad, but a confident heart-to-heart beneath a deafening dose of fuzz. The refreshing simplicity continues on "Wave Goodbye," a song about accepting the passage of time, growing older, and knowing when to move on. Yet its effortless lyrics take a backseat to the two-guitar duel that is the final quarter of the song. "Muscle Man" sounds like an amped-up version of The Sonics, and at a minute and 32 seconds earns its place in the canon of 90-second wonders. Segall is a master of brevity throughout the album, after all, and the entire disc would only be 29 minutes long were it not for the whirly ten minutes of guitar feedback and droning on the closing track, the aptly titled "Fuzz War."
The real magic of Slaughterhouse isn't that it continues Segall's recent and impressive track record, nor is it how Segall manages to maintain his pop sensibilities within a dark, bristly context. It's that the album makes his already expanding world even more unpredictable, with added dimensions to the music and a confidence and coolness on Segall's part that made me feel like a high school kid experiencing his first college party. The music is almost always aesthetically familiar but feels realer, more intense, fuller. The swathes of horror, evil and death are probably just a façade—a barrier to entry that's just high enough to dissuade the tenuous, but not so brooding that it destroys the accessible guitar riffs, vocal melodies and urgent rhythms that make up the album's true gems. There's a hint of blockbuster accessibility within the album's dark corners, but Slaughterhouse remains a prized possession for all who hold it. As Segall succinctly puts it at the end of "Wave Goodbye," "fuck YEAH!"
---
Label: In the Red
Year: 2012
---
Similar Albums: