Vile Creature : Glory, Glory! Apathy Took Helm!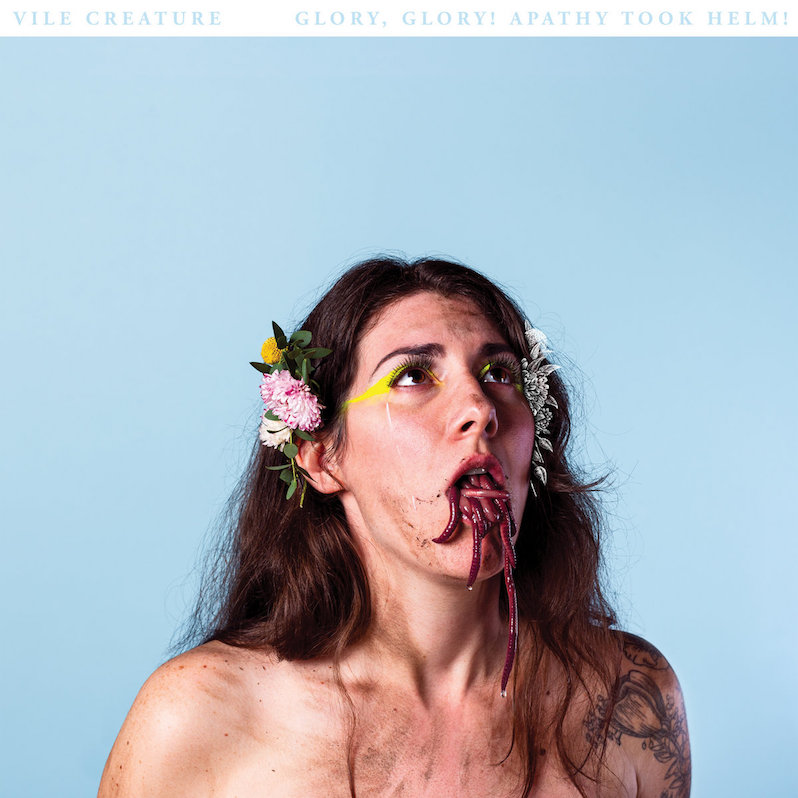 Ominous atmosphere, crushing drums and relentless distortion are key elements to doom metal. Though each space within metal lends itself to a unique environment, the nature of doom embraces a fascinating duality. Guitars lay down oppressive riffs and build compositional weight; yet, that same rhythm and flow lends itself to a meditative quality within the music. On Vile Creature's third studio album, Glory, Glory! Apathy Took Helm!, the duo takes these qualities and elevates them to an ethereal, even cinematic level.
Comprising Vic (drums, vocals) and Kw (guitars, vocals), Vile Creature have proven themselves to be a devastating force. Their previous LP, Cast of Static and Smoke, is doom at its most powerful—instrumentation tinged in rust, driven by pouncing blooms of distortion. Along with their sonic proficiency, the duo bolster their massive sound with topical and affecting subject matter, speaking to subjects such as oppression and struggle from an LGBTQIA+ perspective.
Glory, Glory! Apathy Took Helm! starts things off with "Harbinger of Nothing," a track that weaves in components of the previous LP. Vic's drum work showcases careful pacing in each clash, amplifying the sonic wave of Kw's guitars. Like a banshee tearing through the night, their vocals wail and growl, furthering the music's mesmerizing pace. Whereas Cast of Static and Smoke primarily stuck to a low, gritty production, Glory! progresses along a relatively cleaner route. Do not mistake that for a lack of punch or grime—this level of production is what allows Vile Creature to not only explore greater aggression as well as capture a brilliant theatricality.
There is an artful, epic appeal to Glory!; each cut opens and plays out like a chapter. The chimes at the end of "Harbinger of Nothing" beautifully transition into the haunting guitar tone of "When the Path is Unclear." As much as the music contains an air of magic, it also exudes a physicality. Glory! is a call to action—a proclamation to find strength and determination in trying times. The lyrics speak to a need to observe the world and its happenings, to wake up, speak and not be passive in the face of adversity: "No longer plagued by the grinding of your spirit/ All you have doubted your future clouded/ You cannot act with conviction/ When the path is unclear."
The steady pounce of drums and guitar distortion create a compelling opening in "You Who Has Never Slept," which also showcases more tonal versatility, shifting from the heavy rumble of doom to a more lively, light rock rhythm. Though the majority of Glory!'s tracks offer a sense of headbanging fuel, "You Who Has Never Slept" provides a kickass flow of adrenaline and some particularly intense introspection: "I awoke with the resolve to move a mountain/ I want to be like those before me/ Who screamed into the great unknown/ Saying, 'we will not stand for this.'/ We will not be bystanders, we will not stand idly by."
Closing out the record are two tracks that act as complementary pieces of a whole. With the most minor of familiar components, "Glory! Glory!" showcases something entirely new; its ethereal air forgoes oppressive doom for more of a choral sound. It's a beautiful song that lifts the spirit, casting a brightness that washes over the listener, with lyrics that speak to a transcendent majesty: "The path is dirt and leaves and sinew/ Sheared from this earthen, lifeless husk/ By your grace, your divinity." Its spiritual counterpart, album closer "Apathy Took Helm!" is a powerful fusion of the previous track's musical elements with that of the record's overall aura of doom. Unrelenting, distorted guitars shake up the composition as choir vocals provide ethereal contrast. As the song concludes, the intensity briefly relents, rising one last time, leaving a triumphant crescendo of sound that resonates after the music fades.
With Glory! Glory! Apathy Took Helm!, Vile Creature have proven themselves an unstoppable force. From well-crafted compositions, steeped in crushing and atmospheric doom, to stunningly introspective lyricism, Vile Creature offer listeners a complex and diverse form of heavy music. Vile Creature transcend stereotypical structures and deliver something that feeds the soul.
---
Label: Prosthetic
Year: 2020
---
Similar Albums: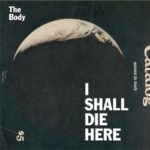 The Body – I Shall Die Here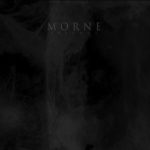 Morne – Shadows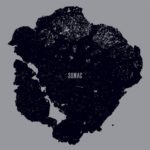 Sumac – What One Becomes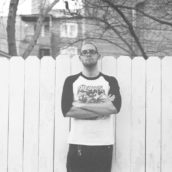 Michael Pementel
A graduate of Columbia College Chicago's Creative Writing Program, Michael Pementel is a published music journalist, specializing in metal and its numerous subgenres. Along with his work for Treble and Bloody Disgusting, he has also written for Consequence of Sound, Metal Injection, Dread Central, Electronic Gaming Monthly and the Funimation blog.