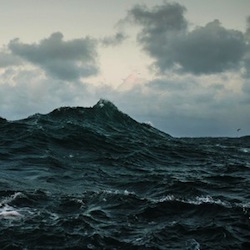 A lot has changed for Justin Vernon since Volcano Choir's 2009 debut Unmap. It's true that Bon Iver had already seen widespread success by that point, but it was still pretty fresh. Since then, that project has landed a number two album on the Billboard charts, won Grammys, Vernon has become a frequent guest on Kanye's albums and he's even been parodied on SNL. All of this puts his side project with Collections of Colonies of Bees in a new light. Adding to this, with their fleshed-out new offering Repave, Volcano Choir doesn't quite feel like a side project anymore.
The album may not seem as overtly experimental as their debut but there is a definite sense the band hasn't lost their adventurous spirit. The droning, processed organ loops that open "Tiderays," and the record, provide the backdrop for a delicate acoustic guitar piece. Thereafter, within its five-minute span, the band takes an epic journey from ballad to anthem with an incredible attention to detail. A sax weaves its way into the mix, manipulated vocals pulsate briefly, pianos drop and curious static noises fade in and out. What's most amazing about this synthesis is that the song's arty arrangement never threatens to become the focal point. You get the sense that these songs may have originally been born out of loop experiments, but what we're presented with are anthemic tracks reminiscent of Arcade Fire or Wolf Parade, complete with shout along choruses in some cases.
Volcano Choir has mastered the art of magnificently shifting from beauty with power. "Byegone"'s patient build, which leads to an intense release, provides one of the album's finest moments. And even in some the prettiest moments on the record, conflicting bits of dissonance are interlaced compounding the tension. That's not to say the band doesn't know when to lay low; the gorgeous "Alaskans" is ultimately powerful in its restraint. What could easily have turned into a grandiloquent assault instead bolsters itself by remaining hushed. It's easily the most achingly poignant track on an album full of such moments. The song's quiet tone, although augmented by an emotional delivery on Vernon's part, makes its mark as an incredible counterbalance to the remainder of the record. The song's instrumental coda features a distant sample of a poem read by Bukowski. It may be hard to make out what he's saying but the moment is still brutally painful.
According to a recent interview with the band, all of the instruments were carried out by Collections of Colonies of Bees members, leaving Vernon free to focus on honing in the vocals for each track. This was an inspired move. Not only are COCOB clearly capable of carving out some pretty formidable instrumental tracks, but this seems to have allowed Vernon to really stretch out vocally. On "Almanac," he wields his falsetto in a soulful, almost TV on the Radio-like fashion. Even as he finds new ways to use it, his falsetto has always been effective, but on this more than any of his other albums, Repave also shows off just how rich his baritone can be. It's his powerful delivery on "Alaskans" that really carries the song. Elsewhere, he seems to be freed to try interesting timbres, throw effects on top and "Comrade" even features a brief seemingly Kanye-inspired Auto-tuned moment that's strangely not bad (to be fair, Unmap also featured a pretty successful Auto-tuned experiment).
Although Unmap was a good album, it felt more like a collection of interesting ideas with some great songs interspersed in between them. Much of that is due in large part to the fact that the band was isolated from each other through much of the recording process. Repave, on the other hand, feels more like the work of band than anything Justin Vernon has been involved with to date. It has all of the focus that was missing from their debut, featuring even better songs. In fact, at a taut 39 minutes, Repave never wastes a moment. If there was a question mark regarding the band's future left after the release of their debut, their sophomore album shows how limitless their future truly is.
Similar Albums:


All Tiny Creatures – Harbors


Braids – Flourish // Perish


Majical Cloudz – Impersonator