Winter/Spring Album Preview 2013
There's a point at the end of every year where some of us at Treble feel the need to take all of that year's music out of rotation and just start spinning old favorites, neglected catalog items and anything that's gathered a little bit of dust in the past 12 months. But it's also a fairly short-lived period, since just around the corner, there's some brand new music to be heard. We've reached that point, and it's time to embrace 2013 fully, welcoming all of its promising new musical pleasures into our lives. And it actually looks like there's a lot of amazing music on the way, now that we've had a chance to check the release calendar. This is a list of 21 albums that sit at the top of our "must-listen" list. Join us in the anticipation, won't you?
Yo La Tengo – Fade
(Jan. 15; Matador)
There are precious few bands that can manage to be comfortable and reliable while always producing something exciting and bold. Yo La Tengo is one such band, a trio with decades of history and warmth that few can parallel, but with such a talent for songwriting that no new album ever seems totally expected. Sometimes they're noisy, sometimes dreamy, and based on tracks like "Ohm," new album Fade proves to be somewhere in the middle. Gentle haze never sounded so thrilling.
Toro y Moi – Anything In Return
(Jan. 22; Carpark)
Toro y Moi's Chaz Bundick has come a long way from being associated with the now cringe-worthy "chillwave" movement to being one of the most consistently fun and interesting synth-pop artists in music today. Two years after the release of the outstanding Underneath the Pine, the South Carolina native finds new, cool avenues to explore on Anything In Return, best displayed through the stunning, hypnotic new single, "Say That."
Local Natives – Hummingbird
(Jan. 29; Frenchkiss)
The dewy sunset vibe of Local Natives' Gorilla Manor made for a debut full of richly satisfying and occasionally exciting slices of indie rock, but it appears that the California indie rockers are aiming for even greater heights with sophomore album Hummingbird. The album is co-produced by The National's Aaron Dessner, and the connection is pretty apparent in first single, "Breakers." Where once the group sounded strong, if casual, there's a much grander approach at play, now. Local Natives already had our attention, and it seems they're ready to blow us away.
Ducktails – The Flower Lane
(Jan. 29; Domino)
Real Estate guitarist Matthew Mondanile first began recording as Ducktails a couple years ago, with the implied intent of creating a homespun, lo-fi sound. With The Flower Lane, his aim has been re-routed to gauzy, daydreamy soft pop with lush textures and full-band instrumentation. The title track shows that Mondanile is off to a pretty outstanding start, at times recalling his other jangle-pop band, for which he's best known, and at others evoking everything from Beck to 10cc. Also on board this time is Daniel Lopatin, aka Oneohtrix Point Never, and Joel Ford, Lopatin's partner in synth-pop outfit Ford & Lopatin.
Buke and Gase – General Dome
(Jan. 29; Brassland)
The "Buke" in Buke and Gase is short for bass ukulele, and if that idea sounds merely cute, then you definitely haven't heard the raucous, discordant art-rock this duo has been honing for the past several years. The recently released tracks "Hiccup" and "General Dome" display both their melodic and dissonant sides, respectively, not to mention a songwriting prowess that marks them as a band whose methods aren't just clever, but catalysts for impeccably executed songcraft. That Buke and Gase have played festivals curated by both The National and Shellac in the last year speaks to the level of sophistication and abrasion they harness so splendidly.
Grouper – The Man Who Died In His Boat
(Feb. 4; Kranky)
Portland singer-songwriter Liz Harris isn't one to load her music with ornate arrangements or complex song structures. And yet, the effects-laden, spectral quality of her music sometimes requires a few good spins to fully endear itself to the listener. The Man Who Died In His Boat, which follows Harris' collaboration with Tiny Vipers' Jesy Fortino as Mirrorring, is a continuation of her Grouper project with songs conceived around the same time as 2008's Dragging a Dead Deer Up a Hill. And it shows; much like that album, the songs here are haunting, rustic pieces that sometimes seem just out of focus, but always gorgeous and intriguing.
Frightened Rabbit – Pedestrian Verse
(Feb. 5; Atlantic)
Mesmerizing, gripping major label alt-rock has been somewhat disappointing of late, something that's always true to varying degrees, but in really strong years gives way to a handful of really fantastic exceptions (2004's flood of Franz Ferdinand/Modest Mouse/Walkmen records being a prime example). Frightened Rabbit, now signed to Atlantic, is in a strong position to rise to the top of the alt-rock heap, given their track record on records like The Midnight Organ Fight and The Winter of Mixed Drinks. The soaring single "State Hospital" is maybe too melancholy to be a breakout single, but it's also powerful enough (not to mention just plain good) to crack mainstream radio.
Unknown Mortal Orchestra – II
(Feb. 5; Jagjaguwar)
Unknown Mortal Orchestra leader Ruban Nielson doesn't seem particularly interested in embracing new technology, following future trends or embracing what's next. And that's just fine, because the New Zealand-born singer-songwriter is an ace at crafting delightfully fuzzy and warmly timeless pop tracks that could have sounded just as relevant 20 to 30 years ago as they do now. "Swim and Sleep (Like a Shark)" is a strong preview of what the album holds, rife with beautifully twirling guitar riffs and softly serene vocals. Indie pop, it turns out, still has a lot of life left in it after all.
The Bronx – The Bronx (IV)
(Feb. 5; ATO)
For the past four or five years, Los Angeles punks The Bronx have eschewed straightforward hardcore completely, instead taking on the mantle of Mariachi El Bronx and taking their sound south of the border with some traditional Mexican arrangements. And, truth be told, the result was pretty damn good. But then again, after this long, we were itching to get back to some stage wrecking, and for the first time since 2008, The Bronx is back to being The Bronx, and will deliver the punk rock that made them infamous in the first place.
Foals – Holy Fire
(Feb. 12; Warner Bros.)
Like a good number of other indie favorites, Foals is going major label in 2013, and it couldn't have happened to a more deserving bunch of musicians. Initially herking and jerking into dancepunk hipsterdom, Foals matured quickly with second album Total Life Forever, spacing out and allowing more atmosphere and grace into their mathematical, precise art rock. They're taking that idea to grander levels on their third album, with hints of mid-`80s UK big-budget new wave cropping up in singles like "My Number." This sounds like the band taking it to the next level, and it sounds good.
Pissed Jeans – Honeys
(Feb. 12; Sub Pop)
Pissed Jeans make loud, abrasive, even antagonistic music. That's what they do. That's why we love them. That's why we can't wait for Honeys, the group's third album for Sub Pop. All one needs to know is in "Bathroom Laughter," a sludgy, murky stomp of a punk song with Mat Korvette howling at the listener like David Yow off his meds and an instrumental backing as aggressive as it is straight-up ugly. Glad to have these dudes back.
Iceage – You're Nothing
(Feb. 19; Matador)
One of the best decisions Matador Records made in the last decade was to let loose and embrace their punk rock urges, signing the likes of Fucked Up and Ceremony in the process. The next group of four-chord firebrands to get stamped with an "Ole" catalog number is Copenhagen's Iceage, a jagged, menacing but ultimately quite thrilling band of post-punks whose musical approach is somewhere between Joy Division and a football riot. Their 2011 album New Brigade is one of the best punk albums to emerge in years, and there's every reason to believe that You're Nothing will be as well.
Nick Cave and the Bad Seeds – Push the Sky Away
(Feb. 19; Bad Seed Ltd.)
Any year that Nick Cave and the Bad Seeds release a new album is bound to be a good one, and at the very least, it's a year with a new Nick Cave album, which can't be all that bad, right? Push the Sky Away looks to be a bit less loud and abrasive than 2008's Dig, Lazarus, Dig!!!, though first single "We No Who U R" is so darkly cool, much like the aesthetically similar Tindersticks, that listeners need not rock the fuck out to find something to love here.
Atoms for Peace – AMOK
(Feb. 26; XL)
Radiohead's Thom Yorke has been, for a few years now, working with another band called Atoms For Peace, comprising industry veterans and seasoned musicians such as producer Nigel Godrich, Red Hot Chili Peppers' Flea, Joey Waronker and percussionist Mauro Refosco. The process of making the album included getting smashed and listening to Fela Kuti, so imagining that with the level of talent invested in the project should basically amount to a crazy art-rock party that we're eager to be invited to.
Rhye – Woman
(March 5; Loma Vista)
Los Angeles ethereal soul duo Rhye quietly and sensually entered the scene last year with a pair of well received but under-the-radar EPs, Open and The Fall, each of which paired sleek ambient pop a la The xx with sophisti-pop and R&B elements. And boy, is it a cool combination. In a couple months, we'll hear the result of the group's attempt to flesh that out into a full-length album, and chances are there's going to be a wide range of sounds and emotions happening. The band tends to pack a lot of depth into a single song, no matter how sparse, so imagine that multiplied by eleven.
Ensemble Pearl – Ensemble Pearl
(March 19; Drag City)
Stephen O'Malley, half of drone lords Sunn0))) and master of all things heavy and dark, has yet another amazing-sounding project in the works, involving members of Boris, Ghost, Jesse Sykes and the Sweet Hereafter and White Heaven, as well as composer Eyvind Kang. Called Ensemble Pearl, the new collective is described as playing "heavy rock sounds in an area between Link Wray, Earth "Hex", and early Tangerine Dream." We're not sure exactly what that sounds like, but it's an intriguing proposition, the thought of which sort of blows our minds.
Low – The Invisible Way
(March 19; Sub Pop)
If there's any band who has made one hell of a consistently fascinating career without taking drastic, identity-altering steps to do so, it's Low. The Minnesota band began life playing as slowly as humanly possible, and things haven't really changed all that much in the long run. Their songs have become a little less like lullabies, they've expanded their arrangements, and even gotten pretty loud at times, but the slow, hypnotic pace of the band has always remained at its heart. This time around, however, Low is being treated to production from Wilco's Jeff Tweedy, which could produce something pretty special.
Marnie Stern – The Chronicles of Marnia
(March 19; Kill Rock Stars)
Guitar heroine Marnie Stern already wins the prize for album title of the year with The Chronicles of Marnia. I mean, c'mon — beat that! But there's still a lot of musical promise as well in the songwriter/guitarist's new album. With former drummer Zach Hill staying busy with Death Grips, Stern has recruited Oneida drummer Kid Millions to fill the role. And recent reports seem to indicate that the album won't be as layered, and will likely be "less nutso" than her previous albums. Chances are it's still going to shred.
Phosphorescent – Muchacho
(March 19; Dead Oceans)
Phosphorescent's Matthew Houck tends to go in a variety of different directions, from covering Willie Nelson to a more atmospheric folk mode, and Muchacho seems to be headed in an all-new direction altogether. The first track to be released from the album, "Song For Zula," combines electronic beats, Sigur Rós-style atmosphere and some lyrics cribbed from Johnny Cash. It looks to be an exciting new chapter for Houck, an artist who never stops moving but always finds a destination worth visiting.
The Knife – Shaking the Habitual
(Apr. 13; Mute)
Though The Knife released an opera back in 2010, it's actually been a good seven years since the Swedish synth-pop duo released a proper album. And with anticipation mounting for their follow-up to 2006's Silent Shout, here's what we know about it so far: it features Shannon Funchess from Light Asylum, and has this ambiguous, eerie teaser video. Yep, that's about it. But it's enough!
Ghost – Infestissumam
(TBA; Loma Vista)
Swedish occult rockers Ghost scared up some amazing hooks on their debut album, 2010's Opus Eponymous, and with great anticipation comes the band's second, erm, ceremony, Infestissumam. Based on the lead single, "Secular Haze," there's a little more spooky prog rock action happening in their Satanic rituals. Of course, there's still a lot of fun and copious hooks to be found. But in case you were planning on starting your Halloween playlist early this year, this might be a good place to start.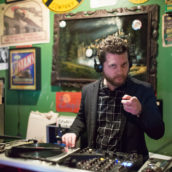 Jeff Terich
Jeff Terich is the founder and editor of Treble. He's been writing about music for 20 years and has been published at American Songwriter, Bandcamp Daily, Reverb, Spin, Stereogum, uDiscoverMusic, VinylMePlease and some others that he's forgetting right now. He's still not tired of it.