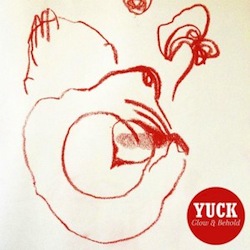 Two questions loomed large over the release of Yuck's sophomore album. First, can the indie-rock revivalist act overcome the hype and nostalgia to create something noteworthy, independent of these concerncs? And second, could the trio possibly (and successfully) move forward after lead-singer/guitarist Daniel Blumberg left to pursue other endeavors?  These are both issues that have plagued too many bands to count, but at the moment the outlook seems positive.
On their self-titled debut, Blumberg came off as the unmistakable leader — a jean-jacket clad, cigarette-smoking flash from the past, mumbling his way through anthems of youthful anxiety and desperation. But as Blumberg departs to pursue other projects, Yuck have been able to craft a sound built around their individual musical talents. Moving away from a lo-fi approach, Glow & Behold finds Yuck broadening their wall of sound and aiming toward a clearer, more deliberate sonic palette.
In Blumberg's absence, guitarist Max Bloom's voice works well here, presented as a subtle lead, more in the lineage of Kevin Gilbert than Stephen Malkmus. Bloom doesn't demand the same immediate attention as Blumberg's brassy slurs, but his vocals are more innovative, using his knowledge of guitar theory to craft interesting contrasts in both melody and harmony. Single "Rebirth" is an excellent example of how Bloom's voice becomes an additional instrument, molding with the song's sound to become part of sonic wall, rather than a statement on top of it.
Like their debut, the sound and feel of this record is not entirely original. In short, these folks are still deep in love with the '90s. But, just as before, it's what Yuck create with their influences that is striking. This time around, the band ventures towards more shoegaze sounds and influence that add up to a deliberate and meaningful album. There is much more intention in the layout of each song, as well as the album as a whole. Each guitar breakdown, trumpet vamp and electronic blip is placed with purpose, and the lyrics are simple but direct, lacking ridiculous "crucifixion/benediction/addiction/affliction" rhyme schemes.
There are moments on this album, such as "Somewhere" or the two instrumental tracks ("Sunrise In Maple Shade" and "Chinese Cymbals") that effectively transfer the listener to a dimly-lit memory of the past.  And there are others ("Rebirth," "Out Of Time," "Glow & Behold") that take '90s conventions to new places via new conventions a la acts like M83 and Porcelain Raft. But through it all, even without Blumberg, this is as strong of a band — if not more so — as what we heard on their debut.
Glow & Behold isn't significantly groundbreaking, but it is a really a terrific album. It lacks the more primal and instantaneous appeal of Yuck's debut, yet Bloom's earnest songwriting and the little gems hiding in the mix truly grow on the listener. Yuck have overcome a few obstacles to release this record, and the result is a beautiful new stage of their artistic development.
Similar Albums:


The Pains of Being Pure At Heart – Belong


My Bloody Valentine – Loveless


Smith Westerns – Soft Will