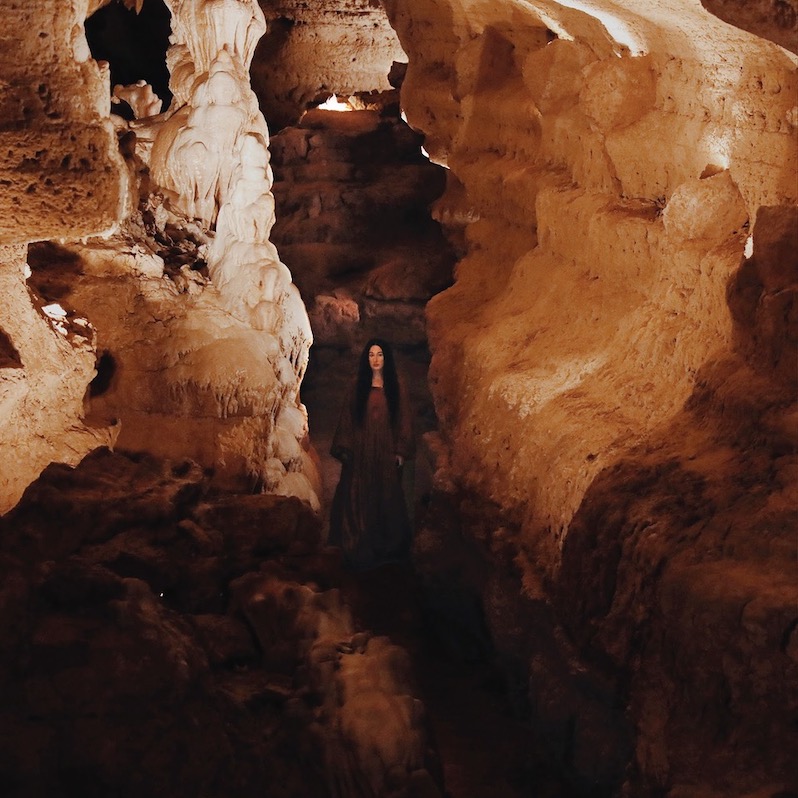 On her sixth solo album, Arkhon, Zola Jesus unlocks a new realm of musical creativity through a simple concept: collaboration. Up to now, Nika Roza Danilova, aka Zola Jesus, never needed external artistic forces to make music, as evident on albums like Conatus and Okovi. She's always found inspiration within herself, maintaining near complete control over her art. But with Arkhon, which in Ancient Greek means power or ruler, the Wisconsin native realized a few more resources could help her mine her spiritual process.
Danilova sought collaboration in Sunn O))) producer Randall Dunn, to whom she sent her demos; and session drummer Matt Chamberlain, who's worked with everyone from Fiona Apple to David Bowie, to Bob Dylan, Perfume Genius, Tori Amos and Frank Ocean. Her Patreon, where she shares demos, essays and other material, helped bring Chamberlain on board. Danilova admits a "fear of the unknown" has shaped her musical catalog until now, but felt the time was right to examine that fear. Like it or not, making Arkhon would encourage change, but it wasn't without a few growing pains.
"I had to let go of so much control. I had to surrender to whatever the outcome would be. That used to be really hard for me, and now I had no other choice," she says in a press release. But letting go and relinquishing some control effectively loosened her self-imposed restrictions, thus freeing her to take new risks. Written after her divorce and other seismic personal events, Arkhon explores themes of desperation, isolation, and fear, set within a troubled, dark background. Using her influences in the worlds of darkwave, industrial and experimental noise, she paints a cavernous landscape that dares to suck out nearly every ray of light.
What prevents the album from being completely devoid of hope is Danilova's vocals, which ebb and rise and slow like a tide, tempering the dark mood. "Lost," the opener, sets the tone with its sad, yet all-too-familiar declaration of living in an artistic freefall. Foreboding synths meet tribal percussive sounds; a loop of breathless chants and gasps resemble rattlesnakes. "As for all your wisdom here, give me space to disappear," she says, masking sarcasm. A sample of a Slovenian folk choir nods to her own heritage. Her resigned voice brings a static texture to "The Fall," as somber stabs of piano land like tombstones. An ominous chorus, "I will take the fall, give it to me all," fades out with more sonic industrial elements.
Danilova's smooth vocal structure on "Undertow" mimics undulating waves as Chamberlain's cascading drums layer over sharper synth notes and techno-house elements. She signals the listener to jump in head-first: "Take all you know into the undertow / If you let it go, it will give you all you want." Glimmers of light and optimism bolster "Into the Wild," and "Dead and Gone," aided by Danilova's more contemporary, neoclassical vocal sound here. "When everything is dead and gone / Will you still be the one?" she asks as pleading strings envelope her.
"Into the Wild" addresses the fear that manifests when faced with change. In her liner notes on Genius regarding the song's lyric "walk into the forest," she explains feelings of alienation while standing outside her own home. "Every step carried the weight of a thousand pounds. I felt as if I was walking into a black hole of unknowns," she writes. But she's also expressed how being in nature helps ground her. "When I'm in nature, I'm not lost. I know exactly where I am," she told NPR.
Danilova turns this twilight between fear and the unknown into a positive, telling listeners to "Drop in / let the walls fall / cause every step is yours into the wild." "Dead and Gone" sees Danilova attempting to grasp something intangible, looking for a toehold. She wonders what will be left when memory is gone, and confronts questions to which she might never find the answer.
One of the more sonically dense songs on Arkhon, "Sewn" creates a tightly woven patchwork of industrial and noise influences – enhancing the fuzz and instilling a sense of fear. This web of noise intensifies and threatens to swallow up the entire song. Chamberlain's driving percussion keeps a swift pace while Danilova's request to "carry on / get wrong / set it all on fire," sets a prophetic mood.
A highlight on Arkhon, "Sewn" outlines the album's subtle, yet stark differences and brings a stoic, sad beauty to the tracks. The harshness of "Sewn" leads into the gentle piano accompaniment on "Desire," where her vocals are free to soar and breathe, becoming a blues-like chant. Perhaps Danilova is either facing a reckoning or accepting a new fate.
On "Desire," she bares her hurt and pleads with others to see her side of things. She explained the song's phrase "storm of the heart," saying desire drives her forward like a "propellant." "Like a storm, it pushes me to make changes and dive deep into the unknown," she writes.
"I am only human, and some things do not make sense," she begins on "Fault." She's seemingly prepared to absolve the listener, and maybe herself, of whatever perceived wrongdoing has occurred. "I had to be honest with myself" she sings. Through that honesty, and in stepping into the unknown, Danilova has opened a new door into her artistic world.
---
Label: Sacred Bones
Year: 2022
Buy this album at Turntable Lab
---
Similar Albums: