Endless Playlist: Grimes – "Go"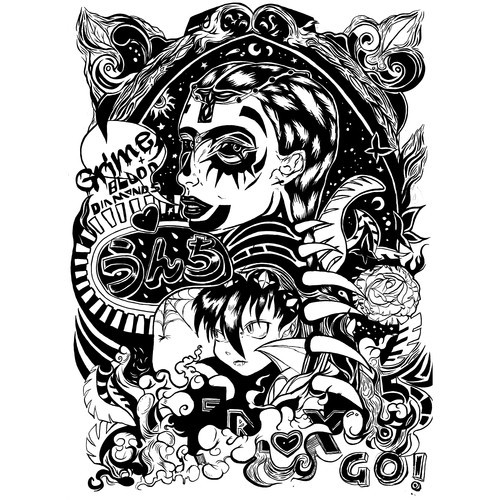 Montreal's Claire Boucher works in the art of camouflage. Her outstanding 2012 breakout album, Visions, offered a mesmerizing swirl of IDM, R&B, and ambient pop, though not in the same vein as the indie R&B of How to Dress Well or The Weeknd. The genres mashed in Grimes' tracks are so well integrated that the flow is deceivingly subtle; each listen peels additional layers of crafty and intelligent pop goodness. But I call it a breakout for a reason: Since Visions, Grimes has gained nearly hysterical levels of attention. She saw a massive jump in popularity, combined with surprising career moves such as signing with Jay Z's management company, Roc Nation. And though it's been over a year since Grimes unleashed any new material into the world, the anticipation for what she's ready to unleash next has only inflated in that time.
New single "Go" doesn't sound very much like Visions, but that doesn't mean Grimes has lost her knack for infectious, eclectic pop music. Quite the contrary: "Go," a collaboration with Vancouver-based producer Blood Diamonds, is a testament to Boucher's commitment to creating innovative and enjoyable tracks, no matter which direction her sound wanders. Originally written for Rihanna, the song bleeds with all the staples of a modern pop ballad; soupy R&B verses and dubstep-inspired, anthemic hooks. But beneath (and above) all that, there's the same layered and experimental Midas touch that Grimes always delivers.
From its mystic outro and deceptively complicated rhythms to the subtle-yet-solid themes of delusion and desperation ("happiest in the stupid dream when I dream of you… can I go with you"), you can chalk "Go" up as another win for Grimes. And, for all those who may criticize the track for sounding too much like a top 40 pop hit, remember that it was written as one; such sentiments are actually evidence of Grimes both reaching and surpassing her goal in this particular situation. And, while Rihanna made a major mistake turning down this track, it's probably for the best. Like Frank Ocean's "Thinkin' Bout You" — also originally written as a commissioned track — Grimes' imagination is best executed when heard from the perspective of its originator.
[Self-released]