Marissa Nadler picks her 10 Best Songs

Kristin Cofer
When we reached out to singer/songwriter Marissa Nadler to choose 10 songs from her catalog that she'd consider her best, she added a slight caveat to her response: She much prefers her second act. It's easy to understand where she's coming from—being creative is an act of ongoing progression, and as an artist, you never find yourself somewhere that you've been before. That, and as we've learned before, sometimes you've just heard some of your own songs too many times.
However, Nadler has released a lot of music since first making her debut in 2004 with Ballads of Living and Dying. She made a critical breakthrough with 2007's Songs III: Bird on the Water, and all of her albums since then have felt like a refinement and an act of building upon that foundation of stark, acoustic ballads and eerily beautiful dirges. Her evocative vocals and intricate guitar-playing style are her signatures, but she's built so much around that haunting aesthetic over the past 18 years, delivering material that's denser, heavier, sometimes darker and sometimes with a wry sense of humor. She's also recorded her fair share of covers, collaborated with the likes of Emma Ruth Rundle, Cave In's Stephen Brodsky, and Angel Olsen. As she remarked before we dived into the list, narrowing it down to just 10 songs proved difficult. (I, personally, would have just as challenging a time choosing just 10 of her songs.)
With a new EP, The Wrath of the Clouds, having just been released via Sacred Bones, Nadler goes back through her catalog and chooses the songs that stand out as the ones she's most proud of—the 10 best Marissa Nadler songs, direct from the source.
---
"Bessie, Did You Make It?"
from The Path of the Clouds (Sacred Bones; 2021)
MN: That's the first song on my newest full-length record, Path of the Clouds. It's a really different song for me, and it's not first-person confessional. I'm proud of that song because most murder ballads are about men killing women—I can't think of any that are the opposite. So I was having fun taking this mysterious true story and seeing the other possibilities of what happened. Also, musically, I like the lushness of it. It's just different for me.
Treble: This is one of the songs that was inspired by Unsolved Mysteries…
MN: Yeah, true stories that were on Unsolved Mysteries. I've always been really into true crime. A lot of people are, and that one and the second song, which is about D.B. Cooper, and "Sometimes You Can't Stay is About Alcatraz," so during the pandemic—well the pandemic is still going on—but at the beginning nobody was going out at all, so getting lost in other people's stories was easier than it usually is. I wasn't getting a lot of inspiration from my actual life.
---
"Path of the Clouds"
from The Path of the Clouds (Sacred Bones; 2021)
MN: I just put that record out, so I'm really connected to it emotionally. So I'm sure a lot of my early work deserves to be on this list but I'm not as connected to it. "The Path of the Clouds" is about D.B. Cooper, the famous hijacker. Do you know that story?
Treble: Yes! Coincidentally, in 2020 I also watched Unsolved Mysteries.
MN: The original? That's cool, awesome! So you can understand the appeal.
Treble: Absolutely.
MN: I didn't say his name in it, so not everyone who listens to the song might know what it's about. It's not obvious. But in general I just find these stories—all the stories I did based on Unsolved Mysteries are not solved. They found the parachute, maybe, of his, and they never really found him. So it's just fun to think about people who have faked their deaths or pulled off these grandiose stunts and gotten away with it. Just from a personal perspective of people who have gotten trapped in their own lives. It's interesting to think about how people pull off these things and manage to survive.
Musically, I really like that song. It's influenced by Pink Floyd, one of my favorite bands. I had fun spreading my musical wings.
Treble: This, as well as much of the other songs on the album, has a bigger arrangement to it—was that something you set out to do when the project began?
MN: It wasn't intentional. I was the producer on this album, and it's the first time I've produced an album myself. I sent the basic tracks to people, and they just really turned into it. I've certainly done enough stripped-down folk records to follow with the spreading of musical wings.
---
"Lemon Queen"
from The Path of the Clouds (Sacred Bones; 2021)
MN: If I could have I'd probably pick all the songs from Path of the Clouds to put on this list, but I know people would be like "what are you crazy?" But I really am proud of that record. "Lemon Queen" is really interesting. For so much of my early career I hid my voice behind tons of reverb, and there are a few tracks here that are just bone dry. Seth Manchester at Machines With Magnets, when he was mixing, said "I think that song is so much more effective if it's dry." And so I said "OK, let's do it." So, The Lemon Queen is a sunflower, and I just love that, I really like lyrical devices. I kind of chart its growth over the start of a relationship and its aftermath. It's a very emotional song.
I wanted more people to hear this song, and that's partially why I chose it. If you look at Spotify, people only listen to the beginnings of records, and that is really upsetting for a writer. I sequence the album to be a full record, but the way these things work, people listen to the first singles and that's it. So maybe if I put it on enough lists people will listen to it.
Treble: I imagine there's also something to be said for a song you haven't played hundreds of times?
MN: Yeah. I was reading about Sinead O'Connor last night, and she says she refuses to play "Nothing Compares 2 U" because she can't give it anything new to relate to emotionally. That's how I feel about a lot of my early songs, just because I've played the hell out of them for many years in many dive bars and many empty audiences (laughs). So I think a song like "Diamond Heart" or Songs III: Bird on the Water, people love those songs but I don't really. It's partially because you grow up and start singing—even singers we're really fond of start out emulating people and find their voices later on. Like Dylan's first record, for instance. I was just singing like other people. I've only played these songs once live in New York and it was super fun live. But in a year, I'll probably have a better perspective.
---
"Say Goodbye to That Car"
from For My Crimes (Sacred Bones; 2018)
MN: That's my favorite song off For My Crimes. It's a true story. Again, it's a lyrical device, when you talk about time passing and memories, it's easier to do that with an inanimate object. It's less saccharine and heavy handed than like "remember that time when we held hands?" So all the years that you had a car can chart the path of a relationship, I think. Because you go everywhere in that car. And every memory is tied to it. I like that song for a variety of reasons. Particularly the numerical chorus—the odometer reading.
---
"Blue Vapor"
from For My Crimes (Sacred Bones; 2018)
MN: I love that song, it's grungy. Maybe because Patty Schemel plays drums on it and she was the original drummer with Hole. Originally I had more rockers in mind and maybe I would have done things differently, but that song does manage to rock with minimal drums. Kristin from Dum Dum Girls, her harmony at the end is my favorite part. It goes to a 4th or something, but it's a harmony I'd never do and it makes the song weirdly dissonant at the end. I'm fond of that song still.
---
"Was It a Dream?"
from July (Sacred Bones; 2014)
MN: July is tied for my favorite record with Path of the Clouds. This one has this great string section which Eyvind Kang, he's a great string arranger. But it's the first record I did with Randall Dunn who brought a heaviness to my writing. He typically works more with black metal bands. But that song I think has a really great build and kind of rocks harder than songs I'd done before, but also is lyrically interested in the netherworld between dreams and reality.
---
"Drive"
from July (Sacred Bones; 2014)
MN: So that's the first song off of July. I think that whole record I'm kind of nostalgic about. It was in a low point in my life, and it has kind of emotionally bare-bones lyrics, and I also spent a long time on the harmonies before I went into the studio and felt these choral arrangements that really elevate the writing. So throughout the record I realized I could do those vocals and I've continued to do them since then, and that record was kind of the start. Like, I can write wordless vocal passages and that can be part of the song. There's also something about driving that…it's like the great American pastime. I always loved the Tom Petty song "Into the Great Wide Open," and this is kind of like my "Into the Great Wide Open" in a weird way. The chorus is so basic: "Nothing like the way it feels to drive." Not the most profound lyrical statement. But I think people could identify with he simplicity of it.
Treble: I can't help but notice that this is the second song you've included that mentions cars or driving.
MN: Yeah, I love driving. (Laughs) I've spent my entire adult life in cars on tour. Or even if not on tour, just on the pandemic, I'd go take a drive and not go anywhere, just to see different things.
---
"Leave the Light On"
from Before July (Sacred Bones; 2014)
MN: That's only available online. The song I thought was the best going into the July sessions. And sometimes the songs you do in the studio just suck, so that's why there's no studio version of this song. It's a demo version I recorded on my laptop, and weirdly it has a lot of listens on Spotify. Because it's a demo, it taught me something about the importance of writing over fidelity.
But even the label was like, "what the hell is it with this song, was it in a movie or something?" In any other generation, musicians that have that many listens will be able to support themselves in ways other than hawking t-shirts. Kind of bleak as an outlook, but everyone was like "what is it about this song?" So I kind of dissected it, it's kind of mathematical about what makes a pop song. It's a really well-written song. And I wish it was on July, but sometimes there's just not enough time in the studio to get it right.
---
"Guns on the Sundeck"
from The Wrath of the Clouds (Sacred Bones; 2022)
MN: This is tied for my longest song on record. I think this song is cool because I've never written a song from the perspective of an inanimate object before. I've written about them, like with the car, or stuff like that, but this is from the point of view of the ship the Queen Mary, and that was another Unsolved Mysteries song I wrote during the Path of the Clouds sessions, but it was too long. I kept thinking, maybe I should cut out some of the verses. So Milky [Burgess], who worked on Path of the Clouds with me, was like "don't cut any of the lyrics, it's a cool story." I just had a lot of fun with it, the story of that ship was really interesting. It's an ocean liner, but then before WWII they painted it and it became a warship, and then there were all these deaths and murders, and it became a hotel. And I just thought, gosh, if places could talk, the things it would say. I love those kinds of stories as a way to describe time passing, and the energy that can still permeate a place because of what happened there. I also like the chorus because it's funny. Not that many people get my sense of humor, but I've written about dead people for a little long time, and the chorus is like "I need a break from the dead people." I'm just kind of poking fun at myself.
---
"Fifty Five Falls"
from Ballads of Living and Dying (Eclipse; 2004)
MN: I actually really like Ballads of Living and Dying still. It's my first record, and it's fucking weird from start to finish. It's a really out-there record. I definitely didn't know where my head was at. I know I wrote that record on a typewriter—I was a pretentious art student. I had a very analog childhood like many xennials. And I really hated computers for a while and loved old stuff. I'm still really into old stories. That song, I like it for a lot of reasons. It set the trajectory for a lot of styles I'd explore. It has a vibey shoegaze feel. My collaborator at the time, Myles Baer, does a cool E-bow thing. My voice is really weird on that record. I was so young. I didn't think anyone was going to hear that record, I just did it for fun. And I think that's why it's so special. Like, nobody was into psych-folk, it was a little before that whole psych-folk movement in indie music in the oughts. Thankfully I was kind of on the periphery of that and didn't really get pigeonholed.
---
Support our Site—Subscribe to Our Patreon: Become one of our monthly patrons and help support an independent media resource while gaining access to exclusive content, shirts, playlists, mixtapes and more.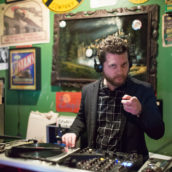 Jeff Terich
Jeff Terich is the founder and editor of Treble. He's been writing about music for 20 years and has been published at American Songwriter, Bandcamp Daily, Reverb, Spin, Stereogum, uDiscoverMusic, VinylMePlease and some others that he's forgetting right now. He's still not tired of it.