Ought : Once More With Feeling EP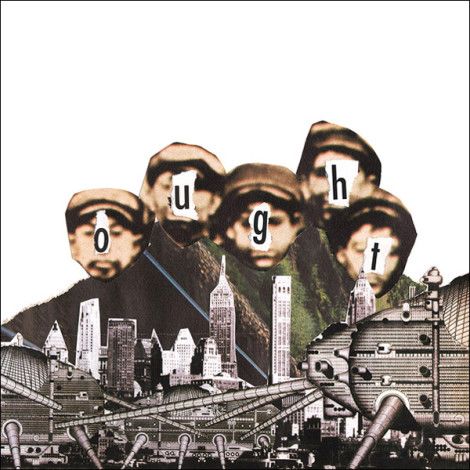 Montreal's Ought are most in their element as a live band. The quartet may have surprised critics and casual listeners alike with their outstanding break-out debut More Than Any Other Day earlier this year, but their true talent lies in their ability to put on a visceral and organic live performance. In fact, even that amazing LP is perhaps best defined by its raw, live feel — bursting with tempo changes and spooky breakdowns that would be nigh-impossible to replicate via any other recording method. It's not an overstatement to say that one hasn't truly experienced those eight tracks until they've hear the quartet play them live.
It's in that vein that Ought came to record and release the Once More With Feeling EP. Released only on 10-inch vinyl, the EP contains four non-album tracks that have become regulars for the band during their exhausting 2014 tour schedule. For side A, that means re-recorded versions of some earlier demos, performed as they've evolved over time. On side B, we get a new, mostly instrumental jam and a previously unreleased More Than Any Other Day session track called "Waiting." For all intents and purposes it's a collection of outtakes and, while the EP lacks the structural heftiness that More Than Any Other Day perfected, the quality of these four songs show just how seriously Ought take each track — even those that get left on the cutting room floor.
"Pill" and "New Calm Pt. 2" are revealing glimpses into the band's sonic evolution, each fitting in more naturally with traditional post-punk than the more experimental, chaotic product that we tasted on their proper debut. That's not to undermine the meandering strut of "Pill" or the Talking Heads-esque vibrations of "New Calm Pt. 2"; both songs are ridiculously enjoyable bouts of indie-rock, both on-stage and on-record. But hearing the band's earliest writing certainly helps a fan pick out the additional elements that help round out the act's current sound.
"New Calm Pt. 3" is an entirely different story, stressing the band's ability to combine neo-classical noise and abstract poetry to form a striking piece of post-rock. After all, not many bands boast a drummer who also plays neo-classical violin riffs in the middle of their songs or a singer whose poetry is as simple, yet profound as Tim Beeler's. "New Calm Pt. 3" makes full use of Ought's less traditional influences, creating a curiously enticing atmosphere of noise and chaos.
This short EP comes to a close with "Waiting," a terrific b-side that only accents what an incredible collection of songs More Than Any Other Day truly is. It's a triumphantly edgy track, beginning life with an inspiring acceleration before casually slowing down mid-track before it comes crashing back. Once More With Feeling is an outtakes EP, and carries all the jagged disconnectedness that comes with that territory. But for such a young band, already having four excellent b-sides is a great sign of their artistic present and future. For concert-goers and window shoppers alike, this EP shows good signs for the future, and serves as a satisfying treat as we wait eagerly for LP number two.
Similar Albums:


Ought – More Than Any Other Day


Talking Heads – More Songs About Buildings and Food


Speedy Ortiz – Real Hair EP
Find it at: iTunes