Greatest Hits: Sufjan Stevens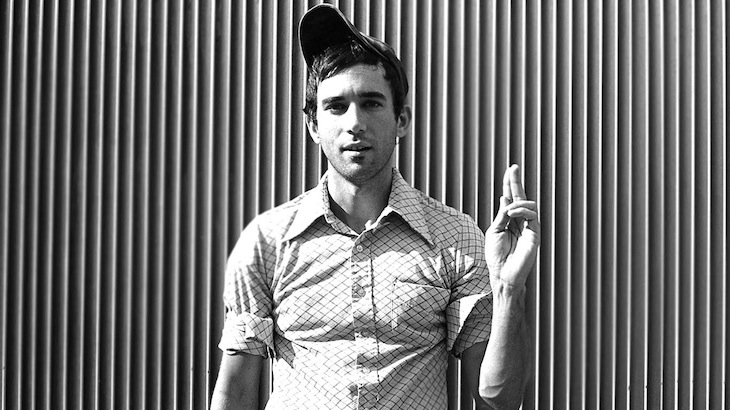 Sufjan Stevens hasn't followed the typical career path of a rock musician. He's scored a ballet. He created a multi-media performance piece based on the Brooklyn-Queens Expressway. He started a project to write an album for each of the 50 United States of America, and stopped after two — though, to his credit, Illinois yielded material for two albums. He's collaborated with The National, plus hip-hop and electronic artists Serengeti and Son Lux, and St. Vincent's Annie Clark and My Brightest Diamond's Shara Worden were each once members of his live band. But as intricate, conceptual, abstract or arty — and sometimes silly — as his projects are, Stevens always wraps those layers around an affecting, vulnerable emotional core. His work has often been defined by faith (2004's Seven Swans) or sometimes more complex and darker inspirations (2010's The Age of Adz), but in everything he does, Stevens puts everything into his works. You can argue over the aesthetics, but not the workmanship.
Next week, Stevens will release Carrie & Lowell, his first full-length album in five years, and his most stripped-down work in more than a decade. As we look ahead to this next chapter of his musical career, it felt appropriate to examine the best songs in his catalog. This edition of Greatest Hits is structured a bit like a live performance, and intended to be listened in order. Though there's nothing wrong with putting it on shuffle, if that's what you'd prefer, while you join us in our playlist of the best Sufjan Stevens songs.
Listen to the full playlist on Spotify.
Buy these albums at Turntable Lab
---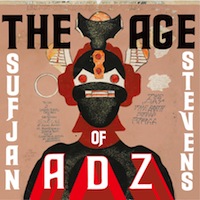 "I Walked"
from The Age of Adz
(2010; Asthmatic Kitty)
The Age of Adz is a strange place to start with Sufjan Stevens; I acknowledge this. But since the purpose of this feature is to highlight an artist's best songs in playlist form, it's hard to find a better opening track of Sufjan's "hits" than this one. For an artist with no radio hits to speak of — maybe "Chicago" is an exception with some of the more progressive alt-radio stations in the U.S. — "I Walked" certainly stands as one of the most accessible songs in his catalog. It's a slow-moving but richly produced ballad with one of the catchiest choruses that Stevens' has ever written, made all the more accessible by virtue of being a reasonably simple break-up song. So credit goes to Stevens for taking that simple idea and making it all the more affecting, epic and devastating as he sings, "I walked, 'cause you walked/ But I probably won't get very far."
---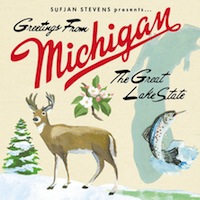 "For the Widows in Paradise, for the Fatherless in Ypsilanti"
from Greetings from Michigan
(2003; Asthmatic Kitty)
One of Sufjan Stevens' underrated qualities is his storytelling ability, not just in his songs, but as a live performer. His tour behind Michigan and Seven Swans frequently featured some commentary behind the songs, one of the most amusing being the origin of "For the Widows in Paradise." Like every track on Greetings from Michigan, it's named after a city in Michigan (actually two), and is based on an anecdote from his childhood. Stevens' was traveling with his family, and during a stop in Paradise, he took note of the fact that he could only see women in the town — no men. So he reached the (logical for a child) conclusion that the town was populated by widows; keep that in mind when listening to the breathtaking, melancholy song, which is built on slow banjo riffs and restrained touches of horns.
---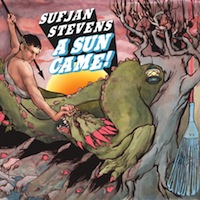 "A Winner Needs A Wand"
from A Sun Came
(2000; Asthmatic Kitty)
Most listeners didn't really become aware of Sufjan Stevens' music until the first of his now-aborted 50 States albums, Greetings from Michigan. But Stevens did, in fact, release a pair of albums before going wild with geography. One of them was Enjoy Your Rabbit, a peculiar electronic album that doesn't really serve the purposes of this list — sorry, but it's hard to make that reach of calling any of its tracks his best songs. Likewise, much of his debut, A Sun Came, doesn't have the same beauty and gravitas of his subsequent album, but it has a few highlights, notably "A Winner Needs a Wand," which is a surprisingly hard rocking tune that erupts into a flurry of flutes. It works better than you'd think.
---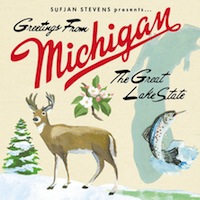 "All Good Naysayers, Speak Up!"
from Greetings from Michigan
(2003; Asthmatic Kitty)
On both of Stevens' 50-state albums, he employed an eclectic approach that ranged from sparse folk songs to bigger arrangements featuring a variety of musicians and backup singers. And in those bigger, more fleshed-out songs, he'd often take detours into jazz-inspired sounds and complex time signatures. This highlight from Greetings from Michigan is like the meeting place between Dave Brubeck and Steve Reich in 5/4 (which sounds a little like Stereolab), and it's one of his most richly layered and intoxicating songs. Yet it's still a safe distance from some of the massive, giddy pop tunes of his next album. It's exquisite.
---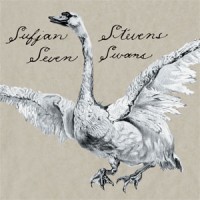 "The Dress Looks Nice on You"
from Seven Swans
(2004; Asthmatic Kitty)
Sufjan Stevens can do amazing things with just an acoustic guitar or a banjo and his own breathy, understated voice. "The Dress Looks Nice on You" is one such instance of this put into practice, with a gorgeously plucked melody and some spare accompaniment. A standout from Seven Swans, an album ostensibly inspired by Stevens' Christian faith, "The Dress Looks Nice on You" is a song that Stevens often played live and prefaced with a story about a girl he dated in high school. And the lyric, much like the arrangement, is quite simple. Yet the repetition of the phrase "I can see a lot of life in you" is both endearing and haunting, set against the skeletal track.
---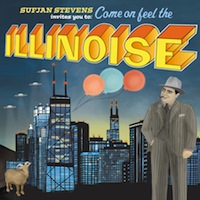 "John Wayne Gacy, Jr."
from Illinois
(2005; Asthmatic Kitty)
When Sufjan Stevens recorded Illinois, he didn't just loosely base his songs on its cities and landmarks — though that was part of it. He covered a surprising amount of ground, pulling from both personal experiences (he once lived there) and the history of the state, including some of its less glamorous aspects. The album's most haunting moment is this, an acoustic ballad based around the notorious serial killer John Wayne Gacy, narrating the details of his atrocities without every stating them outright. But the most chilling moment comes during its final 30 seconds, when Stevens sings, "In my best behavior, I am just like him."
---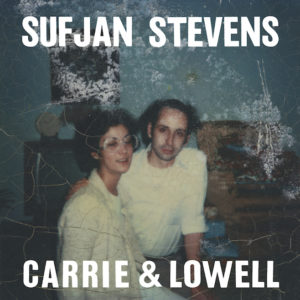 "Should Have Known Better"
from Carrie & Lowell
(2015; Asthmatic Kitty)
Carrie & Lowell is Stevens' most heartbreaking album to date, dealing heavily with memories of his childhood and the death of his mother. In fact, the two names in the album's title refer to Stevens' mother and stepfather, so that's a pretty strong indication of how personal the material on his newest album is. Some of it is almost too painful to listen to — even if it is incredibly beautiful — but "Should Have Known Better" is that rare glimpse of hope in an extended ceremony of mourning. Relatively simple in its arrangement — so much so that you almost don't notice when a keyboard joins the melody about halfway through — "Should Have Known Better" is a spare, acoustic song that finds Stevens juxtaposing a surely traumatic experience of being left alone at a video store when he was "three, maybe four" with the sight of his brother's newborn daughter, through whom he can see his own mother. It hurts, and yet it's touching all the same. It's through this rare juxtaposition of familial love and real pain that Stevens allows some of his best material to come to the surface.
---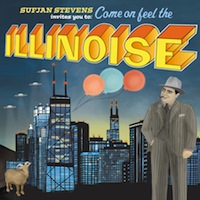 "Chicago"
from Illinois
(2005; Asthmatic Kitty)
This might be the closest thing that Sufjan Stevens has to an actual hit. "Chicago," the lushly orchestrated standout from Illinois, finds Stevens pushing the hooks up front, increasing his momentum, and turning a story about a road trip between New York and Chicago into a proper six-minute musical road movie. So while it might have been a little too on the nose when the song featured so prominently in indie comedy Little Miss Sunshine, it is a hell of a road-trip song, with percussion that mimics the hum of the road, and a choir of vocalists chanting, "You came to take us/ All things go/ All things go." In live settings, Stevens has been known to stretch it out into a slower, atmospheric ballad, but whatever form it takes, it's one of the most heroic songs in his catalog.
---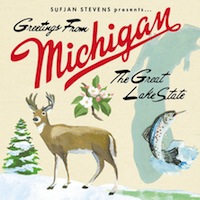 "Holland"
from Greetings from Michigan
(2003; Asthmatic Kitty)
Holland, Michigan is located near the eastern shore of Lake Michigan, which makes an appearance in Stevens' elegant "Holland." It's not a song as explicitly detailed as some of his others, instead relying on the imagery of summers spent swimming in the Great Lakes and the sight of factories in the distance. "Lose our clothes in summertime," he sings. "Lose ourselves to lose our minds." Stevens opens only a slight window with his stark verses, but it's enough to see youth, freedom, discovery and romance — set against the landscape of the Upper Peninsula.
---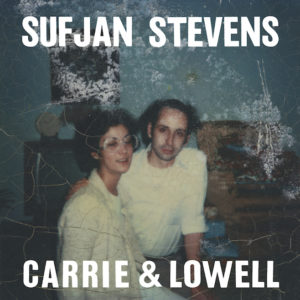 "Fourth of July"
from Carrie & Lowell
(2015; Asthmatic Kitty)
"We're all gonna die." It's hard to get past these four devastating words in this lullaby from Carrie & Lowell. It's an absolutely gutting song, akin to some of the most beautifully painful moments on The Antlers' Hospice. But it's also such a gentle and wonderfully crafted song, that while the pain of watching his mother die is such a central part of it, Stevens honors her with something beautiful. You might need to steel yourself a bit before this one — or just embrace the grief and anguish.
---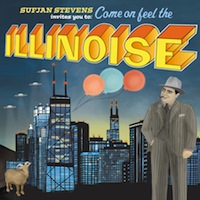 "Casimir Pulaski Day"
from Illinois
(2005; Asthmatic Kitty)
While Carrie & Lowell is the most emotionally demanding Sufjan Stevens album on the whole, his individual songs can hit just as hard in their own quiet way. "Casimir Pulaski Day," which is sandwiched between some of the bigger, more elaborate songs on Illinois, is one such song, putting aside the references to Abraham Lincoln and Superman temporarily to put the spotlight on his own crisis of faith after a close friend died of cancer. It's a bouncy, folky tune, so much so that you almost don't see that kick in the eye coming: "Tuesday night at the bible study, We lift our hands and pray over your body/ But nothing ever happens." It's funny how a joyful sounding melody can quickly turn into the sound of mourning.
---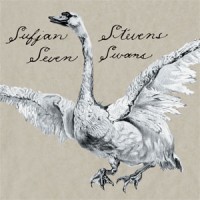 "A Good Man is Hard to Find"
from Seven Swans
(2004; Sounds Familyre)
Stevens never fully delved into tgothic Americana, though he's certainly hinted at it before, with highly successful results. In 2004, he released a song based on Flannery O'Connor's cynically satirical short story "A Good Man Is Hard to Find," in which a good Samaritan turns out to be a killer. And it ends up being one of the most chilling songs in his catalog, particularly as it reaches the choral climax, and a ghostly vocal treatment slices through some eerie organ and nimble guitar work. It's dark, haunting stuff, stunningly performed at that.
---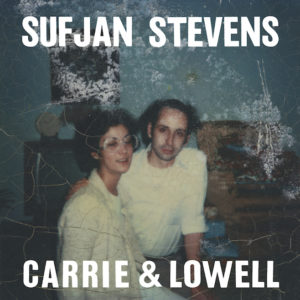 "Carrie & Lowell"
from Carrie & Lowell
(2015; Asthmatic Kitty)
The two names in the title of Carrie & Lowell refer to Stevens' mother and stepfather, and much of the album concerns his mother's death, and the aftermath, which found him struggling with addiction and grief. But also crucial to the story is the distance between him and his mother. Stevens discussed in a recent interview how the album came about because he actually has few memories of her, and knew so little about her. The title track is rife with references to Carrie leaving when Sufjan was just a child, as well as many nods to Greek mythology and other cryptic imagery. It's hypnotic and dreamlike in its arrangement, which makes perfect sense, given the context; Carrie is almost like a myth, and Stevens takes it upon himself to properly craft that history.
---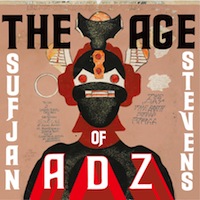 "Too Much"
from The Age of Adz
(2010; Asthmatic Kitty)
It's fun to hear Sufjan Stevens let his experimental side go wild sometimes. When he released The Age of Adz, it came with two versions of "Too Much": the shorter single version, and the nearly 7-minute album version, complete with massive, orchestral outro and a bunch of noisy electronic explosions. But listen only a little bit closer and you'll hear a gentler song that could have very well been released in the form of a simple, acoustic ballad — as Stevens is wont to do. In this form, however, he achieves a representation of a break-up that feels all the more real, thanks to the juxtaposition of the sweetness in his vocals and the chaos outside of them.
---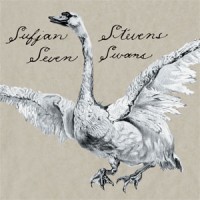 "Seven Swans"
from Seven Swans
(2004; Sounds Familyre)
In retrospect, Seven Swans certainly feels like Stevens' darkest album in its greatest moments. The title is a reference to the Book of Revelation, and the song itself is rife with imagery from the Bible, with the fire burning in the yard mirroring the showers of fire and blood cast upon the earth after the first of seven trumpets is blown. That's some chilling, end-of-days type stuff to be diving into, especially when a lot of the songs leading up to it were born of anecdotes from Stevens' childhood (and yes, a murder tale from a Flannery O'Connor story). But there are few moments in Stevens' discography more goosebumps-inducing than when he sings, "If you run/ He will chase you/ Because he is the Lord."
---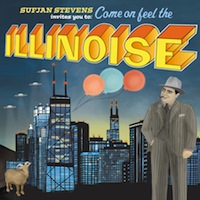 "The Man of Metropolis Steals Our Hearts"
from Illinois
(2005; Asthmatic Kitty)
Metropolis, Illinois isn't the actual home of Superman. The Metropolis of D.C. Comics is actually modeled after New York City — in much the same way that Batman's Gotham City is. But the small Illinois town of 6,000 residents doesn't shy away from the connection; there's even a statue of the Man of Steel in the city. So it only made sense that Stevens would decide to incorporate Superman on the cover of Illinois. Only, whoops! — copyright infringement. This became a brief but significant story surrounding the release of the album, but not enough to overshadow this song about the Man of Steel, which finds Sufjan and his Illinoisemakers rocking their hardest.
---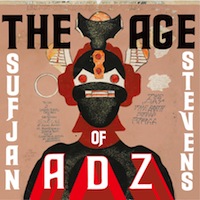 "Futile Devices"
from The Age of Adz
(2010; Asthmatic Kitty)
And we end, just like we began, with a highlight from The Age of Adz. However, where "Futile Devices" began that album, it ends this playlist. In a way, it feels a little more like an epilogue, rather than an introduction, though I suppose that depends on how you look at it. But however you view it, it's the prettiest and most gentle song on the album that contained some of his weirdest and most chaotic material. It just feels right to let this moment of uncomplicated beauty close out the set.
You might also like: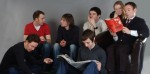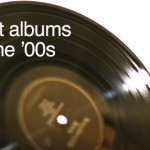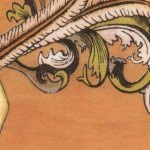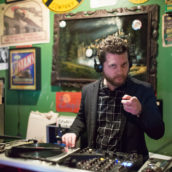 Jeff Terich
Jeff Terich is the founder and editor of Treble. He's been writing about music for 20 years and has been published at American Songwriter, Bandcamp Daily, Reverb, Spin, Stereogum, uDiscoverMusic, VinylMePlease and some others that he's forgetting right now. He's still not tired of it.