Wale : The Album About Nothing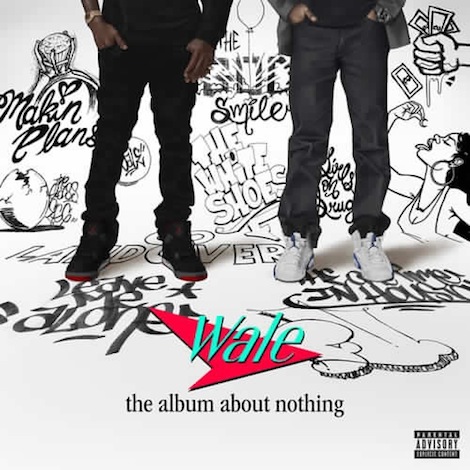 Few rappers have had as bizarre a career trajectory as Wale. Dozens of mixtape circuit darlings climb the ladder of acclaim and fan buzz to a shot at major-label success, and plenty fail in spectacular fashion, as Wale did. The weak sales of 2009's Attention Deficit were a punchline/cautionary tale for some time after and made people forget the quality of his true debut, The Mixtape About Nothing. We've also seen rapper's-rapper critical darlings succeed in the mainstream by changing nearly everything that brought them initial flurries of praise. Wale also did this, with Ambition, his slick-sounding 2011 comeback as part of Rick Ross' Maybach Music Group crew. Most rappers don't get to try both of those approaches. And after that, with 2013's The Gifted, he attempted to have his cake and eat it too, with a bipolar mix of serviceable club bangers ("Clappers," Rotation") and luscious soul-soundtracked reflections of a more personal nature ("Heaven's Afternoon," "Gullible"). Put simply, the dude responsible for one of the most nuanced explorations of racial politics in recent memory ("The Kramer") seems completely at odds with the guy dropping lazy sex jams like "Lotus Flower Bomb" and Lex Luger ripoffs such as "600 Benz." But there he is, and he's amassed more success than his early supporters probably would've predicted.
This poses a huge question: What in the actual fuck is Wale trying to do? With The Album About Nothing, we're not as close to the answer as he might like us to be. The title seemingly indicates a desire to return to the more thoughtful roots that fueled his first mixtape, as does the use of Seinfeld samples (and actual patter from Jerry himself) as interstitials. And there are no obvious attempts at radio bait — both of its singles, "The Body" and "The Matrimony," are slow-paced affairs not likely to inspire positive or negative hot takes.
But his time as a purveyor of build-a-banger journeyman rap leaves a bad taste in the mouth — not because he wanted to make bangers, but because he wasn't at all suited to making them. It came off as awkward and cynically motivated on songs that might've otherwise been enjoyable. So it's hard to know which of his guises we're supposed to take seriously now — personal/reflective Wale, loverman Wale or shit-talker Wale. For example, on The Album's second track, "The Helium Balloon," when he raps, "Still know what my core needs, so fuck who ignore me," it's questionable whether or not he does know what they want.
The dominant version of Wale on this record seems to be personal Wale, with a handful of shit-talking. It gets off to a good start with "The Intro About Nothing," a salvo of confident braggadocio set to a rolling piano riff and lively funk percussion. And he's capable of questioning that confidence, as tracks like "The Pessimist," "The Success" and album standout "The Glass Egg" find him wondering about his place in arenas both macro (the rap universe) and micro (personal interactions). He's clearly smart and, to some extent, self-aware — which is part of what's made the gesticulations and shifts of his career so weird and frustrating.
On the other hand, almost everything that can be categorized as loverman or club or sex-jam Wale falls flat. "The One Time in Houston" is appropriately self-deprecating in its examination of Wale's inability to stay faithful, but his delivery is ill-suited to the beat's Promethazine trap tempo and it drags as a result. "The Girls on Drugs" is as generic as club songs get without any of the catchiness of the best ones, and the sidepiece-anthem "The Need to Know" fails to land despite a lovely hook sung by Black Hippy-affiliated chanteuse SZA. Finally, if I took the time to list every awkward and/or vaguely misogynistic sex lyric, we'd be here all goddamned day. (You may not be surprised to learn that this has always been an issue with Wale, especially in his major-label albums.) Only the Usher-featuring "The Matrimony" works as a love song, and its 6:36 length will undoubtedly try the patience of some.
All that said, though, The Album About Nothing is the closest thing to a genuinely cohesive record that Wale has made since the mixtape from which it borrows its title. Much of this is due to the production, which largely follows the soulful template established in "The Intro About Nothing" — lots of organ and piano accented by occasional horns and chopped-up vocal samples. Outliers, like the aforementioned "Houston," are reasonable experiments but don't jell with everything else. (The less said about bonus tracks "The Body" and "The Summer League," the better.)
No one who thinks Wale's been doomed and/or laughable since 2010, when he jumped on Waka Flocka Flame's "No Hands" (the sort of great club anthem Wale himself seems incapable of making) will have their minds changed by The Album About Nothing. And it probably isn't going to land him new fans or make any established ones jump ship. But it's not without its pleasures, which is more than I expected out of it, and it stands as another intriguing document of what has been, for better and worse, one of rap's truly singular careers.
Similar Albums:


Lupe Fiasco – Tetsuo & Youth


Wale – The Gifted


Drake – Nothing Was the Same