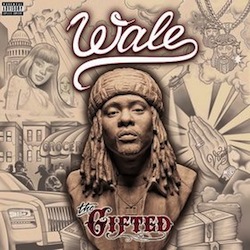 After a stellar 2012, rap music has seen kind of a dip in 2013. The first five months of the year were particularly dry, yielding LONG.LIVE.A$AP, Wolf, Indicud, and 12 Reasons to Die, all decent albums in their own right, but certainly not transcendent). June, meanwhile, was widely hyped as the month that would change everything, with Kanye releasing Yeezus and both Mac Miller and J. Cole moving the release dates for Watching Movies With the Sound Off and Born Sinner to follow Kanye's lead. As it turns out, though, this time Kanye didn't set the best example, and those releases came and went without delivering the year's first great rap album.
So, what now? Well, the burden of greatness moves on to the next aspiring rapper. But that rapper, if he's going to become the first rap hero of 2013, has to be somebody really great, really…gifted. If you ask Wale, the answer to this problem is clearly Wale, who drops his third album with the title The Gifted and cover art featuring a bust of himself. That's a pretty grandiose package, but it brings to mind the proverbial book that belies its cover. It is that, in part. But though The Gifted may not live up to greatness, it's not really a bad album, and it deserves some praise for its merits.
I haven't expected a whole lot from Wale's career — certainly not a great album — and The Gifted basically validates that belief, though it overturns expectations in a few ways. It is apparent that Wale likely will not go down in music history as a great rapper but, for what it's worth, he has really done his best here. One spin of The Gifted makes it clear that Wale is putting in a lot of work, enlisting the help of a whole cavalcade of features in crafting a well thought-out, 16-track record. Over these 16 tracks, Wale also demonstrates a striking amount of care in his production, using soul samples and orchestral flourishes to accent his rapping and some surprisingly solid choruses. "LoveHate Thing," for example, openly evokes Marvin Gaye ("Inner City Blues," if you're curious) and uses instrumentation right out of What's Going On to create one of the best songs on the album. In another, slightly less successful step outside of his comfort zone, Wale interpolates part of "Mad World" in "Vanity." Even when these chances don't exactly work out, they still demonstrate the vision that great albums are made of.
For all those reasons, The Gifted probably deserves at least one listen. But the overall album grades out right between "average" and "good," and that one listen will probably be enough to figure out why. While Wale deserves praise for realizing his vision with such dedication, the product isn't groundbreakingly original. At best, the soulful, ornate production comes off as a capable imitation of better works such as The College Dropout and Tha Carter III. At worst, it seems to expose Wale as an artist with an unfortunately low ceiling. I cannot help here but think of Yeezus, which, as the partially rushed and careless work of a far superior artist, is essentially the opposite of The Gifted, which is a meticulously crafted, visionary album from a musician with less talent. As much as I want to uphold the old maxim that effort and hard work is all that matters in the world, that counterexample essentially disproves it in art. Yeah, I'll bite and take Yeezus over The Gifted, but you and I should both be spending our time with Run the Jewels or Acid Rap instead. Speaking of, who said that 2013 was a down year for rap?
Similar Albums:


Lupe Fiasco – The Cool


Drake – Take Care


Big K.R.I.T. – Return of 4eva