Despite the clever appropriations of things like tofurky, soyrizo and other animal-friendly re-workings, fledgling vegetarians are eventually forced to accept the fact that it's unquestionably impossible–even with advanced gastronomical technology–to make these meat-free substitutions taste identical to the bloody nectar of the cows, pigs and chickens. Two years ago, various mixtape DJs were hurling beats at Wale like a zookeeper would wildebeest legs to a hungry lion. And, like the lion, the D.C.-bred rapper tore into them with famished abandon. Wale triumphantly gutted these beats of all of their original intent and replaced them with his own stampede of polysyllabic equivocations and rapid-fire metaphors. A prolific streak of mixtapes established Wale as a rapper's rapper.
However, the climate on a formal album is different than that of the badlands-like terrain of the mixtape. If they aren't flowing freely already, the accusations that Wale's lyrical prowess has been colonized, are sure to be flying liberally at any moment. Plain and simply put, Wale's rapping on his debut album Attention Deficit is not the line-them-up-knock-them-down lyrical batting-practice that he manifested on his mixtapes. For some, Wale's conversion to a formal verse-chorus-verse-chorus system is going to be a problem.
However, consider this argument: Wale is the perfect example of the current zeitgeist of rap music. Just observe Wale's cynicism; at 25, his patience for redundant journalistic questions has already grown torpid and his trust for them has gone rancid. And, on tracks like the morose "Contemplate" he's all too aware of the immensely fickle mood-swings of the general hip-hop consuming population, exclaiming: "one day everybody is applauding, the next day you're everybody's target." Later on the song, he goes on to quasi-fantasize about the possibility of his career fading away in tragic fashion. Even "World Tour"–a generally upbeat song– is still plagued by the lonely by-products and familial conflicts that arise from constantly being away from home. The point is that–as an artist–Wale has already been through an awful lot, and this is only album number one.
It's certainly fair to say that Attention Deficit hears Wale's usually free-swinging flow more docile than it has on past tracks. Nevertheless, the esoteric bursts that made Wale, arguably, the most gawked-at rapper of 2009, are well-spread throughout Attention Deficit as a whole. Working to his benefit is the fact that Wale is coming out of Washington, D.C., a locale whose talent rap music has heard very little about. Therefore, it's refreshing to hear Wale's Go-Go roots find their way efficiently and prominently into tracks like the lusty "Pretty Girls" and "Mama Told Me." The former is also indicative of another beautiful aspect of a rapper emerging from an untapped region: the gigantic chip that manifests on their shoulder, a reflection of their resentment at having their hometown glossed over. On "Pretty Girls" Wale jams his pickup lines full of D.C. lexicon that'll be cryptic enough for the hip-hop purists to listen to slowly and decode.
Meanwhile on "TV in the Radio" Wale and K'Naan slide over bouncy dancehall-esque bass and muse about what they perceive is a stagnation of creativity in hip-hop and sprinkle the track with several fairly clever musings about their African roots (Wale's family is Nigerian and K'naan was born in Somalia). And, David Sitek-produced hip-hop beats? That has to be considered a rap collector's item. Meanwhile, Wale shows flashes of his former mixtape-killer self on "Beautiful Bliss" and "Mirrors," his collaboration with the always technically-sound Bun-B and Mark Ronson, is the type of sleek creation where rap music becomes "high-art."
Wale's early mixtapes established that he had rhymes for days and was really enthusiastic about his sneaker collection. I feel it's fair to say the D.C. emcee still has plenty of fury left and I bet he still loves sneakers. However, from the sounds of his lyrical exorcisms, now was the right time to drop the full-length album, Wale seems to have a lot on his mind.
Similar Albums:
Lupe Fiasco – Food & Liquor
Kanye West – Graduation
Fashawn – Boy Meets World
Stream: "Pretty Girls"
Download at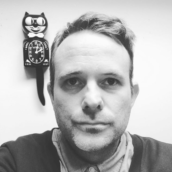 Paul Glanting
If a meteor was just hours away, Paul Glanting would recall that he has been in a Lil Wayne music video and has a 4.7 (out of 5) on Rate My Professor. He is at work on his first novel, Adjunct Megafauna.