10 Essential Songs for Pro Wrestling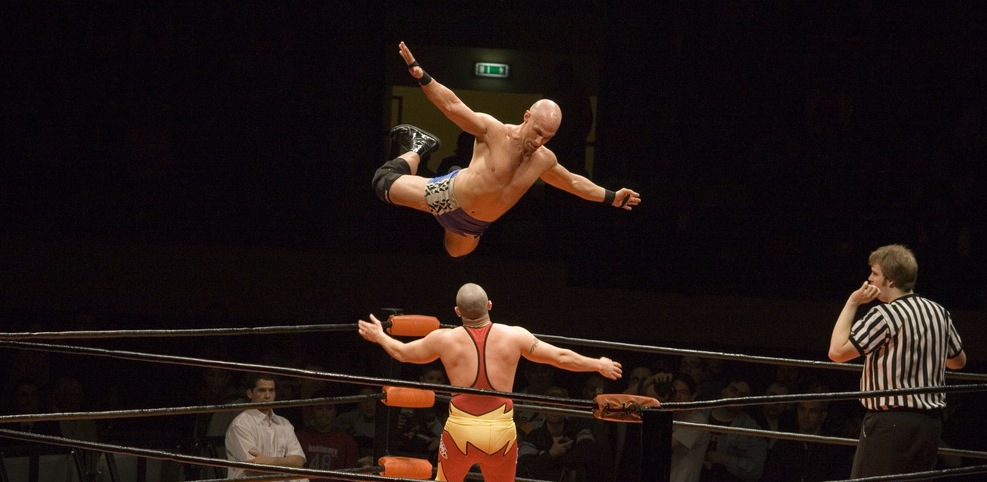 With this week's release of The Mountain Goats' wrestling-themed Beat the Champ and WWE's grand pop-culture contribution WrestleMania in the nation's rearview, we wanted to explore connections between "sports entertainment" and musical entertainment. While there are plenty of themes made for wrestlers by their leagues that make crowds explode, rare are the moments where pro wrestling has actually contributed to the pop music lexicon. It's probably just Hulk Hogan's "Real American" theme and, what, Chris Jericho's band Fozzy? While not frequent, it's been more likely that music-at-large would pay homage to the scripted sport or that wrestling would embrace (and pay for) existing artists and songs.
The problem with bringing on just the artist is that they're normally asked to participate on a wrestler or federation's terms, and that's turned out to be regularly forgettable. KISS performing on a World Championship Wrestling (WCW) stage? Motorhead's multiple themes for Triple H? Three 6 Mafia's new music for pay-per-view (PPV) events? No, no, no. Treble argues that pro wrestling and music seem to mesh best when a recognizable song from the real world is brought into these live-action cartoons to represent certain performers or events. Let's see if you can smell what the rock—and other genres—is cooking with these 10 timeless, slammin' selections.
Animotion – "Obsession"
Pop music was integral to the growth of the then-WWF in the 1980s. It was first a vehicle to a larger audience, even if their Rock'n'Wrestling Connection with MTV didn't produce crossovers beyond Captain Lou Albano playing Cyndi Lauper's dad. It was only when they made their first big network series that songs become part of an overall branding strategy. They had used schlock like "Easy Lover" and "Who's Zoomin' Who?" to identify early WrestleMania pay-per-views, but this synthpop hit set a glossy and dramatic tone for Saturday Night's Main Event during its first few years on NBC. With or without the relationship lyrics, longtime fans jump when they hear this San Francisco band's sole musical legacy. The next version of the show's theme, done by WWF musicians, would share similar flat percussion and keyboard stabs.
Black Sabbath – "Iron Man"
Scattered among session players' themes for wrestlers in the old "territories" of the American South were live and televised rockstar moments. "Bad to the Bone," "Sharp Dressed Man," "Freebird" and more heralded a parade of corn-fed babyfaces and tubby, bullying heels. But the eventual consolidation of these smaller leagues and the sharing of talent with Japan set up a pair of giants named Hawk and Animal as painted, spike-wearing, and eventually beloved curiosities. Early adopters of metal entrance music, the Road Warriors flipped the script on fans in the National Wrestling Alliance (NWA) and WCW at the end of the 1980s. Black Sabbath's distinctive, inverted guitar drone and distorted vocal warning provoked fear in opponents and rabid, nihilistic joy in crowds.
Drowning Pool – "Bodies"
Pushed by its rivalry with WCW and the rise of Extreme Championship Wrestling (ECW), the WWF's Attitude Era was marked by events and storylines that were borderline inappropriate even in the context of grown adults beating each other silly. Owner Vince McMahon was also licensing more existing hard rock to promote his PPV events, and an iconic selection was this breakout nu-metal single from Drowning Pool's debut album Sinner. The propulsive wah-wah guitar line and Dave Williams' vocal moves, from angry melody to guttural chant to primal scream, matched the industry's rising testosterone levels. "Let the bodies hit the floor" may have started out as a mosh-pit motto, but for SummerSlam 2001 (and later their ECW show on Syfy) it painted pictures of over-the-top-rope corkscrew planchas.
Sir Edward Elgar – "Pomp and Circumstance, March No. 1 in D"
Never was there a more appropriate title for a wrestler's theme. Pomp is all about showmanship, serving up attitude and image with a healthy dose of ego. When chased with physical skill and the, ahem, circumstances of kayfabe, there's your pro wrestling cocktail. It therefore makes sense that this was the entrance music for Gorgeous George, a legendary dandy of a bad guy of the 1940s and 1950s, before being famously revived by Randy "Macho Man" Savage. Both embodied the term "pomp"—their skill sets weren't flashy but they more than made up for it with outlandish ringwear, oversized personalities, otherworldly interviews, and the shimmering visages of their female valets. Outside of this wrestling context you'll hear the song most often at North American graduation ceremonies, so never be surprised if you see someone in a cap and gown deliver a flying elbow to a classmate.
Peter Gabriel – "Big Time"
By 2006 the WWF had long since become WWE, its wrestlers now tagged "superstars," getting away from mature themes of "attitude" and trying to be more of a big-tent entertainment conglomerate. Its music marketing tie-ins were expanding as well to include hard-rock throwbacks (AC/DC), alt-rock mainstays (Red Hot Chili Peppers), and urban genres. From this period, the song that probably made people do double- and triple-takes was the one lending its title as a tagline for WrestleMania 22. What was a 20-year-old art-pop cut doing on The Grandest Stage of Them All? Well, it's all about the ostentatious trappings of success, right? Few things seem more ostentatious than a pyro-filled arena with a bunch of colorful strongmen vying for glittering trophy belts, symbols of hitting the big time itself.
The Jimi Hendrix Experience – "Voodoo Child (Slight Return)"
One of wrestling's all-time great bait-and-switches was folk hero Hulk Hogan leaving the WWF in the mid-1990s, eventually helping to set up a large crew of WCW heel wrestlers known as the New World Order (NWO). He'd long been a fan of and fringe participant in bluesy rock, and with WCW flush with cash from Ted Turner's Time Warner bankroll a little indulgence was necessary. The NWO had their own evil funk theme when individual wrestlers or the whole stable came out, but when "Hollywood" Hogan walked to the ring he would air-guitar along with this psychedelic classic. It was a powerful reminder of his professional sliminess, chopping down mountains of popularity with the edge of his hand or, more likely, A BIG LEG DROP!
Limp Bizkit – "Rollin' (Air Raid Vehicle)"
For a few years at the end of the WWF Attitude Era, the supernatural- and death-obsessed Undertaker abandoned that well-known image in favor of one that would have fit in quite nicely on Sons of Anarchy. He rode toward and around the ring on a monster motorcycle, at first accompanied by Kid Rock's "American Bad Ass." With its chanted lyrics and Metallica sample it might have been fine; Taker even ended up being referred to as such during this period. But in short order the WWF switched him over to nu-metal's most notorious act and, arguably, their most popular song. It signaled the start of a trend where the company revisited musicians' catalogs multiple times over subsequent months and years.
Living Colour – "Cult of Personality"
Born in Chicago and raised in indie federations, CM Punk spent 2011 breaking a whole bunch of conventions and unwritten rules in WWE, if not wrestling at large. He famously aired dirty laundry about his bosses and coworkers (even if it was "worked," or planned), and followed his WWE Championship win over John Cena by disappearing into gen-pop with the title belt and an expiring contract. As Cena won the seemingly vacated title back on an episode of WWE Raw, Living Colour's crazed riffs and lyrics about popularity rang through a Hampton, Virginia audience, and Punk strolled back to stoke the flames of conflict and confusion. For a guy known as a longtime fan of punk rock—hardcore, straight-edge, even the poppy stuff—Punk's use of "Cult of Personality" still managed to reiterate his focus on underappreciated performers and continued to employ smart language to tell his story.
Marilyn Manson – "The Beautiful People"
Once it was clear the WWF was outlasting ECW and WCW in the so-called Monday Night Wars (the 1990s battle for ratings and market share among America's largest wrestling federations), Vince McMahon focused on new competition: himself. In 1999 he stretched the company beyond the cable domination of Raw and into network television with SmackDown, a new two-hour series with more matches and continuing storylines. After two years using a theme from in-house music director Jim Johnston, the company licensed Marilyn Manson's massive 1996 hit to back a strobe-filled intro featuring the show's beautiful and violent people. Other familiar acts like Drowning Pool and Green Day would be used in the years to come, but few mainstream songs created atmosphere for any wrestling program quite like this.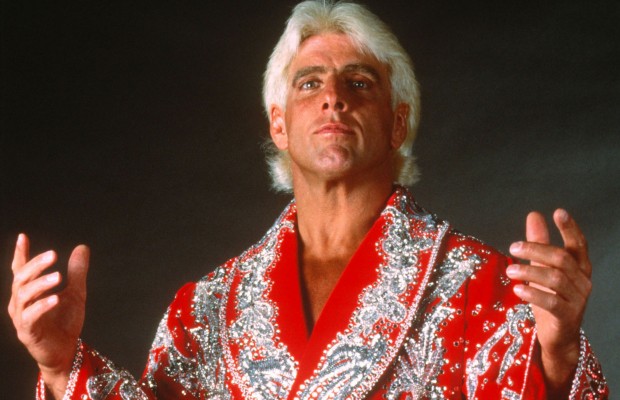 Richard Strauss – "Dawn" (from "Also sprach Zarathustra")
In film, this song's majestic orchestral stretches help introduce the puzzle of the black monoliths to be solved in Stanley Kubrick's 2001: A Space Odyssey. Transferred to the drama of the squared circle, it suggests something else awe-inspiring—taking a ride on Space Mountain, baby. Umpteen-time champion "Nature Boy" Ric Flair borrowed his nickname, style of ring attire, and mannerisms from the original "Nature Boy," Buddy Rogers, and in fact feuded with him in the 1970s to help raise his own profile. But his use of the Strauss tone poem as entrance music started in the 1980s, inspired by another limousine-ridin', jet-flyin', kiss-stealin', wheelin'-dealin', son-of-a-gun performer: Elvis Presley.
You might also like: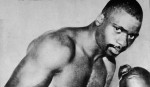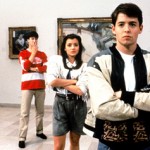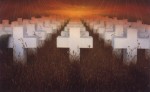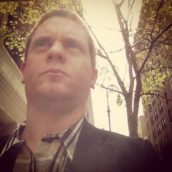 Adam Blyweiss
Adam Blyweiss is associate editor of Treble. A graphic designer and design teacher by trade, Adam has written about music since his 1990s college days and been published at MXDWN and e|i magazine. Based in Philadelphia, Adam has also DJ'd for terrestrial and streaming radio from WXPN and WKDU.