Full Disclosure: Fresh Loot for Rotting Vegetables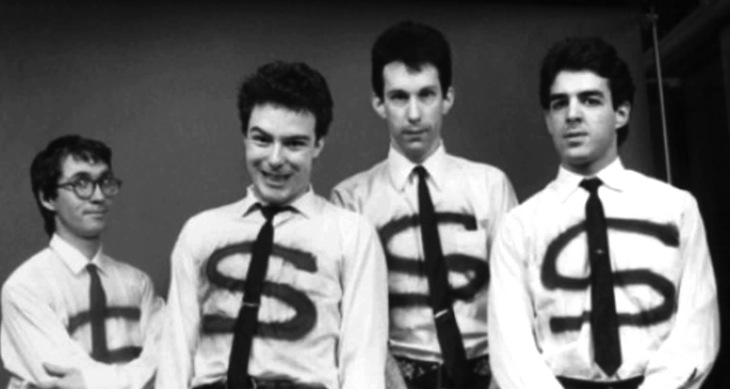 I'm not really a fan of music festivals. I usually don't bring it up, especially this time of year. My current locale of Bloomington, Ind. is split pretty nicely between Chicago's Pitchfork Music Fest and Tennessee's Bonnaroo, and I have enough friends in Texas and California that my Facebook stream is often crowded with references to SXSW and Coachella. It's not that I hate the concept completely, but that I'd much rather pay a couple bucks to see a younger band in an intimate setting than fork out a small fortune to spend all day deciding which acts I will or won't watch from an acre away. I also find that festivals further exaggerate my least favorite aspects of this industry, as you'd be hard-pressed to find a major Summer fest that isn't largely fronted by straight, white men. (And often aging, straight, white men.) There are definitely exceptions to this  opinion: I've enjoyed the variety of genres and cultures and NOLA's Jazz Fest despite the crowds and dehydration, and I had a wonderful time volunteering at 2012's Maha Fest in Omaha, a two-stage affair where no bands ever play simultaneously. But, for the most part, I'd rather stay home and watch the stream or catch a band if/when they skip through my town.
So, when I spotted the that Dead Kennedys and Naked Raygun were both playing this year's Hi-Fi Rockfest, you can imagine my skepticism. Both bands are personal favorites of mine and, perhaps more importantly, were big inspirations to a rising generation of punk rockers who went on to grow the genre in new and exciting ways. But do we really need a reunion tour by either of these acts, especially if it only stops at commercial festivals? I felt the same way about The Replacements' recent run of festival tours and, to a lesser extent, The Sonics' latest record. I can understand the desire to get the old band back together to capitalize on new fandom, but it seems like a little bit of an about face from the band that wrote Fresh Fruit for Rotting Vegetables.
I'm not here to dismiss or demean a band for paying the bills, but I do think there are better ways for punks to age gracefully. Fugazi are such icons to me that I named this column after them, and they earned that place—in part—by calling it quits at the right time and refusing to reunite unless it feels right. Instead, all four members have gone on to contribute to the world of alternative music and art in powerful and creative ways. Sleater-Kinney sparked a glorious reunion this year, but did it on their terms, refusing to release a sub-par album or play shows that didn't offer the intensity and intimacy of their original run. For every band of washed up punks piecing back together old sets, there are a dozen examples of punks continuing to create in innovative and surprising ways.
I'm not going to tell you how to spend your money, and I doubt I'll ever reach a point where Jello Biafra is taking career pointers from me but, as a fan of punk in both aesthetic and ideological lights, I'd like to hope for a world with less consumerist-heavy festivals and more honest-to-god punk rock shows. So if you're dishing out the cash for a major festival this year, I encourage you to bump down the status of parking pass or spend a little less on booze. Pocket that money and be sure to check out a local act in a basement near your zip code. I promise you won't regret it, and you might just enjoy it more than the alternative.
Five Finger Discount
In-depth rundowns of the five best punk tracks of May 2015.
Yvette – "I Don't Need Anything From Anybody"
Yvette don't play punk in the usual, aggressive sense of the word, preferring to craft a slower, more resounding kind of chaos. But the abrasive noise and consistent hammering of the duo's mind-numbing instrumental approach, paired with Noah Kardos-Fein's throaty yells make for a moment of fleeting catharsis that is as punk as you can hope for. At the end of the track, as the swirling noise comes to its greatest height and surrounds a fleeting, unconvincing roar of "I'm fine.. just leave me alone," it feels like a throwback to the disenchanted nihilism of a band like Black Flag.
[from the
American Music
compilation, out March 31; Godmode]
Vexx – "Black/White"
Vancouver's White Lung put out one of my favorite punk records of 2014, so when their vocalist Mish Way pays a high compliment to a young band, I pay attention. That's exactly how Olympia, Wash.'s Vexx landed on my radar, and I couldn't be more thankful to Way for making that happen. Vexx's no-nonsense take on punk lands somewhere between the classic-rock leaning of a band like Screaming Females and the genres earlier, rockabilly referencing origins. "Black/White" is a short and simple track, with just enough complexity that it begs for repeat listens as soon as its three-minute-run comes to a close.
[from the Give & Take 7", out April 21; Katorga Works]
Downtown Boys – "Monstro"
Over the years, Providence, R.I. has been a surprising breeding ground for some of my favorite punk and noise acts. The tradition continues with Downtown Boys, who self-describe as "a bilingual political dance sax punk party," are a powerful six-piece led by vocalist Victoria Ruiz's powerful and adaptable voice. She mixes singing, spoken word and shouting to broadcast a message that's at once full of disappointment, angst and blissful self-understanding. But what really drives the band's sound home is it's double-sax attack, which resonates strongly on "Monstro." This track takes a moment to brew, but it's well worth every second of waiting; the result is some of the most fresh and potent punk rock I've heard in a while.
[from Full Communism, out May 4; Don Giovanni]
KEN Mode – "Management Control"
It might seem like overkill to mark KEN Mode down two columns in a row, but Success is quickly turning into my most highly anticipated punk album of 2015. That's a kind of odd thing to say about a sludgy noise-rock band whose previous records fall more accurately in the category of extreme metal, but with each new track from Success, the Winnipeg trio dive deeper into a melodic, '90s influenced extreme punk sound. From its relatively buoyant melody to the closest thing to a hook that KEN Mode has ever mustered, "Management Control" is not just a great punk song—it's one of the most infectious anthems that the genre has offered all year.
[from Success, out June 16; Season of Mist]
Titus Andronicus – "Dimed Out"
Since their inception, New Jersey's Titus Andronicus have been the meeting (or crashing?) point between rough-edged punk and sophisticated indie-rock. Combining heady, literary-influenced concepts with powerful, unrelenting song-writing. But The Most Lamentable Tragedy (the band's 4th LP and Merge debut) promises the band's most ambitious effort yet, a 3-LP concept album "sending our protagonist on a transformative odyssey." If "Dimed Out" is any indication, with it's plummeting wall of horns and Patrick Stickles' rough-yet-charismatic roar, it should be one hell of a ride.
[from The Most Lamentable Tragedy, out July 28; Merge]
Recommended Spins
A quick and dirty rundown of the best punk albums of now, with links to full length reviews (when available).
Algae Bloom's I am still scared of living: This duo presents a minimalist (yet plenty loud) take on the punkier origins of screamo. Guitar/drum duos are a dime a dozen these days, but while many duos try to crank as much sound out of their set up as possible, Algae Bloom alter the usually frenetic genre by limiting their percussion to a standing drum set for a surprisingly fresh take on the genre's aesthetic. (February 15; Driftwood)
Advaeta's Death and the Internet: I loved the first couple tracks of shoegazey punk that Advaeta offered out as singles, and they definitely deliver on this full length. It's a dreamy-yet-bold effort with a deceptively sweet tone; dig a little deeper and it's a record full of beautiful defiance.(April 28; Fire Talk)
Downtown Boys' Full Communism: If you dig "Monstro", or what I say Downtown Boys in their song blurb this month, I definitely recommend this LP. Partly a throwback to early sax punk, partly something new entirely. (May 4; Don Giovanni)
METZ's II: The first couple singles from II talked a big talk, but METZ's sophomore album more than walks the walk. The band-produced LP amps up the already intense energy of the band's s/t debut and adds plenty of surprises without straying too far from what the band does best– hard hitting, pleasantly melodic post-hardcore. (May 5; Sub Pop)
You might also like: