10 Essential music books for summer reading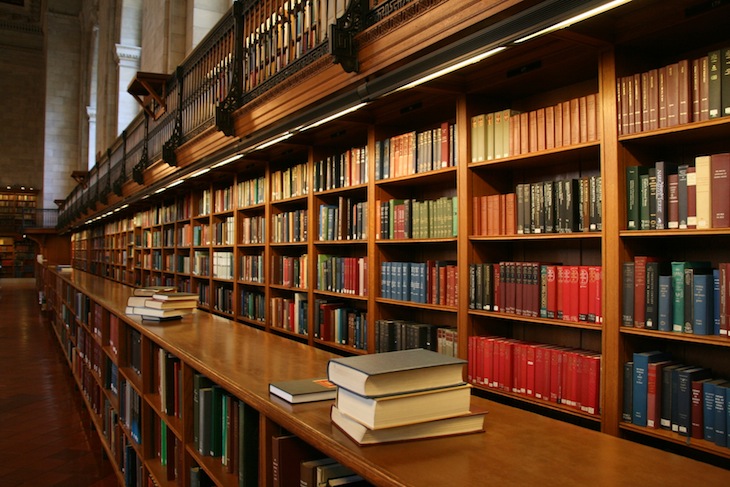 Summer is one month deep, and if you haven't made plans to ditch work for at least a week and go to the beach—or camping, or festival-ing, or I don't know, on a massive shopping spree?—then you're probably doing it wrong. But before you zip up the duffel bag, make sure you've brought along a few good reads. And might we suggest some of them be music-themed books? There's a lot of great reading material written by musicians, about musicians, or with musicians as the ensemble cast. Some of them can be sort of highbrow and conceptual, but the purpose of this list is to highlight those that aren't just essential reads, but fun reads as well. Which isn't to say you can't read that 4,000-page Morrissey biography, but we have some suggestions that are a little bit more accessible. Here are 10 essential music books for summer reading.
---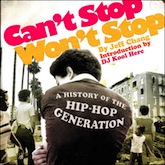 Can't Stop Won't Stop: A History of the Hip-Hop Generation
by Jeff Chang
[Picador]
There's a pretty amazing review of Jeff Chang's Can't Stop Won't Stop on Amazon written by the author himself. Chang's detractors feel the book's title is misleading. To be clear, no one book is going to cover the entire history of hip-hop, ever. It's a continuously expanding culture and genre of music, which is both deeply rich and vibrant. Chang's narrative filled with facts and a long list of footnotes inserts viewers from hip-hop's origins starting in Jamaica with Dancehall and Reggae and later moving towards the Bronx, New York, where hip-hop would take full form thanks to pioneers DJ Kool Herc and Afrika Bambaataa. The minute details assembled in this book make it for one amazing read. Chang's research and writing present many great stories told by hip-hop legends and are closely tied with sociological issues, which still remain relevant today. If there's one book that informs heavily on such an overlooked and misrepresented culture, it's this one. – GM
---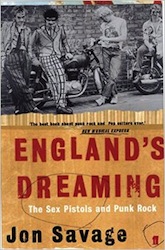 England's Dreaming
by Jon Savage
[Faber & Faber]
It wasn't an oral history or first-person account of the rise of punk (Please Kill Me), it wasn't a sprawling tome linking it to a vast network of sociological forebears (Greil Marcus' Lipstick Traces), and it won't replace listening to the records. But Jon Savage's dual chronology of the Sex Pistols and the blitzkrieg they started captures the immediacy and intimacy of punk better than any other publication. Savage triangulates the formation of the Pistols' combustible Situationist narrative, Malcolm McLaren and Vivienne Westwood's gradual manipulation of fashion taboos and the artistic uprising in the New York satellite with sharp, crisp detail. In the right (or wrong) hands England's Dreaming could be a case study in generating entire subcultures, but even for curious bystanders it's an enthralling story. – PP
---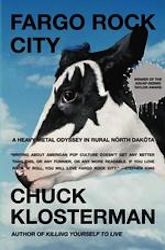 Fargo Rock City
by Chuck Klosterman
[Scribner]
Chuck Klosterman can be prickly when yelling at a cloud over tUnE-yArDs, or the reflection of excesses of the past when doing drugs off of gravestones in Killing Yourself to Live. But his most affecting, hilarious and just plain entertaining read to date is Fargo Rock City, his memoir of growing up a metalhead in middle America. It's as much a book about youth and naiveté as it is about music. But the music itself provides for an Aqua Netted, ample-size codpieced, Marshall stack-blowing slice of adolescent revelry. To clarify: The metal that Klosterman celebrates in this book is that of the spandex-clad '80s, and there's a lot—a whole lot—about Motley Crüe. At one point he even puts a price on each of his favorite albums, as in, that's what you'd have to pay him to stop listening to them. (They don't seem like big figures, but keep in mind that these are '80s dollars, not priced for inflation.) It's a blast, and a quick read: Only took me about two plane rides. – JT
---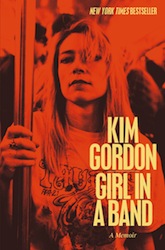 Girl In a Band
by Kim Gordon
[Dey Street]
As a society we tend to look at celebrities as the otherworldly beings that exist on a different plane than we normals whose fallibility is proven at every visit to IKEA. Their DNA is made up of whatever matter exists in "x-factor" while we are mere blood, bone and insecurities. In circumstances where any normal human being would fall apart, the famous somehow are unphased, or that's what we're told. This is what made Girl in a Band such an incredible read. Kim Gordon's marriage to Thurston Moore ended in nightmarish, cliche circumstances, as we all know. Recap: he was cheating with a younger woman who had injected herself into their lives, promising to stop but then finding that he just could not not sleep with this person. There were salacious photos, texts and even video to prove it.
While Girl in a Band revolves around all of Gordon's life, from her family life with scholarly parents and a schizophrenic brother, to the creation of Sonic Youth, to her artwork, other projects and Kurt Cobain, it is in discussing the dissolution of her marriage where you can't help but be blown away. Gordon is so up front about this painful chapter in her life, providing details you feel you don't deserve to know because you're just a fan. You almost want to cover her up with a towel, protect her, because she's exposed so much. But man, there is rawness, beauty and bravery to that honesty. She is unafraid to say she was destroyed as we all have been, perhaps even in similar circumstances. She drags Moore and his new girlfriend (as well as Courtney Love, but that's a different section) through the mud, then at other points bittersweetly reminisces about the good times with Moore and how they fell deeply in love. Who can't relate to that? When someone breaks your heart, you teeter back and forth between missing them and wanting the world to know they're human waste, until you finally let go. That level of truth coming from a person like Kim Gordon—cool, badass, fearless Kim Gordon—is refreshing and it's an honor to have been invited in. Girl in a Band made me feel like I had a sister out there who was human and not afraid to show it. – AZ
---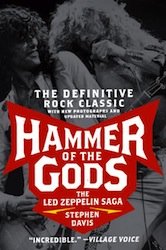 Hammer of the Gods: The Led Zeppelin Saga
by Stephen Davis
[William Morrow & Co.]
Despite all the criticism Stephen Davis, a well-known rock biographer, got for publishing this unauthorized biography, it's still worth the read. Some of these stories may not be fully factual—Jimmy Page, Robert Plant, and John Paul Jones called Hammer of the Gods a "catalogue of error and distortion"—the stories make for great literary entertainment. One part of the book documents an evening at Led Zeppelin's hotel room in Seattle, which was right next to the water. According to Davis, the band members fished a small shark out of the window, cut said shark into pieces, and then probed some girls with the shark parts (kinky!). Hammer of the Gods makes it seem like Led Zeppelin trashed every hotel room they ever stayed in. And it makes the band look like assholes. But, it was all in good fun, right?
If you're looking to read about sex, drugs, and rock 'n' roll, go no further. Led Zeppelin was notorious, and this is the suitably notorious biography of the band. Here's a choice quote from Jimmy Page about the book: "I think I opened it up in the middle somewhere and started to read it, and I just threw it out the window. I was living by a river then, so it actually found its way to the bottom of the sea." Hammer of the Gods was a successfully compelling piece of writing because it forced Led Zeppelin to defend their behavior.- JJM
---
It Takes a Nation of Millions to Hold Us Back
by Christopher Weingarten
[Continuum/Bloomsbury]
If I'm being honest, here, you could pretty much pick up any volume in the 33 1/3 series and have yourself an amazing read (off the top of my head, Neutral Milk Hotel, The Pixies, Andrew W.K. and Throbbing Gristle are all worth your time, as well as the "what is taste" ponderings of Carl Wilson's volume on Celine Dion). But I'm personally drawn to Christopher Weingarten's innovative look at the groundbreaking sample work of Public Enemy's It Takes a Nation of Millions to Hold Us Back. Rather than tackle it as an oral history (which it is, in a sense), all of Weingarten's sources are clipped and re-pasted from other articles and published works, making this its own impressive work of sampling. But there's a great story about a group that changed hip-hop forever in there as well, which is what makes the story a page-turner. (Bonus: Like any of the best reads in the bunch, it'll really make you want to listen to the album immediately.) – JT
---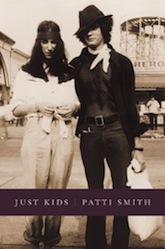 Just Kids
by Patti Smith
[Ecco]
Just Kids only scratches the surface of Patti Smith's long and extensive career, but it's an excellent starting point to an iconic figure. While most of the book focuses on her close and tumultuous relationship with photographer Robert Mapplethorpe, it also closely examines Smith's struggles as an artist and the effort to produce better material. The path to her career was never easy: After moving to New York, she slept on park benches, worked odd jobs, and in the midst of finding herself, she crossed paths with Mapplethorpe, a fellow artist, who ended up being one of her closest friends and collaborators. Smith's vivid details about how they both struggled to survive in an effort to create meaningful art are truly fascinating. Her introduction to music began through poetry and it wasn't until she met guitarist Lenny Kaye that she joined words and music together. Eventually, the bulk of that work became the influential Horses, whose iconic cover art was shot by Mapplethorpe. Along with some pretty great stories listed with exceptional detail and a tragic ending, Just Kids is much more than just an autobiography; rather it's a deeper look into the artist and the creative process.- GM
---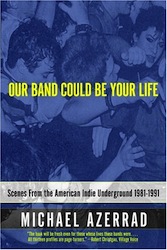 Our Band Could Be Your Life
by Michael Azerrad
[Back Bay/Little, Brown]
There are a few crucial books out there on punk rock, but Michael Azzerad's 2001 anthology Our Band Could Be Your Life is the definitive oral history on the American post-punk era. In both enlightening and entertaining detail, the book chronicles the careers of 13 bands from between 1981 and 1991, including Black Flag, Fugazi, The Minutemen, Sonic Youth, The Replacements and Dinosaur Jr. That each chapter tells a unique story makes it easy to break up, so if you want to find out how Mission of Burma toured via discounted Eastern Airlines tickets one weekend, and then learn about how Seattle wasn't really "Seattle" when Mudhoney started making noise the next, you can do that! It's a fun read, and insightful in ways that both celebrate the artists chronicled, and sometimes show an unflattering look at both the bands and the industry. But there's an inspirational aspect to it as well: The title of the book speaks volumes about how some of the greatest bands of the American underground got their start right at the bottom. – JT
---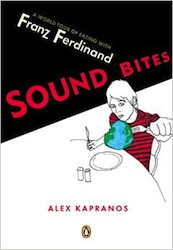 Sound Bites: Eating on Tour with Franz Ferdinand
by Alex Kapranos
[Fig Tree]
The lead singer of Franz Ferdinand isn't the only former restaurant worker to storm into music (hi, Action Bronson!), nor is he the only musician to be seen as some sort of celebrity gourmand (hi, Coolio!). He might, however, be the most literate in either category. Based on the early buzz of his band and his prior food service resumé, The Guardian gave Kapranos a yearlong column on food-related experiences during and beyond life on the road. The writing from that period is collected here, covering everything from discovering a food allergy to back-of-house prep techniques to tastes both ordinary (donuts, burgers) and exotic (blowfish, bull testicles). The essay-length pieces and Kapranos' witty, wistful style make Sound Bites a brisk read; not only could you finish the book by dinner, you might get a menu idea out of it. – AB
---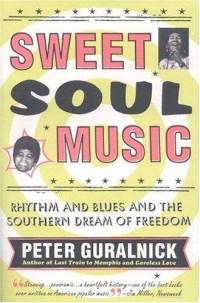 Sweet Soul Music: Rhythm and Blues and the Southern Dream of Freedom
by Peter Guralnick
(HarperCollins)
Peter Guralnick's works detail Southern popular music of the mid-20th century in nearly Homerian strokes, and not just because he gave Elvis Presley his own three-volume Iliad. Sweet Soul Music's portraits of the generators of '60s Southern soul almost make the reader fall in love with the music without hearing a note. Guralnick positions his subjects, all of whom remain figureheads to this day, as outsiders in a music business that had been re-routed to the north. That standpoint constructs the likes of Ray Charles, Sam Cooke, James Brown, Aretha Franklin and way too many others as self-made innovators bringing the passion of gospel to a new sense of freedom in expression. Sweet Soul Music also picks up on lesser-known R&B greats (James Carr, you guys) and includes a discography that's nearly a piece of art in itself. – PP
You might also like: